How to Tune a Violin Without a Tuner
Professional violinists generally favor a specific method for keeping their instruments in tune. With talent and experience, many are able to tune by ear, but fortunately beginners are not expected to go about doing it without a tuner. When you're learning to play violin, it's best to experiment with the different tuning options to choose the one that works best for you.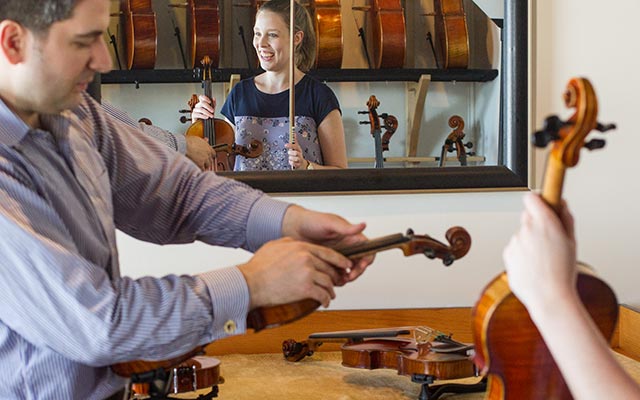 One of the easiest ways for beginners to learn how to tune a violin is by using an electronic chromatic tuner. A chromatic tuner is a small, inexpensive piece of equipment that you can carry with you to a practice session.
Start by placing the tuner close to the strings of your instrument and pluck the G string. The tuner will indicate whether or not your violin is pitched too high or too low, so you can adjust the tautness accordingly. Repeat the same process with the D, A, and E strings.
Use what you have
If you do not own a chromatic tuner, there are a number of alternative tools to use to get your violin into tune. If you have access, tuning a violin using a piano is a good option, although it's more difficult for a novice. Play the note on the piano that corresponds with that on your violin, starting with the G below middle C. Use the sustain pedal to carry the note as long as possible, while adjusting the G string. Repeat with the remaining strings.
Tune your instrument using a tuning fork. This is a pocket-sized medal object shaped like a rounded capital "Y." When you strike the fork against an object such as your knee, it emits a specific note, depending on the length and mass of the fork. You must wait until the overtones fade out before tuning the corresponding string to the note it emits.
While both of these strategies can be reliable, if you are new to learning how to tune your violin, it's better to choose an easier option, like the aforementioned electronic tuner.
Upgrade your gear
In search of a fast, easy way to tune your instrument? Whether you're a beginner or have been playing for years, all violinists need a quick, reliable method for tuning a violin. One that they can keep on hand. We recommend the Korg CA-50 Chromatic Tuner. It's easy to use, affordable, and can help you keep your violin perfectly in tune without all the fuss.
Johnson String Instrument has the instruments and accessories you need at your fingertips. Browse our extensive catalog, order online, and have it delivered right to your door!