Rental Contract Highlights
New Renter Guide
Please read your contract carefully. It explains our rental payment and returns policies, our Rental Credit and Liability Damage Waiver programs, and other important information.
Rental fees must be paid until we receive your returned instrument. Returns may be completed in person at our Newton storefront or may be shipped to our warehouse. Please contact us for return instructions or to purchase a shipping label. Shipping costs are not covered by Johnson String Instrument.
Please ship packages to our warehouse:
ATTN: JSI Rental Returns
26 Fox Road
Waltham, MA 02451
Always renew or return your rental instrument by the date shown on your renewal notice. This date always indicates when we must receive the instrument or a renewal payment. The Liability Damage Waiver expires on this date. We send renewal notices at least one week before the payment due date. Late payments will result in a $10.00 fee per month overdue. We may automatically charge your credit card for a renewal if your rental is more than one month overdue and no payment arrangement has been made.
All repairs must be performed by Johnson String Instrument. If you live too far away to bring your instrument in, please call us for assistance. Most long-distance repairs are handled through shipping, but we do make periodic deliveries to some communities. We do not authorize outside repairs on our instruments. Please note that shipping charges are the customer's responsibility.
Questions? Contact us
Situations Covered By The Liability Damage Waiver (LDW)
Broken Strings: If a string breaks or wears down, we replace it for free! Just visit our storefront to have it replaced. Not local? Contact us or use your online account to have a new one shipped for FREE straight to you.
General Wear and Tear: Any instrument needs regular maintenance. Whether it's a rehair or a warped bridge, our LDW has you covered!
Preference Exchanges: If you are not happy with an instrument and/or bow for any reason, you may exchange it at no charge for a different one (shipping charges may apply).
No Closing Fee: Once you complete your rental, return it with no additional charge for cleaning or other maintenance.
Accidental Damage: We get it - accidents happen. That's why our LDW includes accidental damage within reasonable repair. In cases of accidentally destroyed instruments - when an instrument is beyond repair - the LDW covers the first incidence.
The cost for these services if there is no LDW on an account:
Instrument Exchange Fee for any reason (size, preference, repair)
$25
Bow Exchange Fee for any reason (size, preference, repair)
$15
Cleaning Fee upon return and closure of rental account
$25
Situations Not Covered By The Liability Waiver
Destroyed Instruments: Destruction or loss of a second instrument will result in a damage fee being owed by the renter and loss of LDW coverage.
Heat Damage and Theft: Never leave your instrument in an unattended motor vehicle or in the trunk of a car (even while traveling). This can cause heat damage and/or theft, neither of which are covered by the LDW. Theft of a rental instrument is covered if the instrument is stolen from a secure location and a police report is submitted within 30 days of the incident.
Air Travel: Instruments damaged during air travel are not covered by the LDW. Please contact us for tips on how to best protect your instrument during air travel.
Loss and Intentional Damage: Instruments lost or intentionally damaged are not covered by the LDW.
Unauthorized Repairs: Repairs performed outside of Johnson String Instrument are not covered by the LDW. Never perform repairs to your rental instrument (string replacement excluded). Repairs performed by yourself or a third party may damage the instrument further. The LDW does cover repairs performed by our highly trained repair technicians. Please visit or contact us first if you believe your instrument is in need of repair.
String
Replacement
If a string breaks, call us for a replacement or drop by our store.
Don't remove all four strings at the same time. Replace strings one at a time.
Use a pencil to rub graphite in the nut and bridge slots for added lubrication. Lubricate pegs with peg compound such as Hill Peg Compound (available for purchase on our website).
Check bridge for straightness (feet should be flush with body of instrument).
See our video on "How To Change A Violin (Or Viola, Or Cello) String" on our website.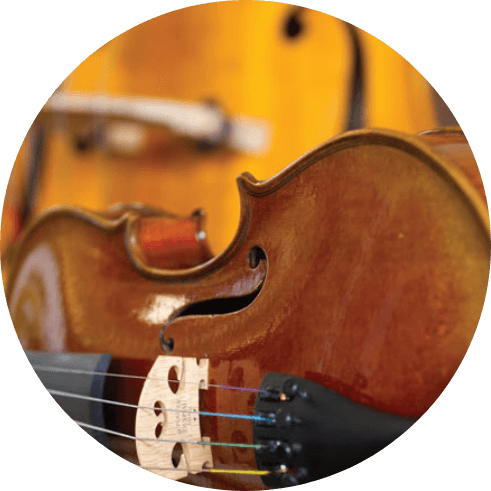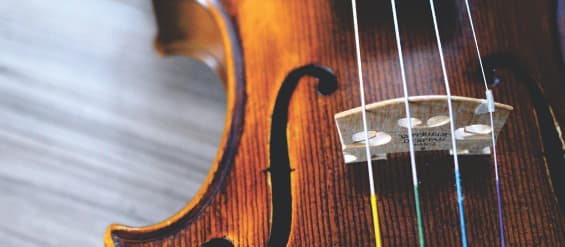 String

Replacement Policy

Broken strings will be replaced at no charge as long as the rental instrument is covered by the LDW. Many customers decide to purchase an extra set of strings so that a broken string can be replaced in an emergency. After using a string from your replacement set, call us or visit our storefront, and we will provide you with a string from our rental stock. Please note that the rental string may differ from the purchased set. Customers may choose to buy strings that differ from the brands we use on our rental instruments. These strings must be purchased separately, but they are yours to keep in the event of an upgrade or exchange. If you have purchased a spare set of strings from us and need to change the size of your instrument, bring in any unused strings from your spare set — we will exchange your string set to match your new instrument's size.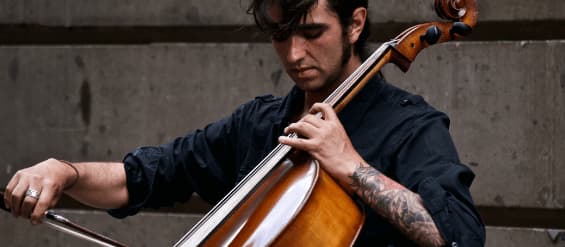 Rental

Credit Policy

A portion of your rental payments can be applied toward the purchase of an instrument from Johnson String Instrument or Carriage House Violins. Renters may use 100% of the first year's rental fees paid (excluding tax and insurance), and 20% of all subsequent rental fees paid. Rental Credit may not be used toward the purchase of bows, cases, electric instruments, or any instrument held on consignment at Johnson String Instrument or Carriage House Violins. Credit can only be applied toward the purchase of an instrument of greater or equal value. Rental Credit will be held on account for a maximum of two years following the close of a rental, after which it will be forfeited.
Instrument Care Tips
Use a soft, cotton cloth or chamois to wipe rosin off the instrument after each practice session (rosin buildup can be difficult to clean and may affect the sound of the instrument).
Have your teacher check the bridge for straightness often (warped bridges will break eventually).
Occasionally check the fine tuners to make sure they are not too tight. If they are, loosen them and retune using the pegs (note: this takes a bit of practice — you may need to ask your teacher for assistance).
Cellos should be carried upright against the body, not by the handles like a suitcase. In crowds (at school or on the bus, for example), keep your instrument in a safe place where no one will trip over it or step on it.
The bridge of the instrument will move occasionally and should never be glued to the instrument.
Pay attention to temperature and humidity. Extreme humidity and dryness can cause cracks, and severe heat and cold can ruin the varnish of the instrument.
Loosen the bow after playing to keep the horse hair in good condition. Also, protect the tip of your bow (the most fragile part) when you have it out of the case.
Check to see that the case is fully closed and secured before carrying it. When not in use, your instrument is safest when stored in a closed case.
Perform home repairs on a rental instrument. Please call us if you have problems!
Leave the instrument in your car. Heat can melt the varnish. Heat damage and theft from a vehicle are not covered by the Liability Damage Waiver.
Put scotch tape or masking tape on the instrument or bow. Please use adhesive tape ONLY on the fingerboard.