Getting ready for your first violin class
How exciting! You (or someone in your family) has decided to take the plunge into playing the violin. You may wonder whether taking violin lessons is something that should be considered. The answer is a resounding "yes." Learning from an expert through private violin lessons is the best way for a child or a beginner of any age to quickly become a more proficient musician.
No matter your age, the journey to becoming a musician is a joy-filled one. Musicianship encourages creativity, coordination, and self-discipline, and your first violin class is just the beginning. As you prepare to enter into that first class begin of your musical career whether it is socially distanced online or in-person when the time comes, you may be wondering what to bring or how to get ready.
What to bring
So, what to bring to your first violin class? Even if your first class is taking place through distance learning, the most important aspects are an instrument, a willingness to learn and a sense of fun! At Johnson String Instrument, we encourage beginners to rent a violin online, until they have developed their musical skills and are ready to make the commitment of purchasing an instrument.
You will need a bow as well as rosin, which is applied to the bow in order to grip the strings and make sounds. Finally, it is also important to invest in a violin shoulder rest. A shoulder rest not only helps you develop proper playing posture but makes playing the violin more comfortable.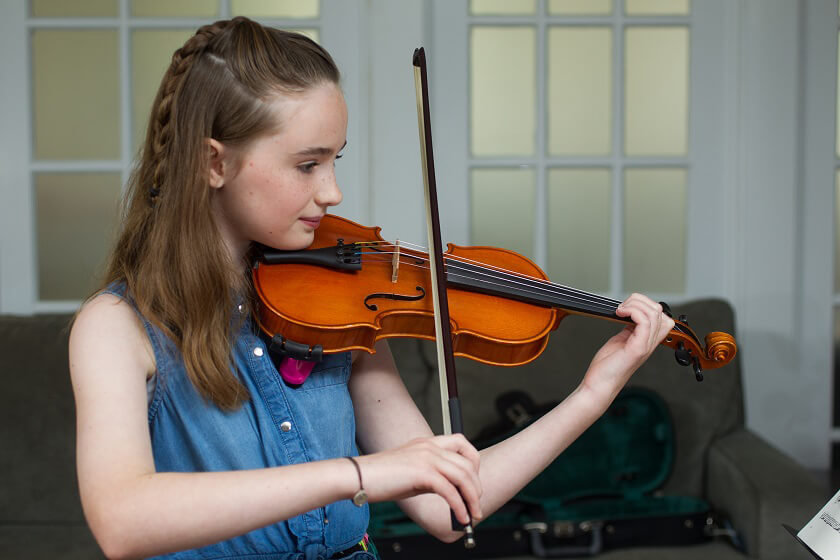 What you can expect to learn on day one
Now that you're ready for your first violin lesson, what are you going to learn on day one? Your teacher will most likely start by asking some questions to get to know you and your level of experience. One of the most important parts of the lesson will be learning how to hold the violin properly. If you're learning online, your teacher may give you a visual demonstration on their violin or send you different videos illustrating the proper technique.
Then, your instructor may explain the different parts of the violin, such as the scroll, tip, end button, and heel. You will also begin playing without the bow. This is called plucking, and it helps beginners learn the different pitches of each string on the bow and how the strings create music. Your teacher may supply you with a music book or ask you to purchase one. Finally, at the end of your first violin lesson, you and your teacher will discuss what to work on for the next time.
With this overview, you are ready to start your musical journey. At Johnson String Instrument we truly believe that private violin lessons will set you up for long-term success as a musician. We maintain an online directory of excellent teachers, have a Distance Learning Center for all your lesson needs, and our instrument rental program simplifies the process of choosing the right instrument for any student. Contact Johnson String Instrument today for all the assistance you will need to start making music!