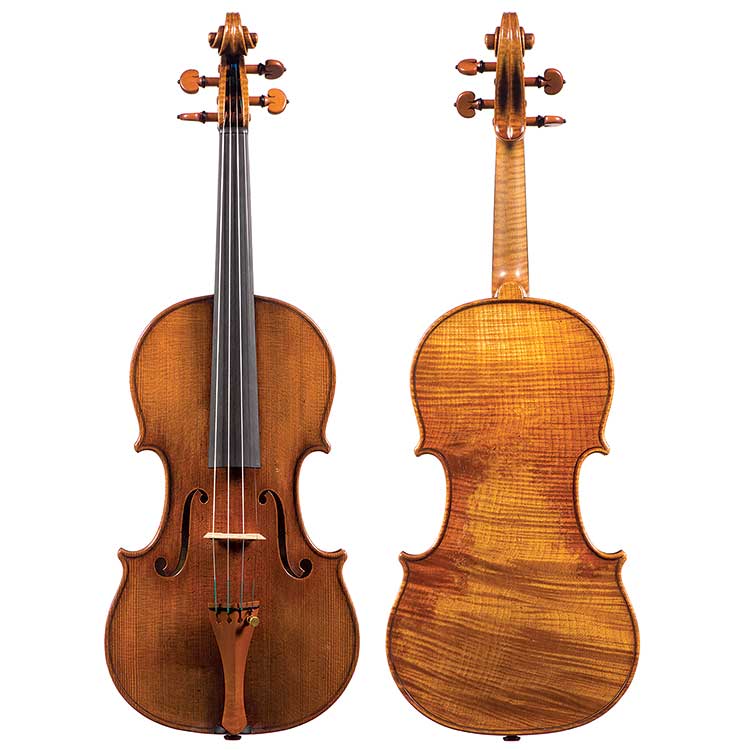 Featured Violin
About Sylvain Rusticoni
Born in Geneva, Switzerland in 1976, Sylvain Rusticoni studied classical guitar and developed a passion for instrument making at an early age. After completing an engineering degree, he studied violin making at the National School of Lutherie in Québec, Canada, graduating in 2001. Rusticoni returned to Switzerland to join the workshop of Philippe Girardin for several years before establishing his own workshop in Neuchâtel in 2015. He won a gold medal for violin at the International Violin Making Competition of Pisogne in 2011.
About this violin
Sylvain Rusticoni | Paris 1902 | Length of back: 356 mm | 4/4
Featured Viola
About Paul Crowley
Award-winning American violin maker Paul Crowley worked as a sound engineer and professional double bassist before training to become a violin maker. After graduating from the North Bennet Street School in Boston in 2002, he worked with Michele Ashley and Marco Coppiardi for several years. He established his own Boston workshop, then moved his business to Brooklyn, New York, where he currently builds his own instruments.
Crowley's instruments have won numerous awards, including a Silver Medal for violin tone from the Violin Society of America competition held in 2004, as well as two Certificates of Merit in 2014: one for violin tone, and another for viola workmanship.
He was elected to the American Federation of Violin and Bow Makers in 2010 and is a member of the VSA, regularly attending the VSA's Summer Violin Making Workshops.
About this viola
Paul Crowley | New York 2016 | Length of back: 413 mm 16" up to 16 1/2" | 16 1/4"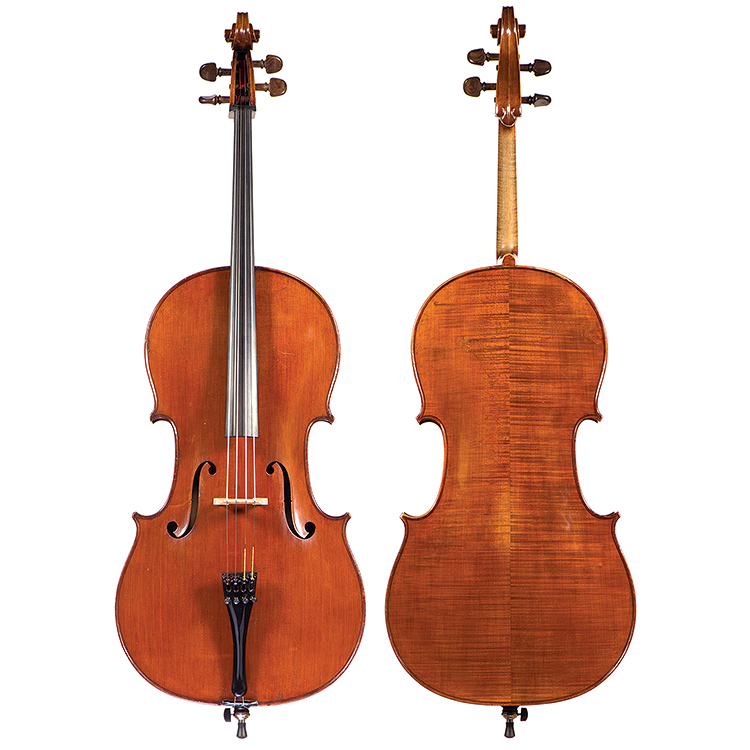 Featured Cello
About Leon Mougenot
Born into the third generation of the Mougenot family of violin makers based in Mirecourt, France, Léon Victor Mougenot (1874 - 1954) was the son of Joseph Mougenot (1856 - 1886) and grandson of Eugène Christophe Mougenot (1815 - 1894), both who were employed by various Mirecourt workshops as engravers and decorators of instruments. After working for Emile Laurent II in Mirecourt, Léon Mougenot moved to Brussels in 1887 to work for Georges Mougenot (1843 - 1937), a cousin of his father. In 1894, he traveled to work for Paul François Blanchard in Lyon, Paul Jombar in Paris, then to the famous W. E. Hill & Sons workshop in London until 1898. Returning home to Mirecourt in 1899, Mougenot established a highly influential workshop, where he focused on building copies of the Italian masters with a large number of students under his tutelage. Léon Mougenot received a gold medal for an instrument entered into the International Exhibition of Eastern France held in Nancy in 1909.
About this Cello
Leon Mougenot | Mirecourt 1917 | Length of back: 768 mm | 4/4