How Long Does It Take to Break in Violin Strings?
There are many different types of violin strings, and each needs to be treated with care to get the best sound. Whether you're playing with synthetic core strings or traditional gut strings, most violin strings will take a while to settle into their intended sound. If you're new to the violin, you might feel that your instrument doesn't sound right at first when you replace your strings. No matter how much you've tuned and fussed, you just can't get the sound quality you're looking for.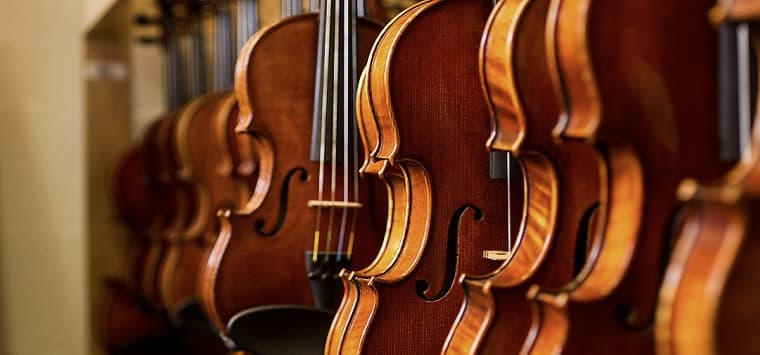 Unhappy with the sound of your violin? The problem isn't a broken string; it's that your strings haven't been broken in. Breaking in new strings is a process most violinists have gone through. However, some violin strings take longer than others to find their voice. It can be frustrating trying to break in strings if you're not used to the experience, but it's worth a try before you give up and order a replacement set. Here's our foolproof way to break in new violin strings.
Keep playing
Breaking in new violin strings isn't a uniform process for everyone. Generally, it takes up to 3-7 days for the strings to settle. Unlike gut strings, synthetic strings may initially sound metallic or too loud with a lot of surface noise. These issues should lessen over time, but it can be a few days before you see results depending on how much you play.
Some people find that they have a hard time getting their bowstrings to catch on the instrument strings, leading to poor, scratchy sound quality. If this is something you have had issues with, it could be that you are not using enough violin rosin to increase the friction between your bow and instrument.
Do you have backup strings in your case?
When breaking in new strings, don't be surprised if they do not initially produce the sound you desire. Be patient, play consistently, and you will be playing spectacular music before you know it.
At Johnson String Instrument we have a wide selection of violin strings and other violin accessories. Happy with the strings you're using now? Make sure you are in the habit of keeping extra violin strings in your case. If a string breaks or needs to be replaced, you will always have a backup.