CLAUDE THOMASSIN BOWS
Johnson String regularly acquires exceptional antique bows as well as bows by award-winning contemporary makers. Below are some beautiful Claude Thomassin violin bow examples available for purchase or home trial.
Please contact us for more information.
Instrument Outfit Sales & Specials!
During the Graduation Sale, purchase a selected instrument and receive 20% off the bow and case combination chosen from a huge selection.
Contact us for details.

Pre-Made Outfits from Alessandro, Doetsch, Eastman, Jay Haide and Snow are together and ready to go with significant savings during the Graduation Sale.
Sale prices are for in-stock only.
Claude Auguste Thomassin (1865-1942) was the son of Louis Thomassin with whom he learned his craft in Mirecourt. In his early career, he worked for the shop of Gand & Bernadel. Many bows from this period are stamped 'Gand & Bernadel'. In 1901 the family firm of Gand & Bernadel was taken over by Caressa & Francais. It was at this point that Claude Thomassin set up his own atelier at Rue de Paris in Paris. Although he continued to produce some bows for his former employers, much of his output from 1901 onwards was branded with his name "C.Thomassin a Paris". Claude Thomassin has been called one of the best makers of his generation and his work is highly prized and respected for playability and beautiful workmanship.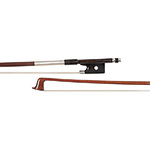 This fine French violin bow by Claude Thomassin from ca. 1895 is elegantly carved from the highest quality dark brown pernambuco. Weighing in at 57.5g with an ideal balance, the bow feels light and quick in the hand. The stick is supple without feeling weak or unstable, and yields a sound that is colorful and complex. This bow is ideal for the conservatory-level student or professional players. The bow is sold with a certificate of authenticity from Salchow and Sons.

With a Home Trial you can try out this bow in the comfort of your home!
Claude Thomassin silver-mounted violin bow stamped stamped P. Serdet a Paris
Round, silver and ebony frog and button.





Call For Price

---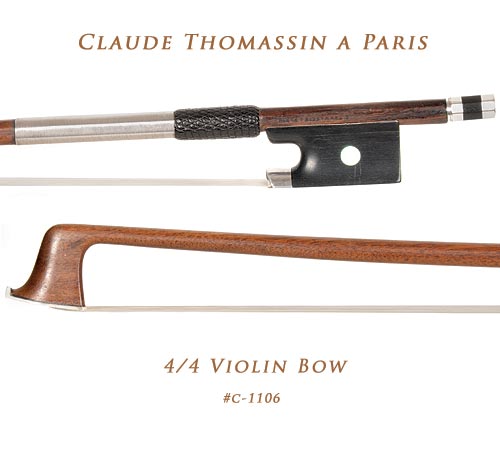 With a weight of 58.5g and a balance point slightly towards the frog end, this bow feels light and delicate in the hand. It is quick to respond and strong, producing a bright and clear tone. This bow is sold with a certificate of authenticity from Paul Childs.

With a Home Trial you can try out this bow in the comfort of your home!