Why Do Violinists Have Multiple Violin Bows?
Ask a group of violinists why they have more than one bow, and you're likely to get a variety of responses. Most will reply that they keep a backup bow in their case in the event that one breaks or if there is a concern that their primary bow may sustain damage at a particular venue, especially at outdoor performances.
Other responses as to why violinists use multiple and/or different types of bows include:
To produce different tonal qualities
To prevent excessive hair-slickening or hair-breakage
To create a change in sound
When the primary bow needs to be rehaired
Many violinists purchase a cheaper carbon fiber bow to use if playing a piece incorporating col legno or other effects requiring that the bow be struck on a variety of surfaces. Certain bows are better than others for playing pieces with a lot of string-crossing or springing bows.
Some violinists use a wood bow for pieces that require tough, vigorous playing, such as bluegrass fiddling while others prefer a lighter bow, such as a carbon fiber bow, for playing lighter, "sweeter" pieces.
New bows get old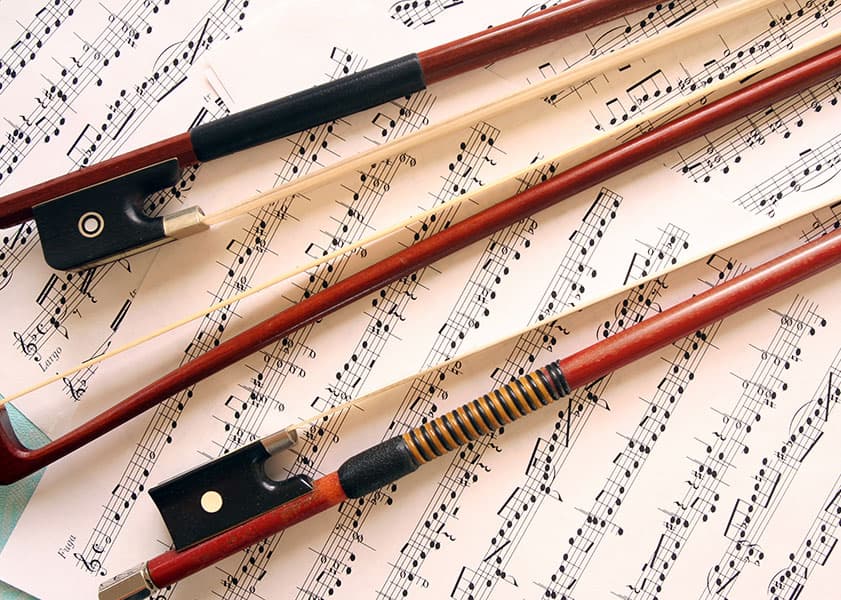 At some point, most violin players recognize that purchasing a new bow could really help their technical as well as their musical development. Replacing older bows can have an immediate and often dramatic effect on your playing making your investment in a new bow worth the money.
When it's time to start considering the purchase of a new bow, consider your budget. A good rule of thumb is to narrow your search to within ¼ to ⅓ of your violin's value. The sound is the most permanent characteristic of the bow because it's dependent on the quality of the bow material and the workmanship. Compromising on your bow will prevent you from producing the best sound when playing your instrument.
Prices for violin bows vary, from composite bows or fiberglass bows which sell for under $300 to high end violin bows ranging in price from $1000 to $6000.
When purchasing a new bow, choose two or three of your favorites for a trial period of a week or so. Practice playing different pieces using the different bows. Employ the bows in different settings and listen to particular acoustics where you're playing. If possible, try it out at a performance.
At Johnson String Instrument, we have an extensive bow collection from high-end Brazilian workshops to the finest antique and modern bows. In addition we also offer a wide selection of carbon fiber, composite, and fiberglass bows.
Your next bow
Playing violin isn't just about the quality of your instrument; it's also about how the bow you choose fits with your instrument. If you're ready to shop for violin bows, whether you're replacing your old bow with a new one or are looking to purchase a second bow, JSI has a large catalog of bows to use with violins of ¼ size down to ⅛ size.
Look through our extensive online catalog. See something you like? Call us to schedule an appointment to speak to a luthier and get advice from an expert.