Violin Necessities
Are you a new or aspiring violinist? If so, you're probably in the process of finding the right violin and equipment for you. Unfortunately, you can't just pick up a violin and start playing. Now you're likely wondering what you need to play the violin and where to get it. There are actually a variety of violin accessories that you'll need to get started.
In addition to the violin itself, you will need a bow, case, shoulder rest, strings, and chinrest. Yes, you do need to buy spare strings, but you are in luck that all rental instruments at Johnson String include free string replacements. It is also crucial that the accessories you purchase are compatible with the type of violin you have. Here is a complete guide to the violin necessities you should check off your list before you start playing.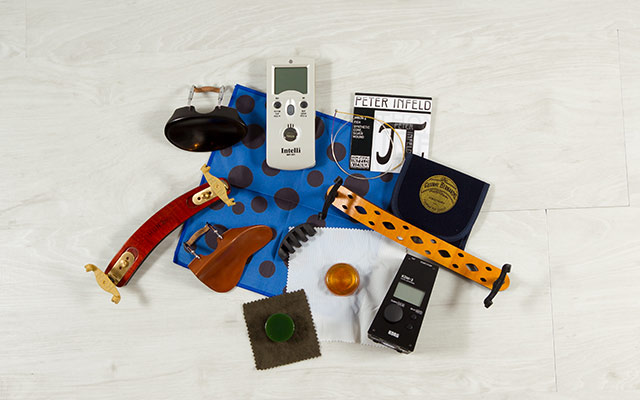 Everything You Need to Start Playing Today
New to playing violin, there are probably a lot of violin necessities you haven't even considered. There are tools like rosin, cleaning cloths, and humidifiers that are crucial for maintaining your instrument. In addition to all the equipment required for the violin itself, you will also need certain tools for the learning process.
Whether you take lessons or not, you should anticipate reading music eventually. This makes a music stand a must, along with a light for better visibility. You may also want to find sticky tabs and other note taking materials to annotate your sheet music. If you plan on taking lessons, you may need even more materials. Some music schools and teachers will require student violin outfits for performances. It's always a good idea to ask your instructor what materials they want you to have.
Violin Accessories
More than any music stand, sheet music, or violin case, the most important thing to have on your violin journey is support. Whether that comes from a helpful teacher or encouragement from friends and family, having people that value your craft and your learning process is essential.
Now that you know everything you need to start learning violin, you need to know where to get it. Unfortunately, you cannot purchase a music teacher or supportive peers in a store, so you'll have to find those on your own! However, we can help you with all the violin accessories you could ever need, and actually we have connections with the best local teachers as well! At Johnson String Instrument we offer high quality violins, violin rentals, and violin accessories. Our inventory includes all the violin necessities mentioned here and more, so you will not have to go crazy searching for all the equipment. Visit our site to begin the process of becoming a well prepared, well equipped violinist.