How to Transition From Being a Violin Student to a Violin Teacher
With the end of the school year approaching, many college students are trying to determine what their next steps will be. Whether you plan to enter a graduate program or go straight into the workforce, it's important to start thinking about your career goals and how to achieve them.
For a violin student, there are attainable career paths you can follow. With a high level of skill on the violin and a grasp of advanced pieces, you could have a future as a violin teacher. Teaching private or group violin lessons at the grade school or high school level is one of but not the only option for violin teachers. Here is how to become a violin teacher after years spent as a student yourself.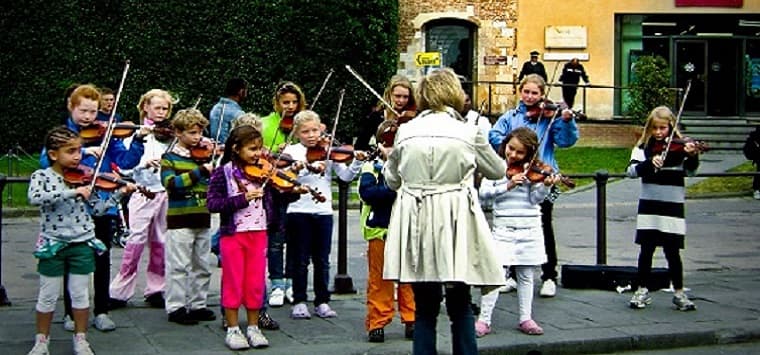 To be a teacher, you need students
When exploring the paths to a career as a violin teacher, you're probably going to encounter some common obstacles. The most difficult challenge you will face is finding violin students. That's why one of your first tasks should be to decide what type of students you want to teach. Figuring out the age and skill level you are interested in working with will help narrow down your search.
If you live in a small town, acquiring enough students to provide a steady stream of income may seem daunting. Though bigger cities usually have a higher demand for music teachers, that doesn't mean you can't build a client base wherever you are. Many teachers who offer private lessons either have a studio space that they utilize or travel to the students' homes for lessons. Both are great options – it just depends on what you are comfortable with and able to accommodate.
It's time to upgrade your equipment too
Once you start teaching lessons professionally, buying your first professional violin (if you haven't already), will make a difference. Many teachers also perform locally, and you will want an instrument that matches your skill and experience.
Not sure where to start looking? Try our online selection of violins. The right violin shop will have all the violin necessities you need to inspire confidence in your students. And our helpful and knowledgeable staff are always available to assist you and answer any questions.