How often do you need to rehair a violin bow?
When famous bowmaker Francois Tourte said, "Le violin, c'est l'archet", or "the violin is the bow", he may have been on to something. Bows greatly influence the quality of the sound that an instrument makes. While not all bows are the same, a good bow helps a stringed instrument produce a powerful, clear sound.
Bows are typically made of wood, carbon fiber, or fiberglass. The many strands of horse hair (yes — hair from the tail of a horse!) is the only part of the bow that actually touches the instrument. While horsehair is strong, it is not invincible. Over time, bow hairs become stretched, worn, and sticky with rosin build-up — all of which can compromise your playing.
But what are some signs that your bow is in need of a rehairing? If you notice a scratchy sound, a musty odor, constantly breaking hairs, or the hair refuses to tighten any further, it's time for a rehair.
Weeks, months or years?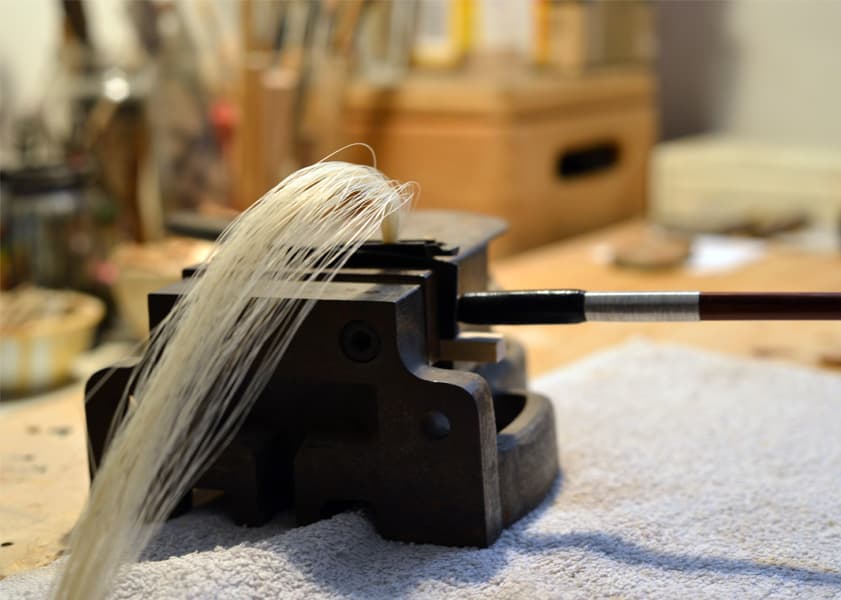 Rehairing a bow depends on several factors, including how often you play and the climate and conditions of where you practice. If you're a casual player (playing a few times a week), rehairing once a year is likely a practical schedule. If you're a professional or dedicated student who plays at length on a daily basis, you'll need to rehair your bow every three-to-six months. And if you play four hours-per-day or more, you may have to rehair your bow more frequently, perhaps as often as once per month.
Whether you're a professional player who rehairs their bow regularly or a hobbyist who only needs a rehair once a year, it's important to know when your bow needs some attention and have it repaired before the problem gets worse. You should never try to rehair your bow yourself. Always take it to a local luthier who can perform this service. If you purchased a bow from Carriage House Violins, you are always welcome to bring your bow to our showroom in Newton Upper Falls and set up a bow rehair appointment. Unfortunately, we are unable to service bows that are not sold by Carriage House Violins.
Upgrading your violin bow
If you feel that your bow just isn't delivering the sound that you desire (and you've explored every option for upgrading your instrument), you may decide that it's time to get a new bow. At Johnson String Instrument and Carriage House Violins, we have a wide bow collection, featuring many types of violin bows. We even have bows for students if you (or your child) have just started taking music lessons. View our collection today to find your new favorite bow.