Musicians continue to collaborate together online
As we navigate through society during the coronavirus, there are many questions about what the future of entertainment and live music will look like. Some social distancing measures and stay-at-home orders may have been eased, but many concerts, festivals, and other live musical events are still cancelled -- at least for the near future. So, musicians collaborating online have found new ways to connect with one another and their audiences.
Playing songs together is just one way that musicians are reaching out. Among other things, these artists playing concerts from their living rooms are trying to bring some fun and joy into the lives of their viewers to combat the many unknowns brought on by the COVID-19 pandemic. Using the internet to collaborate allows artists to touch a wide audience and bring some much needed beauty into the world.
Especially helpful for budding players are the myriad offers of instrument lessons online, which provide young musicians with the opportunity to continue to improve and connect with professionals and other musicians they may never have had the chance to meet in person.
Socially distant, in harmony
If you're hoping to jump into video conferencing with a collaborative online community, some kind of home setup for musicians is essential. There are a variety of accessories that can be used to improve the quality of shared music on the internet, but the basics are a camera, mics, and speakers. The selection of gear is broad, so if you're not already equipped, a bit of research may be necessary before selecting the tools that work best for you.
There are multiple benefits to creating music through an online platform. For one, it can involve you with different styles of music and other musicians all over the world. Making music together online also provides a creative, instructive, and therapeutic outlet. And with all the instructive software that is available today, even learning a new instrument completely online is not only possible, but realistic.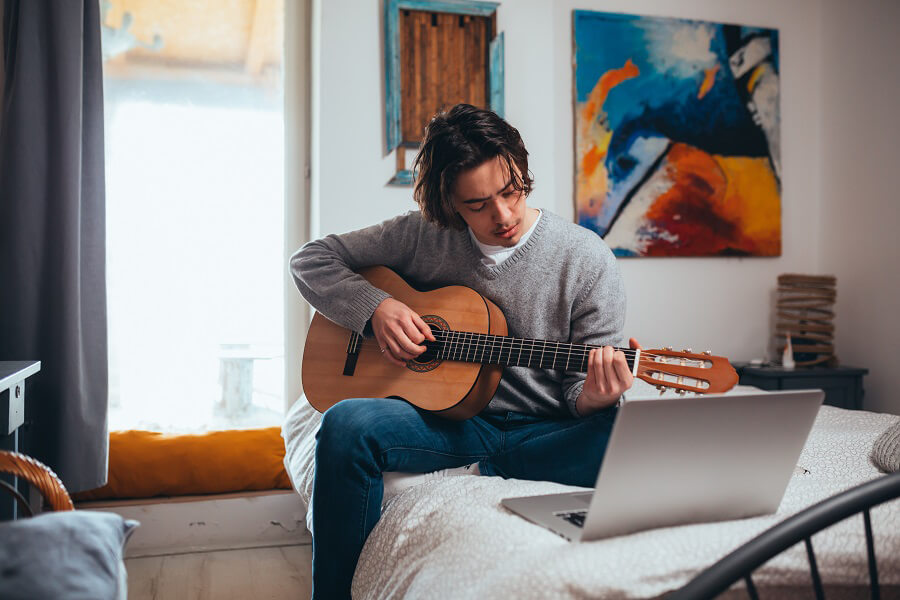 Upgrade your gear
If you and your equipment are online performance ready, there are several other ways to improve your recording and your audience's listening experience. No one wants to have their performance interrupted due to connectivity issues, so a stronger internet connection and faster WiFi are musts if you plan on streaming live or connecting with multiple people at once.
Playing music online may be the best way to experience live musical collaborations for the foreseeable future. Not yet a musician, or don't feel you're skilled enough for "prime time" yet? Consider honing your skills -- or learning a new instrument altogether. The classical stringed instruments: violin, viola, cello, and bass, can really expand your musical horizons, whether you're part of an ensemble or taking center stage for a solo performance.
Interested in investing in a new instrument for your online performances but are not ready to purchase, it is possible to rent a violin online as well as other instruments of all kinds online. However you decide to use your time making music online, you're already doing the most important part -- sharing your art and voice with the world.