Knock-off instrument strings
They say imitation is the sincerest form of flattery, but you're unlikely to flatter anyone with a set of imitation strings. There are always people looking for a good deal, and there are always knock-offs waiting to capitalize on the opportunity.
If you've ever bought violin strings online, you've probably come across a few sets of fake violin strings. And it doesn't stop with violins; there are counterfeit viola and cello strings too.
While opting for that surprisingly cheap set of "Dominant" strings you found on eBay might feel like a steal, you're probably getting low quality strings that aren't worth the price you paid. Let's take a look at some of the common tells that can indicate whether or not your strings are the real deal.
How to avoid counterfeit strings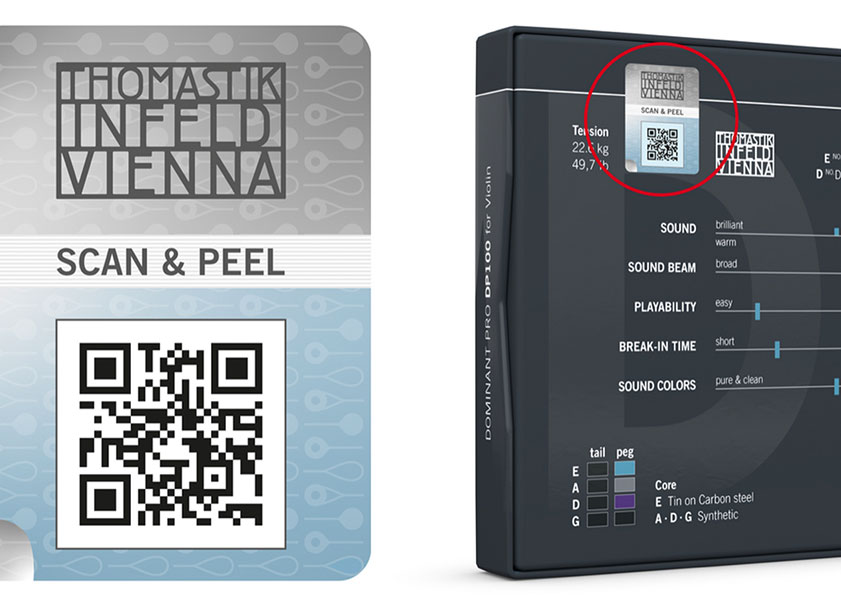 The easiest way to avoid knock-off violin strings is to shop with reputable sellers. Stay away from the online retailers and auction websites that unscrupulous sellers hide behind and stick to trusted music shops and string manufacturers. Of course it's more difficult to pass off "fake" strings during in person purchases, but you may need to rely on online sellers. If so, be sure to check customer reviews for any red flags before you buy.
While it's harder to determine the legitimacy of strings online, it's not impossible. Sometimes you can tell from the product photo whether they're real or counterfeit by looking at the color. You should make sure that both the winding and the ball end colors match those of the instrument strings you're shopping for to determine their authenticity.
Many string manufacturers now include a holographic image on the string envelope or set box to guarantee that the strings are authentic (see accompanying image). Always look for this reflective label to make sure you're getting genuine strings.
Only the best
The next time you see a set of Dominant violin strings being sold for shockingly cheap online, don't be so quick to add them to your cart. Remember, you get what you pay for, and if that price seems too good to be true, it probably is.
When you need a set of cello, bass, violin, or viola instrument strings, visit Johnson String Instrument instead. Whether you shop for strings online or in person, you can be sure that our products are nothing but the best.