Viola Players are Awesome – and Here's Why
In the world of stringed instruments, the viola takes a backseat to the violin and cello when it comes to being the stringed instrument of choice. But we know that the viola is a beautiful and essential part of any string ensemble. Even violinists and cellists have to admit that a symphony or orchestra sounds its most complete when all the stringed instruments play together in perfect harmony.
Remember the George and Ira Gershwin tune "Let's Call the Whole Thing Off?" It's all about differences of opinion…tomato, to-mah-to, potato, po-tah-to. Well, people who play the viola are often victims of differences of opinion when it comes to what they should be called. Violaist? Violist? Viola player? The other stringed instruments don't seem to have this type of controversy when it comes to their titles – violinist, cellist, or bassist — pretty straightforward.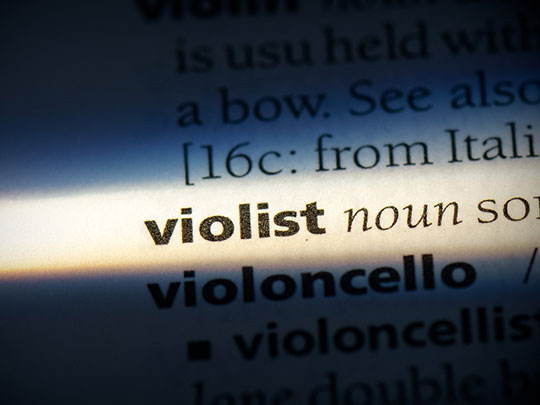 Viola players don't always get the same respect as do their smaller and larger cousins. Why even Hector Berlioz, the French composer of the symphony for viola, "Harold in Italy, Op. 16," once made the comment that "viola players were always taken from among the refuse of violinists."
However, the dark, rich, and weightier sound of the viola is what draws people to play it. Prominently featured in popular music in both songs and albums by bands such as Velvet Underground, The Goo Goo Dolls, Vampire Weekend, and Van Morrison, the viola blends the string sections together and gives body to orchestras, as a whole. In a string quartet, the viola's warm, low timbre is a sumptuous addition to the high string sound of the violin.
"Violaist" is old-fashioned: Use "violist"
The viola has been around for hundreds of years, and there are some historical reports that claim it's the oldest member of the string family. Throughout its history, composers have been using it as more of a harmonic instrument vs a melodic instrument.
And while the viola has had less solo music written for it when compared to the violin or cello, some pretty famous composers not only wrote music for the viola, but were, themselves, violists, including Bach, Mozart, Dvorak, and Schubert. Could they have been called "violaists"?
They could well have been because it's a real word, and it's also fun to say. According to the free dictionary, Wiktionary, the term violist was actually derived from violaist, but the latter is dated and no longer widely used.
Viola players are awesome
If you're interested in learning to play a stringed instrument, but are still undecided on what instrument to choose — violin vs viola, for example, you should do some research about the differences between all four of the stringed instruments. And that includes what you'll be called depending on your instrument of choice.
Violist, violaist…you may want to "call the whole thing off" and just say viola player because they are truly awesome.