How to clean your cello
Cleaning your cello is an important task that requires the right balance of care and expertise. Whether it's polishing the lustrous wood or caring for the strings and metal parts, regular cleaning and removing rosin buildup will help preserve your cello for years. In this article, we'll explain how to clean your cello, from the must-have materials to the most effective methods. So gather your cleaner and cloths, and get ready to clean your cello like a pro.
Everything you're going to need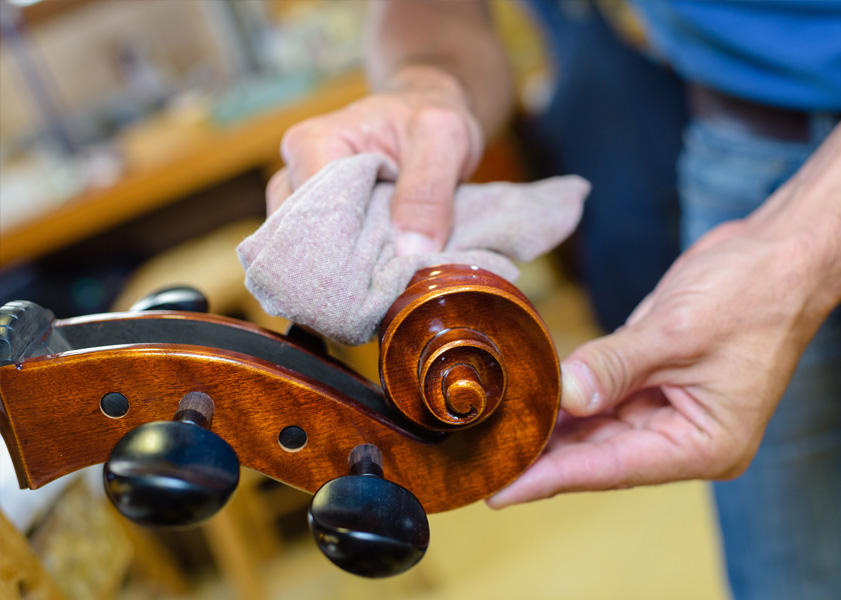 Rosin, which is made from tree sap, sticks to the bow hair as a fine, powdery dust. When you play, this powdery substance naturally settles on the cello's belly and sticks to the strings. If left unremoved, it could harden on the varnish, particularly in sunlight or heat, and dull the strings, affecting their vibrational integrity and the sound quality of your cello.
Before you start cleaning your cello, gather the necessary items: a soft cloth, a hand towel, rubbing alcohol, and varnish. Next follow these steps:
Place an old hand towel on the belly to protect the varnish.
Lightly moisten your cloth with a small dab of rubbing alcohol to wipe away the rosin build-up. Be VERY careful - use just enough alcohol to avoid any spills that could harm the varnish.
Firmly wipe the strings from the bridge to the nut by the scroll.
Continue until your cloth is dirt-free.
It's important to get into a regular cleaning routine -- daily cleaning, especially after each use, prevents rosin from accumulating and keeps your cello in optimal condition. Knowing how often to clean your cello ensures that it stays in top shape, ready to produce the best possible sound.
The final touch
The final touch in cleaning a cello involves giving it a proper polish. Using a soft polishing cloth and the right technique enhances the instrument's natural shine. Understanding the art of polishing your cello is important, as it not only keeps your instrument looking brand new but also contributes to its longevity.
Cleaning your cello is a task that every cellist should master. By regularly cleaning and polishing, you're not just maintaining its appearance; you're also preserving the quality of its sound. So, grab your cleaning supplies, follow these steps, and give your instrument the care it deserves. Your cello will thank you for it.