How Much Do Violins Cost for Kids?
Every parent wants to see their child nurtured into becoming a well-rounded individual, and no child's education is complete without exposure to the arts. Playing a musical instrument is the perfect addition to your child's educational experience and may even be a gateway to a lifelong passion and career.
Selecting an instrument can seem daunting -- so why not a versatile option such as the violin? An adaptable instrument that is the master of genres, the violin can launch your kid into any direction. If the violin becomes your child's passion, they can end up anywhere, from the orchestra pit to the rock stage.
Maybe the only catch in your child's musical venture is the price tag. The initial factor is how much violins for kids cost, but that doesn't include the lessons and accessories. If you want to know how much it will cost for your child to play the violin, check out our tips. With the right approach, you can be smart about your investment.
It can get expensive if you're not careful
Even if your child is a beginner, a high-quality instrument is important. This means preparing for an investment. Violins are musical instruments, not toys, and their price tag reflects this; the violins in our sales department start at over $1,000. This does not mean a good violin must be $1,000 or more, but beware of a deal that sounds too good to be true. A $100 instrument will not be well-made and will not sound right now matter how well it is played. Save your child and yourself the frustration by getting a quality instrument.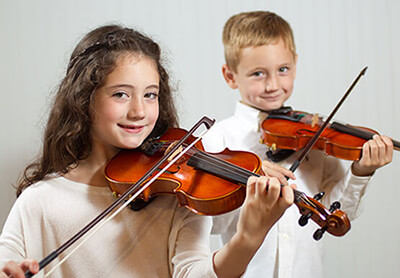 Also consider the necessary accessories. Depending on where you get the instrument, a bow, case and other accessories may be included in the price. If it does not, you will have to purchase these other parts separately.
As a parent, you naturally want the best for you child, but be smart about your investment in your kid's first violin. As beginners, the best violins for kids are durable, basic ones on which kids can learn the fundamentals of music. Before long, they will outgrow them and require a bigger and better model. Once your child displays mastery and/or is through major growing spurts, then it is the time to purchase a quality violin.
In the meantime, don't overlook all your options. Instead of putting money toward cheap violins, you can rent a quality instrument that is good to learn on. Not only will you not break the bank, but your kid will be able to learn how to play on an instrument just right for their size and level of experience. Even better, as your child grows, you can upgrade to bigger and better replacements at a fraction of the price.
Best options
Perhaps your child is just beginning and will continue growing for some time. If that's the case, then renting your first violin is a great first step. Rental costs can range from $23 - $43 a month and, as your child gets bigger, you can usually upgrade to a larger violin.
However, if your child shows promise and you are ready to make the commitment than buying a violin is for you. Look no further than Johnson String Instrument where we have a wide collection of violins under $3,000. Our trade-in policy also means you can upgrade at any time. Here at Johnson String Instrument, we take pride in our violins and will guide in everything from finding violin classes to basic violin care. Contact us today for all your violin needs!