Form Your Own String Quartet
If you're a string player, you're probably familiar with a variety of famous string quartets. There are classics such as the Busch String Quartet known for its performance of Beethoven quartets, but you can also find more modern groups like the Vitamin String Quartet who play instrumental covers of popular songs. The success of such groups may have inspired you to think about forming your own string quartet. After all, string quartets are one of the most important combinations in chamber music and there are plenty of classical pieces designed for that formation.
String quartets are also an excellent option for string players looking to expand their skills. Whether you're practicing for a performance or just doing it for fun, playing with other musicians is key to becoming a better player. Not only will it help you identify your own strengths and weaknesses as a musician, but you'll learn how to lend those skills to support your fellow instrumentalists. Here are our tips for assembling a group to form your own string quartet.
Finding the right group of players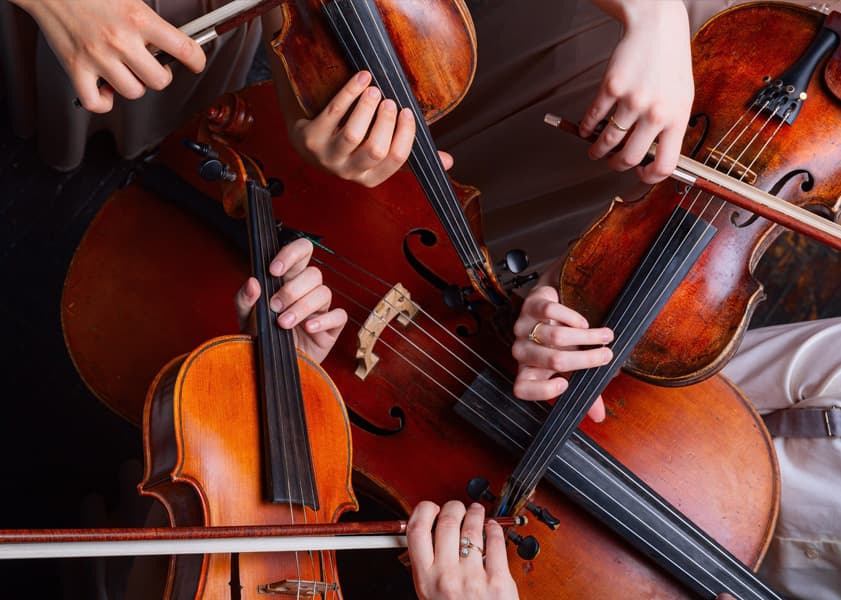 Obviously, the first thing you have to do to form a string quartet is gather four string players. The typical string quartet is comprised of two violin players, a viola player, and a cello player. Some groups even form a quintet by incorporating a piano, clarinet, or bass. There are a few factors to consider when deciding who you want to play with. The differing skill levels of the players is important to think about, both in terms of the actual instrument and other responsibilities. Having a member of the group who is experienced in music production, finding performance opportunities, or composing can help bring your group to the next level.
It's also important that you find musicians that you get along with and work well with. Inviting a prodigy into your string quartet is no help if you can't find your sound together. Making sure that you are playing with individuals who can listen to and support each other will have a significant impact on your music, and it'll make those late night rehearsals much more enjoyable. Once you gather your quartet, start practicing the songs together before breaking off for solo practice. This will allow you to set goals and work out any kinks before finalizing your performance.
Expanding your repertoire
Playing in a quartet is a fantastic way to ensure you're practicing music regularly while building up your social circle. Working with your instrument around other musicians is sure not only to boost your confidence as a player, but expand your network and opportunities within your musical community.
So you have your string instrument and three other players ready to go. What next? Well, the obvious answer would be to play something! At Johnson String Instrument, we offer a variety of sheet music for quartets. Pick out a piece today to practice with your group, and before you know it you'll be concert ready.