Everything You Need to Start Playing Violin Today
Have you recently decided to enroll in violin lessons? If so, congratulations on your decision. Learning to play an instrument provides a unique source of joy, accomplishment and entertainment that isn't achieved through any other pursuit. Another benefit over other pastimes like sports is that you can start learning at any age and keep it up throughout your lifetime. You are never too old or too young to get enjoyment out of playing music.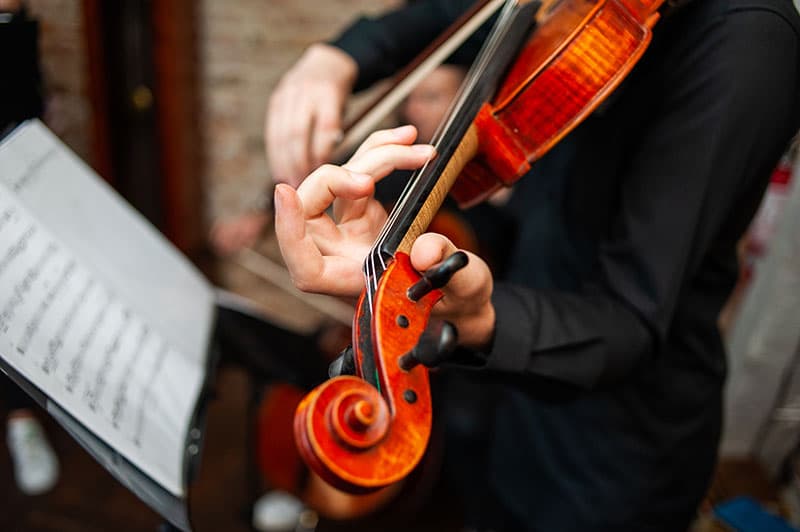 For those who grew up in a musical household and already know how to play the piano, the learning curve is not as steep. Piano provides a good introduction to the basics, but playing a stringed instrument is a nice change because of the portability aspect. As a piano player who is new to playing violin, the ability to carry around and play your instrument anywhere is a treat. It's important to note, however, that while being a pianist can help you learn the violin more quickly, it is certainly not a requirement.
The Basics
Before you get started, there are some violin accessories to have on hand to get the most out of the experience. The following is a list of the most common items.
Violin case: To keep your violin protected, invest in a durable case that also prevents exposure to changes in temperature.
Shoulder rest: The shoulder rest keeps your violin in place while you play. Look for one that is adjustable in width and height.
Chin rest: Your violin will likely come with one, but you may want to purchase another if it's more comfortable.
Music stand: A music stand holds sheet music at the right height, allowing you to sight-read it as you play.
Tuner: You'll need a portable tuner to use before every practice session or class.
Sheet music: Sheet music or a book of violin compositions to have fun learning familiar pieces.
Rosin: Rosin is essential for creating friction between bow and strings.
Dampit: Dampit is a specially designed tube that you fill with water and store with your instrument to prevent problems caused by low humidity.
Strings: Always keep spare strings to replace those that wear out or break.
Peg compound: You twist the pegs to create the right string tension, but humidity can affect the ability to turn them. Applying peg compound keeps them from getting too tight or loose.
Don't forget the most important accessory of all -- a great teacher! An experienced and qualified instructor can make a big impact on your ability to learn.
The Extras
Before you start playing violin, assure you have everything you need. Learning to play music is challenging and fun; being plagued by instrument issues is not. Whether you are a beginner, intermediate or advanced player, Johnson String Instrument has you covered. We carry an expansive variety of violin accessories to fit any need. Stop in or cruise your options online, and if you have a question, we have the answer!