Common Double Bass Problems
Every instrument comes with its own set of quirks, and the bass is no different. Whether you are playing in an orchestra or a school band, most bassists will run into problems with their instrument. Common issues every bassist deals with at some point often occur with the strings, the bow, or the fingerboard, but there are plenty of ways to solve them.
When you're new to playing the bass, addressing common bass instrument problems, and deciding how to fix them can be a challenge. Fortunately, we have identified a few typical issues bassists face.
Top problems
Strings are too high
Since wood is swells and contracts depending on the humidity level, your string heights can fluctuate due to weather. An adjustable bridge is the most common solution for bass players. A bass luthier can help you determine whether this or another solution would be best for your instrument.
Too much rosin
Rosin helps create the friction between your strings and the bow that produces sound. Bass rosin is sticky, so it should be used sparingly. Additionally, wiping the strings with a cloth after rehearsal will help stop the buildup of excess rosin.
Fingerboard is too flat
Sometimes, a fingerboard can be too flat or warped. This issue can cause you to inadvertently hit other strings or cause a tell-tale buzzing. In order to fix this, the bass should be brought to a trained bass luthier for evaluation and, if this is the issue, possibly have the fingerboard replaned.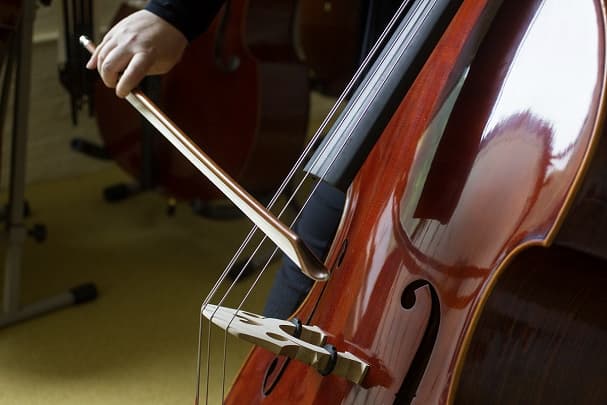 Fixing the problem and protecting your bass
No matter what problems you're struggling with, you probably aren't alone. Many bassists have written on this subject and posed some great strategies and recommendations for protecting your instrument. Making sure to keep your bass clean and properly maintained will help prevent many of these common problems.
Protecting your bass while you play is just as important as protecting it in storage. That's why we advise purchasing a bag for your instrument. Vinyl or canvas bags are great for guarding against minor damage and can greatly increase the lifespan of your bass. For Bobelock bass bags and more quality bass accessories, visit Johnson String Instrument today.