The Best Violin Strings for Beginners
When new to playing the violin, you are not just learning to read and play music, you are also learning the instrument itself. To start with, you will gain a basic understanding about how to properly hold the bow and violin, how to tune it and what accessories to have on hand. Violins themselves are small and easily portable, but they do require extra gear, like a case to protect the instrument from temperature changes and extra strings in case of breakage.
There are quite a few different strings on the market, which are designed to have differing effects on the tone and sound quality of the instrument. Of course you're not expected to be knowledgeable about all of the details right from the start. You will pick up the information as you progress, and in the meantime, don't hesitate to ask for help from the music community. Folks like experienced musicians, luthiers, and teachers can provide valuable insight into what are the best violin strings for beginners.
There are a LOT of options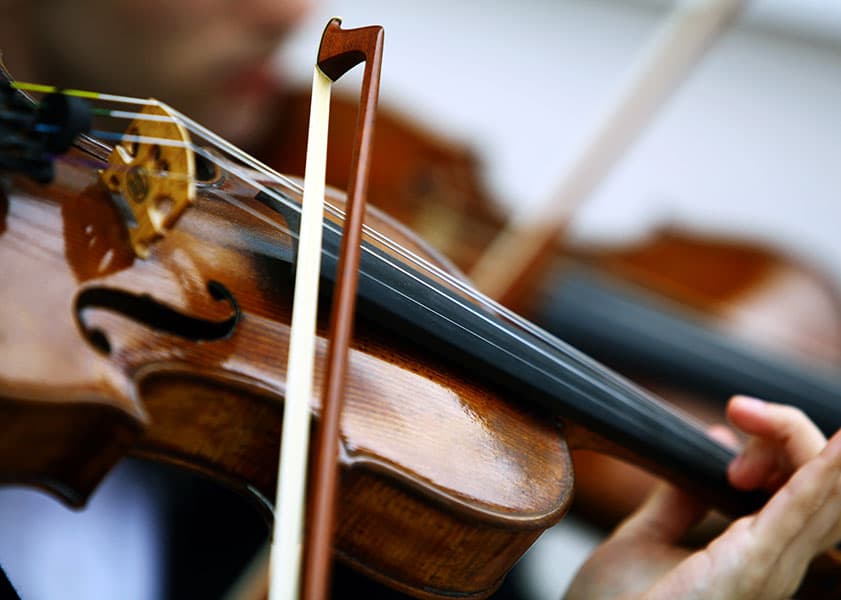 Violin strings vary based on the core material. The three main types are gut, steel and synthetic. Gut strings, made from sheep intestines and some metal, are the original type. Steel strings are all metal and therefore the most stable, and synthetic, made from perlon or nylon are the most popular.
Musical preference, or the genre of music you favor, will influence the type of string you choose because each produces a different quality of sound. For example, steel strings produce the brilliant tones associated with jazz or country music and synthetic strings are ideal for classical music. Two other factors that will influence your choice of strings for beginners are gauge and tension.
Gauge refers to the width of the string; the wider the gauge, the louder the sound it produces. Tension is the tightness of the string, and is also partially determined by the gauge. Thinner gauge strings produce less tension, which may or may not appeal to someone learning to play for the first time.
Finding what works best for you
Taking into account the factors we discussed above, choosing the best violin strings for a beginner will take some time and experimentation. Teachers and qualified professionals like the friendly customer service team at Johnson String Instrument are both great resources to tap for questions as you go.
Shop for violin strings online at Johnson String Instrument and get the benefit of choosing from a comprehensive selection, while getting the best value and enjoying the convenience of having them shipped right to your door.