Best Composers for Beginner Listening
The majority of music instructors use classical music when teaching both adults and young musicians. Conceived of and composed hundreds of years ago, classical music contains the foundation of all that came after it. Listening to it helps you gain an understanding and appreciation for the structure and composition of music in general. Every genre, from jazz to hard rock, has its roots in classical music.
When you're learning to play an instrument, you need a strong understanding of music theory; subjects like chord structure, timing, melody and harmony. The best place to find these building blocks is in music written by the great Baroque and Classical era composers. This rule of thumb applies to stringed instruments as well as piano. Some of the most beautiful compositions written during these eras were solo pieces created for violin or cello.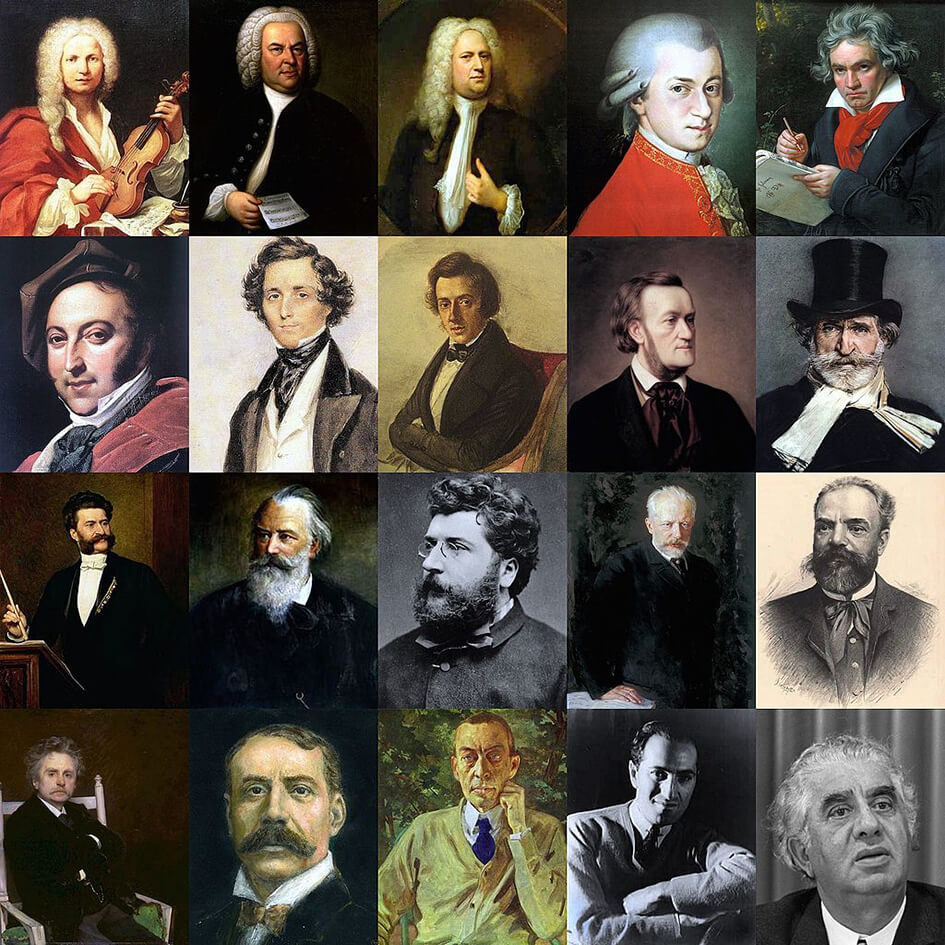 The top of our list
Considered one of the greatest composers of all time, Wolfgang Amadeus Mozart created an extensive repertoire of music. Some of his earlier compositions, like the Piano Minuet in F Major, are good pieces for beginners to learn. Other notable works, such as his Requiem, though too formidable for new musicians, can be appreciated through recordings.
Ludwig van Beethoven was renowned for revolutionizing classical music, infusing it with emotion. Intermediate musicians often learn pieces like Für Elise and the first movement of his Moonlight Sonata, though the great majority of Beethoven's work is too complex for beginners.
Johann Sebastian Bach became proficient at several instruments other than piano. He appears to have been taught violin and music history as a child. He then went on to play the organ and direct church music, and finally settled into full time composing at the young age of 21. His first Suite for Solo Cello in G Major is a beautifully melodic piece, and the Brandenburg Concertos are also incredible for their instrumentation.
Antonio Vivaldi also began his studies on the violin, his music is powerful and is still played by orchestras all over the world. Vivaldi's compositions are generally suited for more experienced musicians but listening to his concertos is inspiring for anyone learning to play.
Learning to play your favorites
The musicians listed above are a good place to begin for those who are just starting to listen to classical music. They provide a wide variety of styles for you to begin your musical studies. However, these composers are just a few of the best composers for beginner listening. There are many more that deserve mention, like Chopin, Brahms, Handel and Tchaikovsky.
For the budding musicians that are interested in not only listening to but playing classical music, check out the Johnson String Instrument's website to view our online string instrument shop as well as the library of sheet music we carry. Find your favorite composers arranged for different levels of experience and specific instruments.