Teaching An Instrument Is Fun And Rewarding -- Here's How To Do It
Teaching another person to play a musical instrument can be an enjoyable and rewarding experience. It's a great way to share your knowledge and experience as well as your love of music. Watch your students grow and progress at mastering their instrument.
Teaching another individual how to play a musical instrument is a tough job, especially if you've never taught an instrument before. Whether you're teaching a whole class, giving private lessons, or simply guiding a friend in an informal arrangement, you need to have a plan in place. Sometimes playing an instrument is not a guarantee that you can be a successful teacher, having a clear and flexible plan will help with goal setting and achievement.
By following some valuable advice on how to teach an instrument, both you and your students will benefit as a result.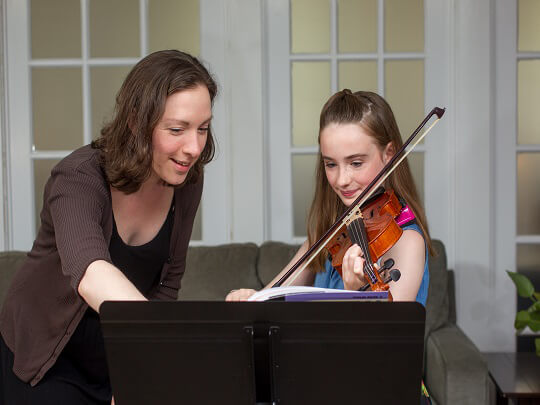 4 simple tips to start teaching
There are four simple tips that can help you to give a new player the best learning experience possible:
Plan ahead -- What sort of environment should you set up that would best suit the learning needs of your student? What instrument should you use to get your student ready for the task at hand? What chords, riffs, or songs should you first attempt to teach based on any experience your new student already has?
Be upbeat, even when teaching is slow -- Having a positive attitude is key when you're teaching another person how to play an instrument, regardless of how difficult it may become at times. Remember that every student is learning at their own pace. Negativity can really affect a student's morale and motivation.
Teach what they want to learn -- Start off by teaching them something they want to learn rather than something you think they need to learn. When they see that they can play, this could make them more motivated to practice at home. You can slip in music theory as you go.
Set musical goals each week -- Evaluate the main goal for the lesson, and then send your student home with some homework that will provide them with the opportunity to stay in-tune with their learning and goals when they're away from you and feel a sense of accomplishment when they master them.
Need some assistance?
If you are considering teaching a musical instrument to someone else, don't forget the fact, like your new students, you're probably going to have a lot to learn as well. Becoming a teacher that students appreciate and want to learn from is about learning what's important to them --
What are their needs and/or challenges?
Expectations?
Why have they decided to take lessons?
What can you do to help them be successful at meeting and even surpassing their goals?
Be patient and encourage their efforts. Then, sit back, and watch your student grow!
Since 1976, Johnson String Instrument has been providing teachers with a vast selection of sheet music, method books, teaching aids, and other supplies and accessories. Shop our selection of sheet music online. Set up a list of supplies you will need on our teachers' personal online store.