4/4 Alessandro Violin Outfit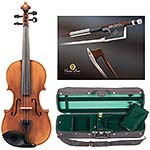 Catalog ID:
WEB-OFALESS-VN1
Full-sized Alessandro Violin, made by the workshop of William Lu in China
355mm back length
Lightly antiqued golden-brown varnish
Light, bright and clear treble sound with quick playing response
High quality ebony pegs and fingerboard
Custom-carved Despiau Superieur bridge
Wittner tailpiece with four built-in fine tuners
Dominant A, D and G strings and Gold label E string
Guarneri model chinrest.
CODABOW PRODIGY CARBON FIBER BOW:
Graphite Diamond Weave Finish - Blended Acoustic Core - Brown Tint - Xebony Engineered Ebony Frog- White Mother-of-Pearl Slide - Engraved Coda Eye Inlay - Nickel and Silver fittings - Moroccan Goat Skin Grip - Metal Alloy Tip Plate - Silver Medal Horse Hair - Traditional Hand-Cut Wood Wedges and Plugs - Individually Numbered - Limited 5-Year Warranty
BOBELOCK OBLONG CASE:
Model #4002, made especially for JSI.
Green velvet interior
Four bow holders
Two accessory pockets, blanket, hygrometer, string tube
Velcro neck restraint, suspension, tail block sponge
5-ply poplar veneer construction
Canvas cover with weather flap and music pocket
Shoulder strap, subway strap, D-ring for backpack option.
Alessandro Outfit With CodaBow Prodigy bow & JSI #4002 oblong case, green interior 4/4
4/4