Robin Aitchison cello, Ely 2006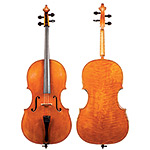 British maker Robin Aitchison developed a deep desire to become a luthier while learning to play the cello as a child. After working in engineering and business for ten years, he trained at the Newark School of Violin Making, from which he graduated with Distinction in 1996. He worked as the Assistant Instrument Custodian for the stringed instrument collection at the Royal Academy of Music in London, before establishing the Aitchison & Mnatzaganian workshop in Ely, Cambridgeshire. He now builds cellos on commission and is in high demand among cellists throughout Europe for setup and tonal adjustments.
Aitchison attends the Violin Society of America Violin Making Workshops held in Oberlin, Ohio each summer. He has appeared on BBC Radio 4's Today Programme, as well as other BBC and ITV television and radio news programs, and has appeared as guest speaker at pre-concert talks for the Academy of Ancient Music.
4/4