Yamaha SV-255 Professional Silent 5-String Violin Outfit including Johnson Artist Bow and Core 399 Case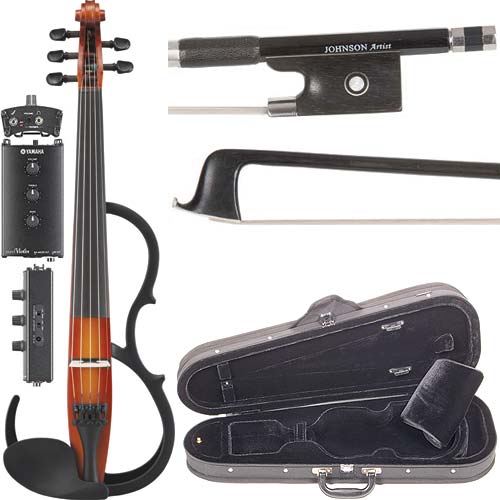 Catalog ID:
EIVNYAMVN42/1N
Designed to meet the needs of the professional performer playing diverse styles, the Yamaha SV-255 Pro™ 5-String Silent Electric Brown Violin establishes a new benchmark for sound quality and player comfort. An innovative dual pick-up bridge allows the performer to blend the tone from an edgy electric to a rich acoustic sound. An external control box reduces the weight of the violin to 530 grams, roughly the same as a traditional acoustic violin.
Lightweight Design: The most comfortable, lightweight professional electric violin available. At only 530g the violin feels like a traditional acoustic violin.
5-String: Natural fingerboard spacing and a low-C string. 5-string fits regular violin case/gig bags.
Dual Pickups: Piezo pickup in the body of the instrument picks up of the rich vibrancy of the instrument, while the bridge pickup picks up the player's subtle performance nuances. Blend pickups together to meet your sound preference.
Stage Performance: Easy connections to PA equipment - heavy duty electronic control box features a balanced out XLR, 1/4" jack, 1/8" independent headphone monitor jack, Treble, Bass and Volume controls.
Hollow-body Design: First Silent Violin with unique hollow-body design; spruce top & maple back create resonant chamber under bridge. Natural violin sound & feel.
Premium Wood: Hand-carved spruce & flamed Maple make this Silent Violin naturally beautiful with a rich brown finish.
SpecificationsType: 5-string
Instrument size: 4/4
Neck: Maple
Body: Spruce top, Maple back
Fingerboard - Pegs: Ebony
Bridge: Maple "Aubert" with VNP1 pickup
Side body - Chin Rest - Tailpiece: Molded plastic
Tuning Adjusters: Wittner Ultra
Strings: D'Addario Zyex
Sensor: Bridge Pickup: Yamaha, Body Pickup: Piezo
Electronic Controls: Treble & Bass control
In/Out Jacks: 1/4" jack, 1/8" headphone jack, XLR balance jack
Power Supply: 2-AA Size 1.5V batteries or AC adapter (PA-3C) or Phantom 28-48V
Johnson Artist Carbon Composite Violin Bows have a sleek, black stick of high quality carbon composite material, and is strung with high quality horse hair. The bow is strong, flexible, and durable, handles well and provides rich, clear tone. The ebony frog is mounted with nickel and is decorated with a Parisian eye. The grip has silver winding and a thumb leather. The button is double-banded with ebony and nickel. The weight is approximately 60.5 grams. Perfect for electric violins!
Core CC399 Dart-Shaped Violin Case features a wood shell surrounded by a cordura cover with a music pocket and a plush-lined interior with instrument blanket along with two bowholders and an accessory pocket. It has a zippered closure with a good strong latch. Backpack straps and a handy shoulder rest pocket round out this popular case! Core brand cases have attained a reputation for honest value, excellence, and years of proven durability!

WE ARE AN AUTHORIZED YAMAHA DEALER!