NS Design WAV-5 Electric 5-String Amberburst Violin with Custom Case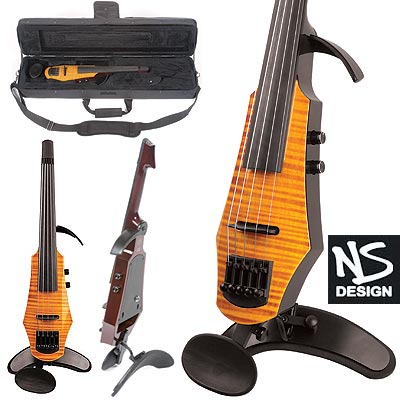 Catalog ID:
EIVNNSDWAV5/1T
Designed and built to deliver great sound, excellent playability, and long, dependable service, the NS Design Amberburst Electric WAV 5-String Violin provides an affordable option for the serious professional and student player. At the heart of every NS bowed electric instrument is the Polar pickup system. The big, bold, and brilliant tone looks to the future, yet the sonic ingredients of the acoustic violin are present and can be tamed to become traditional in character. The unusually powerful piezo crystals do not require on-board power, for maintenance-free performance without the hassle of batteries.
The WAV Violin's rock maple bridge is easily adjustable for the playing style and action height you prefer; high and powerful like a traditional violin, low and fast like an electric guitar, or anywhere in between. The ebony fingerboard is graduated for each string to optimize the tone and playability of every note. The neck is smooth and fast, with traditional thumb reference points for the scroll and heel. The removable bout provides accurate position reference for players accustomed to using the traditional body shape for reference.
Light weight and good balance are the essential comfort factors for any violin. The fully carved interior of the WAV Violin keeps the weight to the minimum, and the body mounted tuners bring the center of gravity back over the shoulder where it belongs. The shoulder rest is contoured and padded to provide stable support, and is fully adjustable to accommodate differences in playing styles and body types.
Whether you're a student looking for your first solid-body, or a string educator looking to add electrics to your program, the NS Design WAV Violin is good news for any budget-conscious shopper looking for a great electric violin!
Please note: This awesome violin comes complete with a well-made fabric covered hard foam core case made specifically to fit the WAV violin. The padded, form fitting interior cradles and protects the violin. It holds 1 bow, shoulder rest, output cable, and extra gear, with lock and key.
Specifications:
LENGTH: 540 MM (21.25")
WIDTH: 110 MM (4 5/16")
THICKNESS: 65 MM (2 9/16")
WEIGHT: Highly carved interior for light comfort.
5 string: 695g
SCALE LENGTH: 330 MM (13")
BODY/NECK: Maple neck and body for rich tone and visual grace.
BODY REFERENCE BOUT: Black-dyed maple bout on treble side provides standard violin reference. Easily removable for unrestricted neck access.
FINGERBOARD: Ebony, hand-graduated, asymmetric relief, shaped for effortless play.
BRIDGE: Black-dyed maple, height adjustable via screws on back of body.
STRINGS: NS Electric Strings are standard. Compatible with solid and stranded core violin strings. Synthetic core strings are not recommended.
PRECISION TUNING HARDWARE: NS Design patented tuning system. Fine tuners are mounted on the body behind the bridge for precise, stable tuning. Automatic string clamping allows for quick, easy string changes.
PICKUP: The Polar directional piezo pickup system responds selectively to either lateral string vibration (for dynamic bowing) or vertical string vibration (for remarkably even and sustained plucked/pizzicato sound, like a mandolin).
ELECTRONICS & CONTROLS: Passive circuit with high impedance output, no batteries required. Volume control and Tone control (treble roll off).
PERFORMANCE SUPPORT SYSTEMS
SHOULDER AND CHIN REST OPTIONS: The Custom Shoulder Rest is a standard with the WAV Violin and can be formed by the player to fit the body perfectly.
TRANSPORT
NS VIOLIN CASE: Customized for the NS Violin, this standard hardshell case with handle and shoulder strap includes separate compartments for shoulder rest and accessories, a bow compartment and exterior zipper pouch. Made with durable Cordura® fabric, 3.2 kg (7 lb) loaded weight.
Weight:
7.9 lbs