NS Design NXT-5 Fretted Electric 5-String Violin Black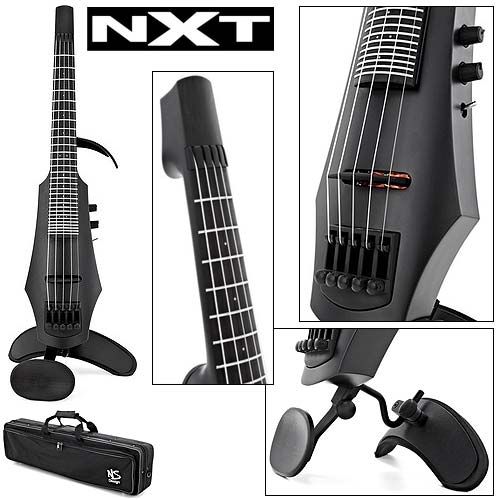 Catalog ID:
EIVNNSDNXT7/1B
The NS Design NXT-5 Fretted Electric 5-String Violin With Matte-Black Finish opens up a new horizon for the serious musician seeking to play a world-class fretted electric violin on a limited budget. NXT Violins, crafted in the Czech Republic by the makers of NS Design's renowned CR series, exemplify flawless workmanship. These beautiful violins bring world-class design and craftsmanship to a surprisingly affordable price range. With a visual appearance as striking as its sound, the roadworthy NXT is an exciting and reliable partner for the most demanding performance career.
Amazingly Warm and Sustained Sound: One of the first things players notice is an amazingly warm, sustained pizz sound, and enhanced sustain overall. As guitarists know, where some damping would normally occur with the string is in contact with the finger, the fret provides a "hard stop". Violinists are also happy to discover that these instruments respond well to traditional techniques, including a satisfying glissando effect when desired.
Light Weight And Perfect Balance: Critical performance factors for any electric violin is weight and balance, and the NXT Series tops the charts as one of the lightest electric violins on the market. Weighing in at 585 grams, the NXT pioneers special carving techniques to reduce the weight of the maple body, while preserving extraordinary rigidity and striking good looks. Ultralight tail-mounted tuners allow precise adjustment, easy string changes, and keep the balance point of the instrument close to the shoulder for maximum comfort.
Advanced Piezo Technology: Additional weight is saved by advanced piezo technology that eliminates the need for heavy on-board batteries and circuitry. The self-powered Polar™ electromechanical transducer, technically referred to as a passive pickup, is anything but passive, with higher output than most active systems. The result is unsurpassed dynamic range, clarity, and sheer power. The dual mode Polar pickup responds to both lateral string vibration for bowing, and vertical vibration for pizzicato playing. (A body-mounted two-way switch lets the player change modes easily.) The resulting sound retains the essential timbres of a fine acoustic violin, but is easily modified—via on-board controls or post-processing—to suit almost any sonic palette.
Innovative JackPot Potentiometer: The NXT is also the first NS violin to incorporate NS Design's innovative JackPot potentiometer in its volume and tone controls. Conventional passive volume and tone controls work by siphoning a portion of the output signal to ground, and continue to hold back a portion of the pickup's signal even when turned up all the way. The JackPot incorporates a rotary switch that disengages the ground when turned fully clockwise, sending 100% of the instrument's signal to the amplifier. The result is a fuller, richer tone, with more power, detail, and overall intensity.
Adaptable And Powerful: The NXT adjusts easily to any violinist's style. It comes equipped with the Custom Shoulder Rest which can be formed by the player to fit the body perfectly. The NXT can also attach to NS Design's revolutionary Balanced Shoulder Rest, which secures it effortlessly in optimal playing position. Using set screws, the rock-maple bridge can be readily adjusted to the desired action height—high and powerful, low and fast, or anywhere in between. NS Electric Strings—and all other traditional violin strings fit NS violins—allowing the player to select from many different string options, each with a unique sound and feel.
Case: This awesome violin comes complete with a well-made fabric covered hard foam core case made specifically to fit the NXT. The padded, form fitting interior cradles and protects the violin. It holds 2 bows, shoulder rest, output cable, and extra gear, with lock and key.
Specifications:
Instrument Type: 5-String Fretted Electric 4/4 Violin
Length: 540 mm (21.25")
Width: 110 mm (4 5/16")
Thickness: 65 mm (2 9/16")
Weight: 610 grams
Scale Length: 330 mm (13")
Body/Neck: Solid, straight grain maple, with maple face and Matte-Black finish.
Body Reference Bout: Black-dyed maple bout on treble side provides standard violin reference. Easily removable for unrestricted neck access.
Fingerboard: Hand-graduated ebony.
Bridge: Black-dyed maple, height adjustable via screws on back of body.
Strings: NS Electric strings standard. Compatible with standard violin strings.
Precision Tuning Hardware: 40:1 fine tuners are mounted on the body behind the bridge for precise, stable tuning. Automatic string clamping allows for quick, easy string changes.
Pickup: The Polar™ directional piezo pickup system responds selectively to either lateral string vibration (for dynamic bowing) or vertical string vibration (for remarkably even and sustained plucked/pizzicato sound, like a mandolin). A switch allows the player to choose the desired response.
Electronics & Controls: Passive circuit with high impedance output, no batteries required. Volume control and Tone control (treble roll off).
Chin & Shoulder Rest: Ergonomically designed to support the instrument securely without the left hand. The padded shoulder rest is fully adjustable for height and angle. Knobs are located within easy reach of the right hand so adjustments can be made with the instrument in playing position.
Hardshell Case: Fabric covered hard foam core, 81cm (32") long, 21cm (8.5") wide, 14 cm (5.5") high, 2.7 kg (6 lb) loaded weight. Padded, form fitting interior. Holds 2 bows, shoulder rest, output cable, and extra gear.