Yamaha SVC-210SK Studio Acoustic-body Brown Cello with Johnson Artist Carbon Composite Bow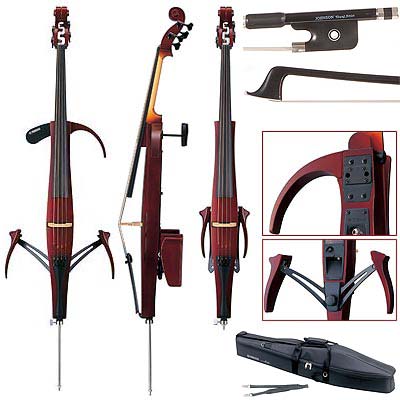 Catalog ID:
EICEYAMSD21/1N
We've put together this great cello outfit that you won't find anywhere else!
Yamaha's SVC-210SK Silent Electric Acoustic-Body Cello features a unique resonating chamber, producing the most realistic "acoustic-like" tones and resonating sound. It is easy to transport because of foldable knee supports. The knee supports remain attached when you fold it making one less part to remove and forget to pack. The sound is bright but still is very warm and natural. The SVC-210's tone is indeed close to a full-bodied acoustic tone when played through a properly matched amplifier. The body preserves all the contact points of a normal cello - especially the heel of the neck, which is an important reference point for shifting to the higher positions.
Full, Rich Tone Enhanced With Spacious Reverb: Tone is what makes an instrument special. The SVC-210 possesses a warm, full-bodied tone with the natural characteristics and nuances found in any acoustic cello. What's unique is its ability to place that sound in the rich acoustic environment of concert halls, without any external processing equipment. A specially designed chip by Yamaha digitally enhances the SVC-210's sound with reverb. Simply select from the Large Hall, Medium Hall or Room settings to hear yourself in different virtual performance environments.
Practice With CD's, Connect To A PA: In addition to the cello's reverb section, the instrument is also equipped with Auxiliary In, Line Out, and Headphone Jacks. Connect a compact disc player, mini disc player, or cassette deck to the input jack and play along with your favorite recordings. This is an extremely useful feature when practicing. With the output jack connected to a P.A. or external audio system you can perform live.
Fast and Easy Setup: The SVC-210 is fast to setup and easy to transport because of foldable knee supports. The knee supports remain attached when you fold it making one less part to remove and forget to pack.
Specifications:
Size: 4/4
Neck: Maple
Body: Spruce/Maple
Knee Supports: Beech (Detachable)
Finger Board: Ebony
Tuning Pegs: Worm Gear Type
Bridge: Maple (Aubert)
Tailpiece: Wittner
Knee Support: Beech
Strings: D'Addario Helicore
Fine Tuner: 4 (for each string)
Sensor: Piezo Pickup
Electric Controls: Master Volume - Reverb Switch(Room/Hall1/Hall2)
In/Out Jacks: Headphone Out - Line Out - Aux-In
Power Supply: AA size 1.5V battery × 2 or optional AC adapter
Battery Life: Manganese-approx. 3-10 hours or Alkaline-approx. 9-25 hours
Weight: 3.5 kg (7 lbs. 11 oz.)
Standard Accessories: Stereo Headphones - Audio Cable - Chest Support - AA size 1.5V batteries 2pcs
Our own Johnson Artist Carbon Composite Cello Bow has a sleek, black stick of high quality carbon composite material, and is strung with high quality horse hair. The bow is strong, flexible, and durable, handles well and provides rich, clear tone. The ebony frog is mounted with nickel and is decorated with a Parisian eye. The grip has silver winding and a thumb leather. The button is double-banded with ebony and nickel.
The protective Yamaha Soft Gig Bag, which is standard equiptment, features plenty of pockets to hold your bow and all your accessories, extra protection for your bridge when traveling, and makes it easy to carry and transport your cello.

WE ARE AN AUTHORIZED YAMAHA DEALER!