Yamaha SLB-200LTD 3/4 Limited Edition Silent Bass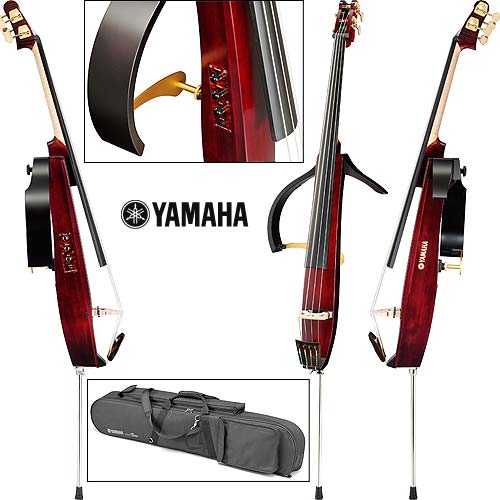 Catalog ID:
EIBAYAMSB21/2N
The Yamaha SLB-200LTD Silent Bass Limited Editon PRO elevates the silent bass to a whole new level! This professional electric upright bass is for players who want easy portability and a standard string length of 41 inches. The SLB-200LTD's hollow body design and internally mounted pickup system delivers pizzicato tone that is solid, rich and realistic while fitting naturally into any jazz or pop setting. Built-in electronics offer plug and play simplicity and a detachable frame gives the instrument true feel and playability, as well as excellent support and comfort. Frames remove easily to increase the portability of the instrument. The SLB-200LTD is designed to allow the entire instrument to break down and fit into a compact case, which can be carried comfortably with the shoulder strap.
Beautiful Ebony Used Throughout: Yamaha used ebony in several locations on the instrument such as the fingerboard, reverse style tailpiece, and upper nut. They also changed the saddle material from ABS to ebony, which has had a positive influence on tone.
New Control Section Delivers Essential Sound Tailoring: A new preamp and control section has been designed to deliver superior sound quality. The unit incorporates a passive direct switch that allows direct output of the piezo signal to external equipment. This lets you tap directly into the pure, focused tone of the instrument to send its output to the amp.
Improved Body Structure and Pickup: Redesigning the structure and volume of the instrument's hollow cavity has reduced the instrument's weight while delivering greater wood bass tone. Using this design along with the pickup system, the SLB200LTD delivers a more natural acoustic tone that is powerfully rich and expressive whether played pizzicato or with a bow.
Newly Designed Bridge Raises The Bar For Tone: Fine tuning the bridge's size and thickness gives the SLB200LTD a tone with a quicker response that is clear and well balanced over the instruments entire range. Height adjusters, redesigned with new materials and finish, deliver a purer, more focused tone.
Tuners Offer Beauty And Function: In redesigning our tuners, even changing the way they are manufactured, we've created a thicker blade that feels solid in the hand. Using a higher gear ratio delivers delicate and precise adjustment while the gold finish adds a luxurious touch of class.
Crafted With Premium Curly Maple: Crafted from beautifully figured curly maple, the neck on the SLB200LTD feels extremely comfortable and inviting to play, providing an intimate connection between the player and the instrument.
Improved Endpin Rubber Cap: Upright bassists demand stability while playing so we've designed a new endpin rubber cap that is thicker, better shaped, and stronger.
Fits Into Compact Soft Case: Using a removable frame that folds up plus additional size reduction through the use of special tailpiece and endpin designs, the SLB200LTD its into a compact case that makes transport easy.
Deep, Rich Finish: The SLB200LTD features an Antique Brown finish that brings out the beauty of the wood's grain giving it a rich and impressive look. The neck has an oil finish that provides the right amount of smoothness and stability that provide a level of comfort and playability that bassists look for in an instrument. On stage it looks great, standing out underneath the stage lights with its professional look and details.
Features:
Body Color: Antique Brown Color
Width: 456mm
Height: 1698mm
Depth: 330mm
Weight: approx. 6.9 kg (15 lbs. 3 oz.)
Body: Spruce and Mahogany
Side/Frame: Beech and Aluminum
Neck: Maple
Finger Board: Ebony
Bridge: Maple
Tuning Pegs: Custom Worm Gear Type (Gold Color)
Tailpiece: Ebony (Reverse type)
Strings Scale: 1,040 mm (41")
Strings: D'Addario Helicore Hybrid (Light)
Pick Up System: Piezo Pickup
Master Volume: Yes
Other Control: Treble, Bass, Active/Passive Direct Selector Switch
Connectivity: LINE OUT
Power Supply: 9V Battery Included
Battery Life: Manganese battery: approx. 1,000 hours, Alkaline battery: approx. 2,000 hours (Continuous Use)
Case: Soft Case Included

WE ARE AN AUTHORIZED YAMAHA DEALER!