NS Design Electric 4-String CR4 Omni Bass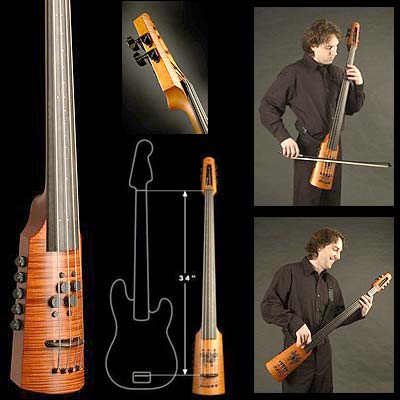 Catalog ID:
EIBANSDCR4E/2T
The NS Design Electric Fretless 4-String Omni Bass with Light Maple Finish breaks through conventional barriers by integrating phenomenal acoustic and electric bass tones with the familiar 34 inch bass guitar scale. This beautiful 4-string bass uses identical fingering to that of the conventional bass guitar, yet delivers dynamic new plucked and bowed sounds for the serious bass guitarist who wants to expand his expressive range. Tuned to E or down to low B, this radical new electric bass combines the tonal purity of the acoustic upright with the awesome power of the full-blown electric, resulting in the most versatile bass on the market today.
From punchy, percussive attack to smooth, singing sustain, the Omni Bass's exclusive Polar™ piezo pickup is the only system that allows the bassist to control the attack and decay of the plucked string. EMG magnetic pickups add classic electric sounds. The on-board pre-amp, EQ, and mixer allow the player full control of this wide tonal palette right from the instrument. The Omni Bass responds to the bow with a natural and expressive voice, combining powerful bass resonance with brilliant harmonics. The strings are easily driven making it possible for bassists with little bowing experience to add this beautiful dimension to their music. Deep, resonant bass response is the essence of this remarkable new instrument. Whether plucked or bowed, the Omni Bass delivers pure, exciting acoustic and electric bass sounds that can be tailored to compliment virtually any musical style or gig.
34" Scale: The 34" scale length of the Omni Bass is the same as a standard electric bass guitar. The Omni Bass can also be tuned in fifths, for fingerings that are more natural for the cellist seeking enhanced bass range.
Arched Fingerboard: The Omni Bass has a highly arched fingerboard and bridge, similar to a cello, to optimize bow articulation. The high arch on the fingerboard fits the human hand, and combines with the round neck profile for a comfortable and natural feel.
Cascading Position Markers: Dots for each semi-tone cascade across the fingerboard, a unique configuration that provides a clear visual fingering reference. The logical dot pattern is of critical value to the novice player, and an invaluable reference guide for the seasoned pro.
Polar Pickup System: The multiple sensor NS Polar bridge pickup system has two modes of operation: "arco" and "pizzicato". This allows the player to optimize bowed response, and to control attack and decay characteristics for plucking. The deep bass and brilliant highs possible with piezo crystal technology give the instrument a beautiful, dynamic, and versatile sound.
EMG™ Magnetic Pickups: Custom designed EMG low impedance magnetic pickups have a smooth response with lots of sweet midrange for the quintessential "electric" tone. Their relatively flat frequency response allows the natural sound of the instrument to project through. Each pickup is individually adjustable and internally shielded an internal preamp system for hum free performance.
Active Controls: Two balance controls allow unlimited mixing options for the magnetic and the dual mode Polar Pickup systems. On-board pre-amplification provides master volume, bass and treble controls. The 18 volt power supply insures plenty of headroom for full dynamics. Polar Pickup systems. On-board pre-amplification provides master volume, bass and treble controls. The 18 volt power supply insures plenty of headroom for full dynamics.
Interchangeable Support Systems: The Boomerang™ Strap System is standard equiptment with the Omni Bass. Two articulated arms and a pivoting hub allow full mobility on stage or in the studio. The comfortable Boomerang strap fits over the shoulder just like a guitar, but the adjustable arms allow the instrument to be placed in virtually any position in relation to the hands and body. The Boomerang Strap System allows full mobility for either bowing or plucking.
Strings: Steel, aluminum, tungsten, and bronze are combined to make strings that are unusually responsive, with singing highs and a deep low register. These polished low-tension flatwound strings are effortless to play and minimize unwanted finger noise. The bright pizzicato growl provides an authentic acoustic tone, yet these strings deliver plenty of sustain and drive when you need it. Developed in collaboration with D'Addario, these strings are also ideal for bowing. They respond much quicker to the bow than traditional bass strings, so expressive bow technique is easier to develop and maintain. The Omni Bass is designed to accommodate any standard bass guitar string, adding unlimited set up options for musicians who want to explore & create their own unique sound.
Handmade: Each instrument is hand-made in the Czech Republic to the highest standard by craftsmen steeped in a long tradition of instrument making.
Specifications:
Length: 44.5"
Weight: 7.2 lbs.
Scale Length: 34"
Construction: Solid rock maple neck and body, flame maple face.
Finish: Traditional amber stain with clear semi-gloss polymer coating.
Fingerboard: Ebony, 27.5" long, radius 2".
Bridge: Phenolic, overall string spacing: 2.75 ", radius 2.2"
Nut: Ebony, overall string spacing: 1.31" , radius 2"
Bridge Pickup: The Polar™ directional piezo pick-up system responds selectively to either vertical vibration (for the sustained plucked sound, like an electric bass guitar), or lateral vibration (for dynamic bowing, and a percussive plucked sound).
Magnetic Pickup: Low impedance EMG™ magnetic pick-up system, with individually adjustable coils, and low-noise, hum-canceling pre-amp.
Electronics: 18 volt active circuit by HAZ Laboratories. Mono output.
Controls: Volume - Blend(counterclockwise-magnetic pickups / clockwise-clockwise for bridge pickup / center-both) - Balance(counterclockwise-pizzicato or vertical vibration / clockwise-arco or bowed and percussive plucked sound / center-both) - Treble - Bass
Truss Rod: Double rod design. Accessible at nut.
Tuning Machines: Schaller 20:1 ratio, fully encased worm gear tuners; black finish.
Strings: CR Series Omni Bass strings by D'Addario. The CR Series Omni Bass also accommodates most long scale bass guitar strings.
Gig Bag: Padded gig bag with integrated bow pocket, handle and backpack style strap. External pockets for stands and accessories.
Please email info@johnsonstring.com or call 800-359-9351 for availability.
Weight:
20.0 lbs