Peter Wamsley cello, London 1750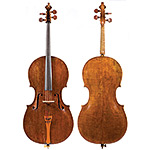 Peter Wamsley II (c. 1715-c. 1751) was the son of Peter Wamsley I (c. 1670-1744), an influential luthier based in London in the early part of the 18th century. The Wamsley workshop in Piccadilly was well-known to musicians of the time, including Frederick Louis, the Prince of Wales, who played the viola and the cello. Peter Wamsley II is particularly known for his cellos based on models by Stainer and Stradivari.
Continuing to thrive after Peter Wamsley II's student Thomas Smith (d. 1790) took over the business in 1751, the Wamsley workshop would uphold its significance as an important influence on English makers throughout the remainder of the 18th century. Several esteemed makers of the London School trained there, including Joseph Hill (1715-1780) and Benjamin Banks (1729-1795).
Peter Wamsley, London 1750 740 mm 4/4
4/4