Noel Sweetman cello, New Zealand 2005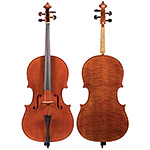 Born in New Zealand and with roots as an electronics technician, Noel Sweetman is a second generation luthier. His father Ian precedes him, and his son Mark J. Sweetman continues the family profession.
Based in Cambridge, NZ, Sweetman specializes in restoration and replicas. He has been profiled by local news sources for his work copying the Guarneri del Gesù, &quotil Cannone&quot played by Nicolò Paganini. He also makes his own tools from unusual materials, such as deer antlers.
Sweetman lives on a farm in the country in Waikato, where he raises lambs and dairy cattle.
Length of back: 743 mm 4/4