Jean Joseph Martin nickel-mounted violin bow circa 1895 stamped Vuillaume à Paris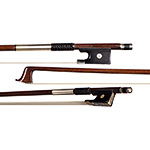 French bow maker Jean-Joseph Martin (1837 - 1910) was born in Mirecourt, where he apprenticed with Nicolas Rémy Maire. He worked in Paris at Jean-Baptiste Vuillaume's workshop from 1858 to 1863, before returning to Mirecourt to begin his own business. He later collaborated with Jérôme Thibouville Lamy and Emile Mennesson. Martin's Vuillaume-model bows, stamped Vuillaume à Paris, such as the violin bow offered here, are highly regarded.
Sold with a certificate of authenticity from Salchow and Sons.
Jean Joseph Martin circa 1895 stamped Vuillaume à Paris Round. Nickel and ebony frog and button. 4/4
4/4