Joseph Bassot violin, Paris 1804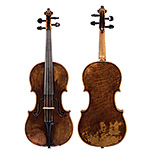 French luthier Joseph Bassot was born in Mirecourt in 1740 and died in Paris c. 1808. Among the many violin makers of Mirecourt who moved to Paris during the second half of the18th century, Bassot is notable for his innovative approach of combining Cremonese techniques with his classic French training. He was established in Paris by the late 1770s, when Italian instruments were beginning to appear, brought by virtuoso emigrés such as violinist G. B. Viotti, who arrived in 1782 with his Stradivari. Influenced by other Cremonese instruments that survived the French Revolution, Bassot copied many elements of construction to create his unique style. An important figure in the history of French violin making for bridging the Italian and French styles, he is considered by some to be equal in workmanship and technique to his contemporary Nicolas Lupot, who further incorporated Italian methods.
Sold with a certificate of authenticity from Jan Strick.
Length of back: 358 mm 4/4