Charles Louis Bazin viola bow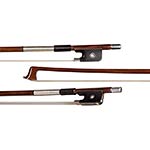 One of the most esteemed makers in the long line of archetiers of the Bazin dynasty, Charles Louis Bazin (1881–1953) studied with his father Charles Nicolas Bazin II (1847–1915) in the famous Bazin workshop in Mirecourt, taking it over in 1907. Numerous distinguished makers, including François and René Lotte, Louis Morizot, Marcel Lapierre, and Jean-Claude Ouchard worked for the exceptionally successful business, which supplied bows to many Parisian violin shops.
After a hiatus while he served in World War I, Louis Bazin resumed the business with the assistance of his son Charles Alfred Bazin (1907–1987), who then took over the company in 1952 upon Louis' retirement. Louis Bazin's bows were favored by French virtuosi of the 20th century, and remain extremely desirable today among professional players.
Sold with a certificate of authenticity from Salchow and Sons
Round. Silver and ebony frog and button. The button later.