Louis Joseph Morizot silver-mounted viola bow stamped P. Hel a Lille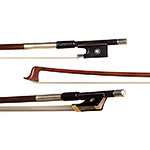 Patriarch of the Morizot dynasty of French bow makers based in Mirecourt, Louis Morizot (1874-1957) apprenticed in the workshop of Charles Nicolas Bazin, then worked for Eugène Sartory, before opening his own shop in 1919. Known as Morizot Père, Louis trained and employed five of his sons at Morizot et fils, which would succeed as one of the most prolific bow workshops in France, as well as one of the leading exporters to the American market in the first decades of the 20th century. The shop was renamed Morizot Frères in 1937, after Louis sold the business to his sons, and remained highly productive through the 1950s. Many Morizot bows, such as the viola bow offered here, were produced for Pierre Hel in Lille.
Sold with a certificate of authenticity from Salchow and Sons.
Louis Joseph Morizot stamped P. Hel a Lille Round. Silver and ebony frog and button. 4/4
4/4