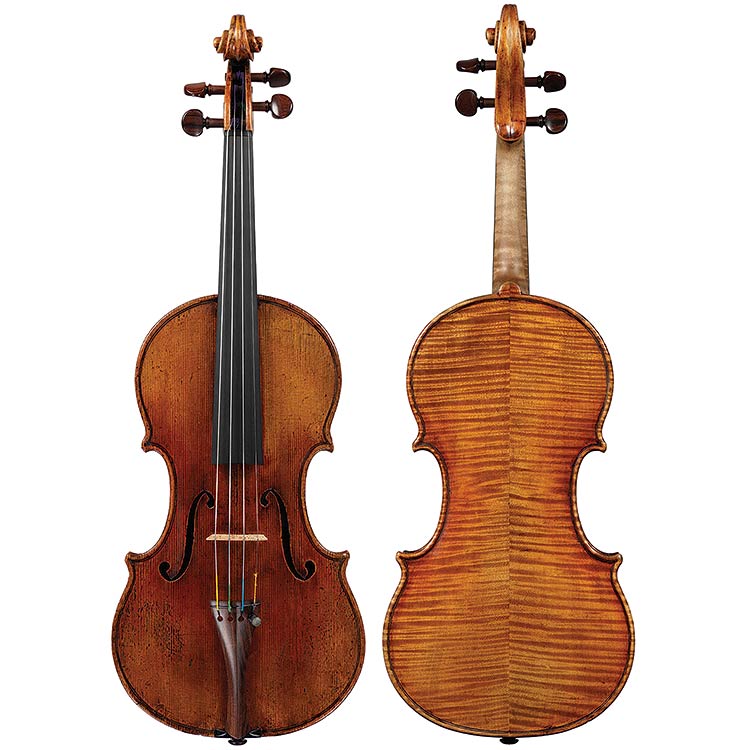 Featured Violin
About George Craske
Considered the most prolific violin maker in history, George Craske (1795-1888) is attributed with making an estimated 2,600 instruments over his long career without assistance. He apprenticed as a young man with William Forster III in London, then made violins for Thomas Dodd's workshop and Muzio Clementi's company, before deciding to leave London to pursue his own business, zigzagging his way across England to work in a numerous locations. After brief stays in Leeds and Sheffield, Craske traveled south to Bath, where, through the acquaintance of Sir Patrick Blake, he came into contact with violins by Stradivari and Amati, and made copies of them. Sometime before 1830, Craske relocated to Birmingham, where he would remain for over 20 years, and where he is believed to have repaired the Guarneri del Gesù "il Cannone" violin, owned by Niccolò Paganini, who was performing on tour through Great Britain in 1831. Craske moved further north to Manchester sometime around 1850, finally settling just outside the city in Stockport, where he worked as a reclusive and astonishingly productive maker for the remainder of his career. A visitor to Craske's small cottage reports seeing countless violins stacked inside, some stored within several topless double basses. Craske was eventually discovered by an instrument dealer, George Crompton of Manchester, who recognized Craske's talent and became a trusted friend and business associate. Crompton commissioned instruments from Craske to be sold by his son, Edward Crompton in Manchester, and purchased numerous violins left unlabeled by Craske to sell to Hill & Sons in London; the violin offered here is one of those violins, labeled by Hill & Sons: "Made by George Craske born 1797 died 1888 and sold by William E. Hill & Sons, London."
About This Violin
Sold with a certificate of authenticity from Reuning and Son Violins.
George Craske | London | 361mm | 4/4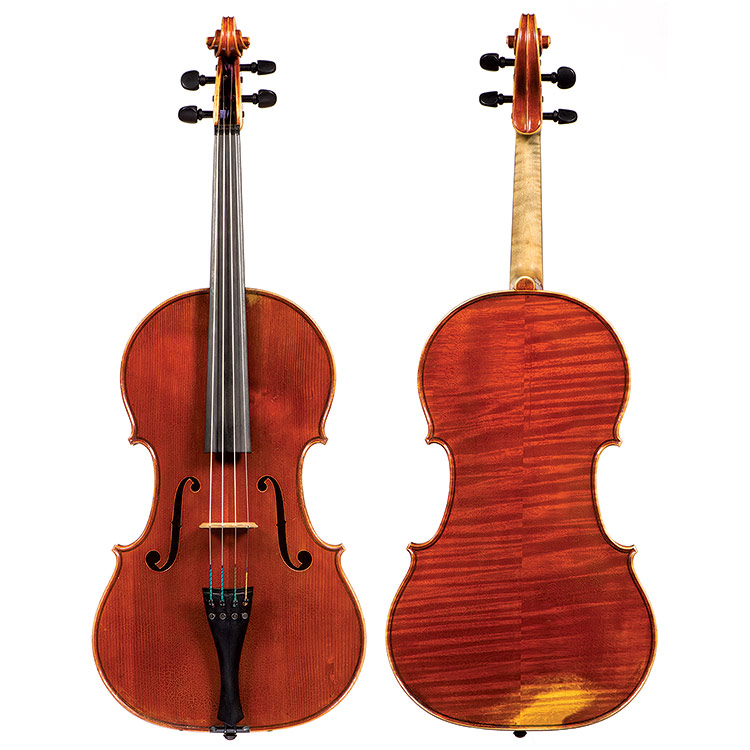 Featured Viola
About Peter and Wendela Moes
Husband and wife luthiers Wendela and Peter Moes met while attending the Violin Making School in Mittenwald, Germany. After graduating with journeyman's diplomas in 1975, they worked for Hans Weisshaar in Los Angeles, California, where they gained expertise in instrument restoration and repair. In 1978, they moved to England to work with a London dealer, then returned to the United States to establish the Moes & Moes workshop in New York City in 1981. After working for many years in New York, the Moeses moved to Stamford, CT, where this viola was made, before relocating their workshop to its current location in Peissenberg, Germany. In addition to repairs, restoration, and sales of antique instruments, Moes & Moes specializes in making new instruments that are owned by top string players worldwide, including Yo-Yo Ma, Hilary Hahn, and Ida Kavafian. Their instruments have won numerous awards, including a Gold Medal for a cello at the 1984 Violin Society of America, and a Gold Medal for a violin by Wendela at the 1984 American Federation of Violin and Bow Makers competition, and are very highly sought after.
About This Viola
Peter and Wendela Moes | Stamford, CT 2003 | 430mm | 16 1/2"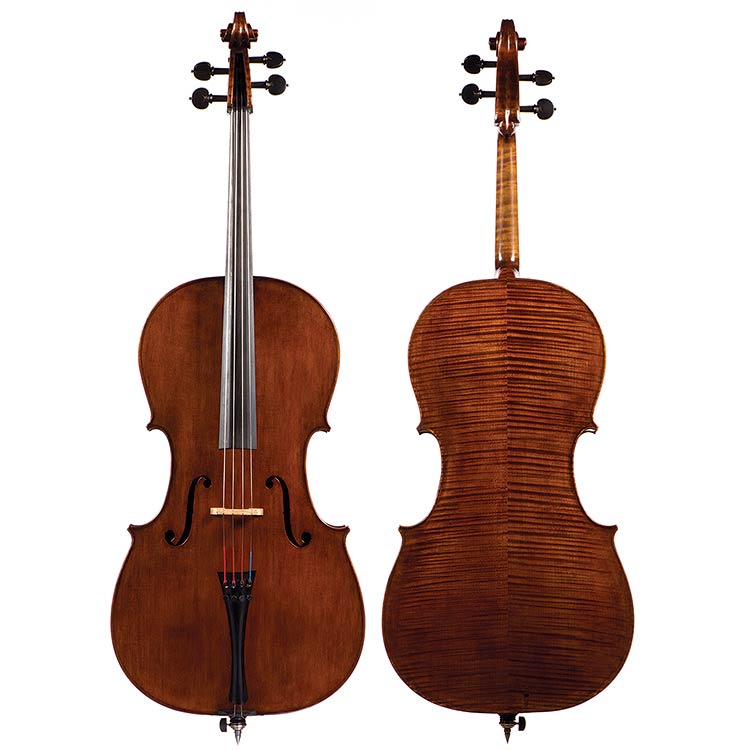 Featured Cello
About Geoffrey Ovington
American luthier Geoffrey Ovington (b. 1946) studied violin making with James Coggin in Manhattan before opening his own studio in upstate New York.
Ovington's instruments have won numerous awards, including medals at the Violin Society of America International Competitions. Many are played by professionals in prestigious European and American orchestras, including the Vienna Philharmonic, who commissioned Ovington to make three violas in 1991.
About This Cello
Geoffrey Ovington | New York 2015 | 754mm | 4/4
Please Note:
Any instrument or bow (with the exception of electric instruments, fretted instruments and "student bows") purchased at Johnson's, whether online or in our shop, comes with the same guarantees and trade-up policies.
Any returns made within 14 days of purchase will be honored with a full refund.
Returns must be in original condition.
If you would like to try instruments or bows in one of our sales showrooms, please contact our sales staff to schedule an appointment.
To schedule an appointment or for more information, please contact our Sales Department at sales@johnsonstring.com or by phone at 800-359-9351. Please follow the prompts for instrument and bow sales.