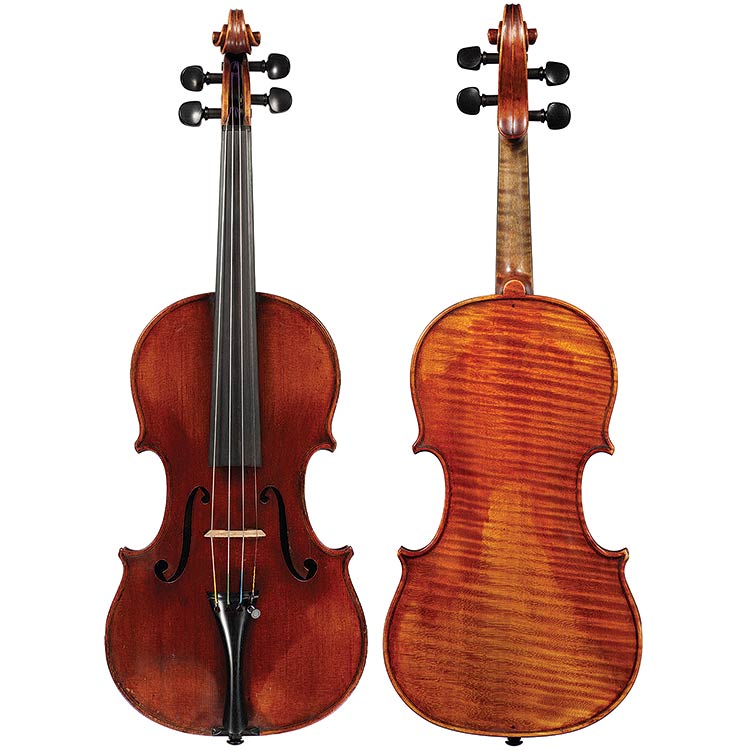 Featured Violin
About Pietro Messori
Pietro Messori (1870-1952) is among the most celebrated makers of the early 20th century modern Italian school. After studying in Modena with Giuseppe Sgarbi (1818-1905), he moved to Munich, Germany to work with Giuseppe Fiorini (1861-1934), one of Italy's greatest authorities and influential copyists of Stradivari. Messori returned to Modena to establish his own workshop, where this violin was made. Messori's instruments were awarded medals in numerous World's Fairs, including Paris in 1900, Turin in 1902, St. Louis, Missouri in 1904, and Milan in 1906.
About This Violin
This violin includes a certificate of authenticity from Reuning & Son Violins.
Pietro Messori | Modena 1927 | Shaded crimson varnish | 356mm | 4/4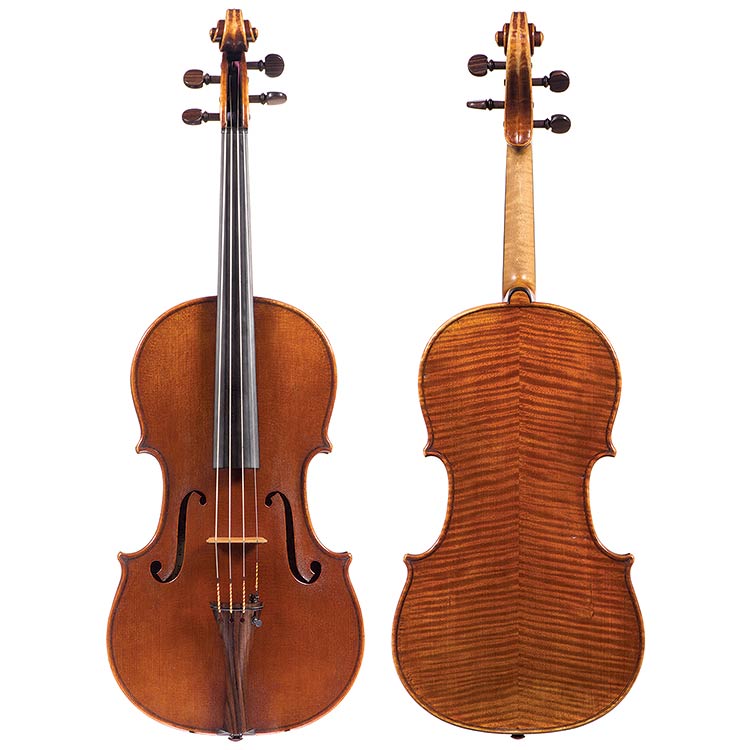 Featured Viola
About Peter Bingen
Peter Bingen was born in Los Angeles in 1974, and was raised in the American Midwest. A strong passion for art and a career in woodworking led him to the North Bennet Street School in Boston, where he graduated from the Violin Making and Repair Program in 2006. He has worked for violin maker David Gusset, and maker and restorer Andrew Carruthers.
He currently works from his studio in Santa Rosa California, where he makes new instruments and performs restorations, repairs, and setup work. His own instrument models include violins based on Stradivari and Guarneri, Brescian-style violas, and Venetian model cellos. He received a Certificate of Merit for violin tone from the Violin Society of America Competition in 2006, and First Prize from the Art of Sound Competition in 2012.
About This Viola
Peter Bingen | Santa Rosa, CA 2016 | 398mm | 16.5"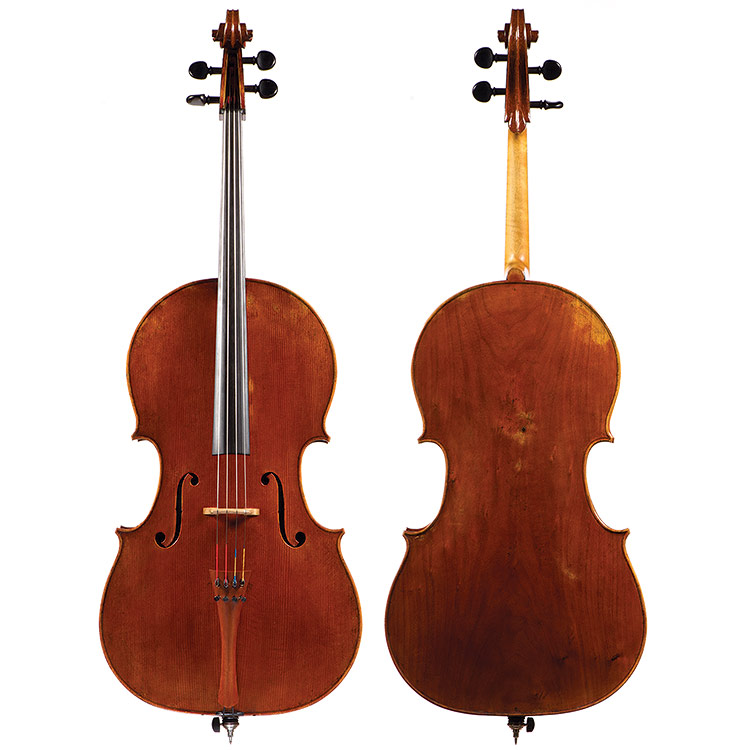 Featured Cello
About Joseph Grubaugh and Sigrun Seifert
Acclaimed makers and restorers Joseph Grubaugh (b. 1950) and Sigrun Seifert (b. 1954) have been working partners for more than 35 years in the San Francisco Bay Area, where they also raised their two children. Sigrun studied at the Mittenwald School of Violin Making, and Joseph studied with Albert C. Muller. The couple met in Los Angeles while working at Hans Weisshaar's workshop, before moving to San Francisco to establish their own business. Grubaugh & Seifert instruments have won multiple awards for tone and workmanship in international competitions, including five Gold and four Silver medals at competitions held by the Violin Society of America, receiving the Hors Concours designation in 1998. Both have presided as judges at the VSA and other international competitions, taught at the VSA's Violin Making and Restoration Workshops at Oberlin College, written numerous articles for The Strad and Strings magazines, lectured extensively, and are sought after for their restoration expertise on important antique instruments. Grubaugh & Seifert instruments are owned by leading players in major orchestras throughout the world.
About This Cello
Joseph Grubaugh and Sigrun Seifert | Petaluma 2015 | 738mm | 4/4
Please Note:
Any instrument or bow (with the exception of electric instruments, fretted instruments and "student bows") purchased at Johnson's, whether online or in our shop, comes with the same guarantees and trade-up policies.
Any returns made within 14 days of purchase will be honored with a full refund.
Returns must be in original condition.
If you would like to try instruments or bows in one of our sales showrooms, please contact our sales staff to schedule an appointment.
To schedule an appointment or for more information, please contact our Sales Department at sales@johnsonstring.com or by phone at 800-359-9351. Please follow the prompts for instrument and bow sales.