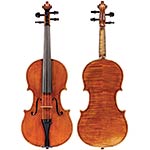 Featured Violin
About Mario Gadda
Italian maker Mario Gadda (1931-2008) was born in Mantua in 1931 and died there in 2008. He was a student of his father, the renowned maker Gaetano Gadda (1919-1956), who studied and worked with Stefano Scarampella and took over the Scarampella workshop in 1925. Mario Gadda built instruments together with his father based on models by Scarampella and master Cremonese makers, while developing his own style and models. He inherited the Gadda workshop after his father's death in 1956 and continued a prolific output specializing in Scarampella and Balestrieri copies. His instruments display superlative craftsmanship and are very highly sought after by professional players.
About This Violin
Mario Gadda, Mantua circa 1980, labeled Gaetano Gadda - 1931 361mm
This violin is sold with a certificate of authenticity from Reuning & Son Violins.
Featured Viola
About Antoine Cauche
A native of Toulouse, France, Antoine Cauche (b. 1979) attended the Newark Violin Making School in England, then studied with Patrick Robin in Angers before establishing his own workshop there in 2008. Many of his instruments have won top awards in prestigious international competitions, including three First Prizes for a Baroque violin at the 2004 British Violin Making Association competition in London; a Gold medal for a cello and a Silver medal for a violin at the Violin Society of America competition in 2008; the Sacconi Prize Gold medal for a viola in the Cremona Triennale in 2009; a Silver medal for a viola at the 2011 Concours Étienne Vatelot; and First prize for a viola in the 2014 Viola's Congress in Paris; among others. His instruments are played by professionals and students worldwide.
About This Viola
Angers, France 2015 402mm 16in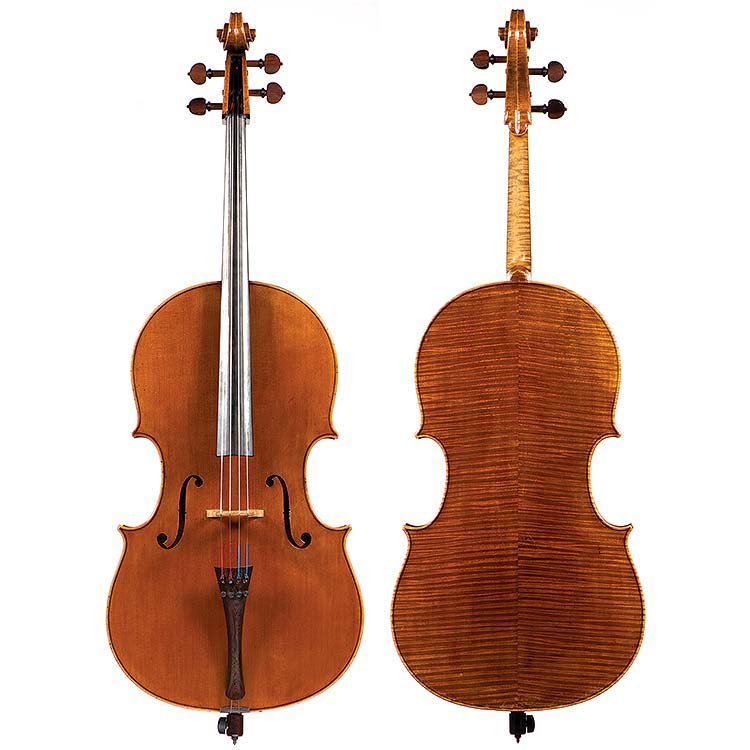 Featured Cello
About Lawrence Wilke
Lawrence Wilke's interest in musical instruments began when he started playing cello at 8 years old. He studied cello with Marijane Carr Seigal of the Lyric Opera of Chicago, then with William Klenz at SUNY Binghamton.
While also studying cello, Wilke began an apprenticeship as a violin maker at the age of 16 with his uncle, master violin maker David Caron. He also trained in bow making and repair with Philip Krause, before moving to Taynton, England in 1986 to work for Andrew Dipper in instrument restoration. In 1988, Wilke opened his own studio in Clinton, Connecticut where he currently builds violins and violas, and specializes in cello making.
About This Cello
Size: 4/4
Please Note:
Any instrument or bow (with the exception of electric instruments, fretted instruments and "student bows") purchased at Johnson's, whether online or in our shop, comes with the same guarantees and trade-up policies.
Any returns made within thirty days of purchase will be honored with a full refund.
Returns must be in original condition.
If you would like to try instruments or bows in one of our sales showrooms, please contact our sales staff to schedule an appointment.
To schedule an appointment or for more information, please contact our Sales Department at sales@johnsonstring.com or by phone at 800-359-9351. Please follow the prompts for instrument and bow sales.