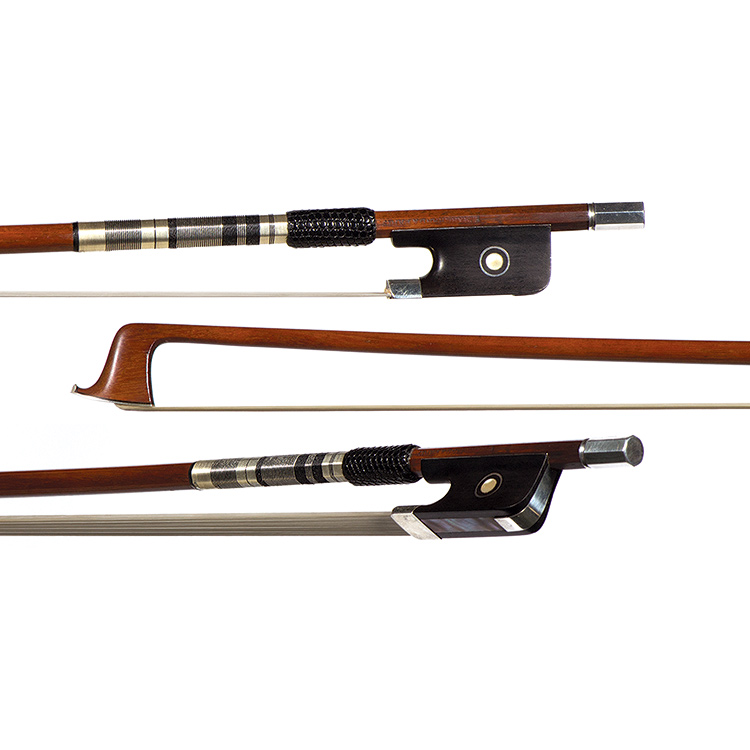 Featured Violin Bow
About Marie Louis Piernot
Celebrated French bow maker Marie Louis Piernot (1880 - 1959) apprenticed in Mirecourt with Charles Nicolas Bazin until 1900, when he moved to Paris to work for Joseph Arthur Vigneron (Vigneron père). A very prolific maker, his bows bear the stamps of the various violin shops he worked for, including Léon & René Bernardel, Pierre Hel, André Vigneron, Pierre Vidoudez, and numerous others. The bow offered here is stamped E. Marchand for François Eugène Marchand, a renowned restorer and repairer. Piernot established his own workshop in Paris 1923, where he continued to make bows under other brand names, as well as his own.
About This Violin Bow
This bow is being sold with a certificate of authenticity from Salchow & Sons.
Marie Louis Piernot stamped E. Marchand à Paris. Round. Silver and ebony frog and button. | Round | Silver and Ebony Frog and Button | 4/4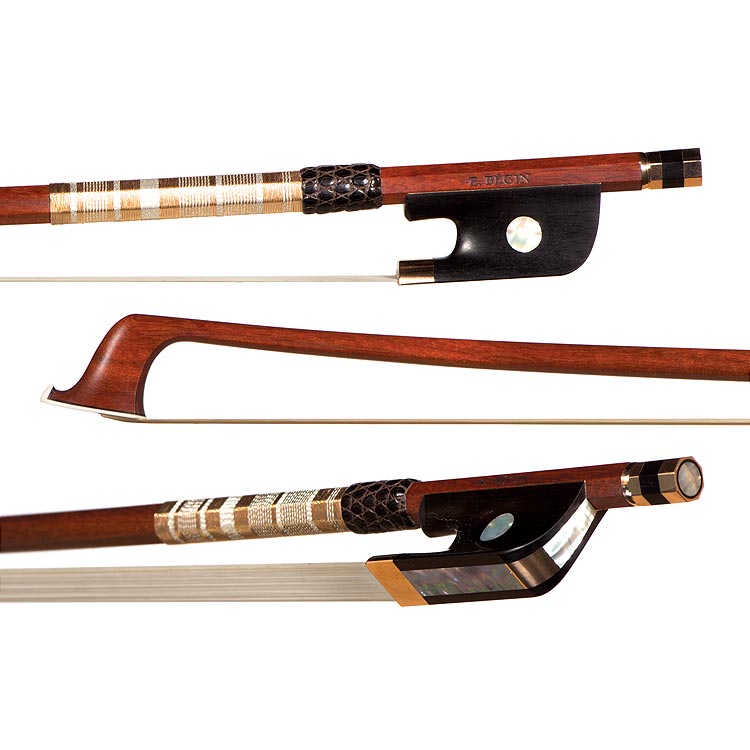 Featured Viola Bow
About Emmanuel Bégin
Canadian bow maker Emmanuel Bégin began his training at the age of 14 with his father, Louis Bégin, in Montréal. He moved to Lille, France to work with Yannick Le Canu for several years, before returning to Montréal to open his own workshop. He has received top honors, including gold medals, for bows entered into the Violin Society of America competitions over the past several years.
About This Viola Bow
Emmanuel Begin | Round | Gold and Ebony Frog and Button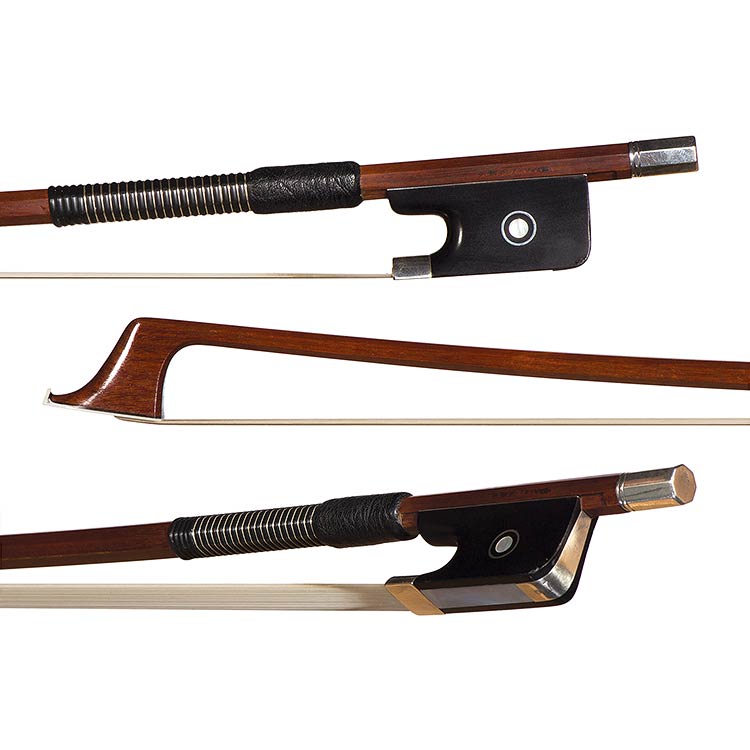 Featured Cello Bow
About Marcel Charles Lapierre
French bow maker Marcel Charles Lapierre was born in Mirecourt in 1907 and died there in 1979. After apprenticing with Jérôme Thibouville Lamy from 1921 to 1923, he worked for many of the top bow makers of the early 20th century French school, including François Lotte, Louis Bazin, and Louis Morizot. Before establishing his own workshop in Mirecourt in 1948, Lapierre travelled to Paris in 1946 to study briefly with Emile Auguste Ouchard, then to Geneva, Switzerland, where he worked for Pierre Vidoudez, and where he made the cello bow offered here.
About This Cello Bow
This bow is featured in Volume 3 of L'Archet, a comprehensive encyclopedia of French bow makers by Bernard Millant and Jean François Raffin, and is being sold with a certificate of authenticity from Jean-Francois Raffin, Yannick Le Canu, and Sylvain Bigot.
Marcel Lapierre stamped VIDOUDEZ GENEVE | Octagonal | Silver and Ebony Frog and Button | 4/4
Please Note:
Any instrument or bow (with the exception of electric instruments, fretted instruments and "student bows") purchased at Johnson's, whether online or in our shop, comes with the same guarantees and trade-up policies.
Any returns made within 14 days of purchase will be honored with a full refund.
Returns must be in original condition.
If you would like to try instruments or bows in one of our sales showrooms, please contact our sales staff to schedule an appointment.
To schedule an appointment or for more information, please contact our Sales Department at sales@johnsonstring.com or by phone at 800-359-9351. Please follow the prompts for instrument and bow sales.