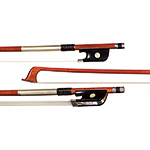 Featured Violin Bow
About Emmanuel Begin
Canadian bow maker Emmanuel Bégin began his training at the age of 14 with his father, Louis Bégin, in Montréal. He moved to Lille, France to work with Yannick Le Canu for several years, before returning to Montréal to open his own workshop.
He has won several recognitions from the Violin Society of America competitions, including a Gold Medal for a cello bow and Certificates of Merit for his violin and viola bows in 2012. In the 2014 VSA competition, he won Certificates of Merit for a viola bow and cello bow, a Gold Medal for a violin bow, as well as an additional Gold Medal for a bass bow made in collaboration with Eric Fournier.
About This Violin Bow
Round. Silver and ebony frog.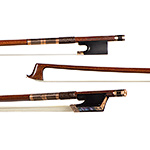 Featured Viola Bow
W. E. Hill and Sons
Begun in 1880 by WIlliam Ebsworth Hill, the London-based company of W. E. Hill & Sons grew to become one of the most important in violin making history for over 100 years. As leading experts on historic Cremonese instruments, W. E. and his four sons handled the restoration and sales of the world's finest instruments, including those of Stradivari and Guarneri. They are particularly known for their bows.
About This Viola Bow
Gold and ebony frog and button.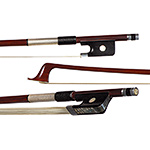 Featured Cello Bow
About Eric Grandchamp
Eric Grandchamp began his bow making training at the age of fifteen at the Violin Making school in Mirecourt, France. While continuing his education in Geneva, Switzerland, he worked with jewelers and engravers, who influenced his personal bow making style.
Grandchamp's bows have garnered numerous gold medals in international competitions. In 1994, he was awarded the coveted title Un Des Meilleurs Ouvriers de France in France's prestigious competition held every four years to honor its most distinguished artisans.
About This Cello Bow
Silver and ebony frog and button.
Featured Bass Bow
About Horst John
When one thinks of quality Brazilian handcrafted pernambuco wood bows, one name comes to mind: Horst John. Founded in 1951 as a precious woods exporter by a 24 year-old German-born immigrant, Horst John became a true pioneer by converting his firm's noble woods operation to bowmaking twenty years later. It was, and continues to be, a reference point of high standards in the quality of its naturally dried process (not artificially force cured). John only used pernambuco wood from a decades-old private stock approved by the Brazilian Environmental Authorities. The company today continues the same practice of using only aged wood.
About This Bass Bow
This Horst John Special German Bass Bow is from their "Classic" line of bows, which copies the bow to the specifications used in the past along with famous engravings and ornamentations from the pre and post Baroque periods. It features a round pernambuco stick, silver-mounted frog, beautiful flower inlay and a silver wound grip. It weighs 138.5 grams.
Please Note:
Any instrument or bow (with the exception of electric instruments, fretted instruments and "student bows") purchased at Johnson's, whether online or in our shop, comes with the same guarantees and trade-up policies.
Any returns made within thirty days of purchase will be honored with a full refund.
Returns must be in original condition.
If you would like to try instruments or bows in one of our sales showrooms, please contact our sales staff to schedule an appointment.
To schedule an appointment or for more information, please contact our Sales Department at sales@johnsonstring.com or by phone at 800-359-9351. Please follow the prompts for instrument and bow sales.