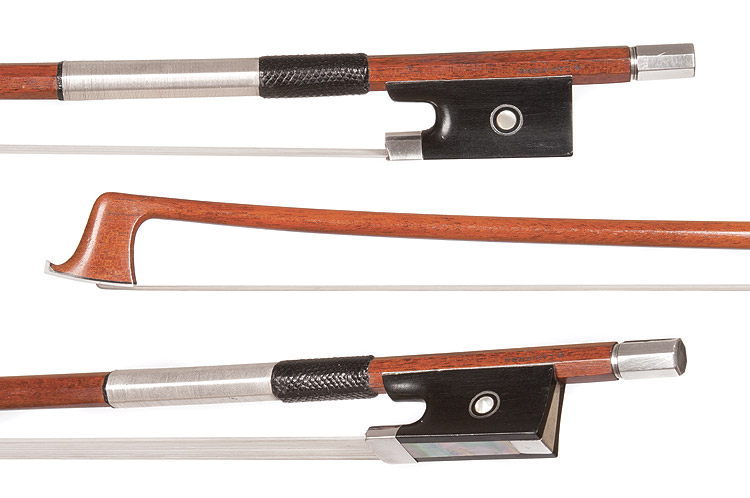 Featured Violin Bow
About Marcel Charles Lapierre
Marcel Charles Lapierre (1907-1979) was a French Archetier who has been described as a "Maker of very fine bows much sought after by soloists." Born 1907 in Mirecourt, he served his apprenticeship with Jérôme Thibouville Lamy from 1921 to 1923. After his apprenticeship, he joined Brouiller & Lotte's workshop. From 1931 to 1936 he worked with Francois Lotte, before joining Louis Bazin and Louis Morizot. In 1946 he came to Genève and joined the Pierre Vidousez's workshop. In 1948 he returned to Mirecourt to start his own workshop, first at rue Vuillaume, and then rue Gambetta.
About This Violin Bow
This bow is made from beautiful luminescent pernambuco wood and draws a warm, clear tone. The bow feels well-balanced and allows all bow techniques to be easily and precisely executed.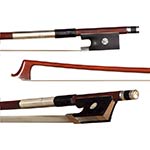 Featured Viola Bow
About Jon Crumrine
Following a successful career as a violist, Jon Crumrine turned to bow making in 1992. He has studied with Markus Wörz in Munich and American bow makers Jerry Pasewicz and Rodney Mohr. Mr. Crumrine works at Carriage House Violins, where he makes and restores bows.
Jon seeks out the finest materials available, paying particular attention to the quality, beauty, and age of the Pernambuco wood he prefers. He blends elements of the classic French aesthetic with original ideas to emphasize sound and playability.
About This Viola Bow
This viola bow, loosely based on a model of Pecatte, has a round stick. Well-balanced, the bow responds quickly to the player and produces an even, powerful sound.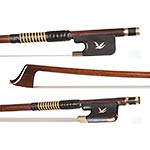 Featured Cello Bow
About Malcolm Taylor
One of the last members of the dynasty of English bow makers of the 20th century, Malcolm Taylor worked for W. E. Hill & Sons then set up his own shop in devon until his death in 2012. In 1981, he made a set of bows to celebrate the wedding of Prince Charles and Princess Diana.
About This Cello Bow
The strong octagonal stick of this cello bow pulls a warm, refined tone with a wonderful range of color. Very evenly balanced, the bow is easy to control, produces crisp and clear off-the-string strokes, and is very satisfying to play with. The ebony frog is in excellent condition and inlaid with a gold dove.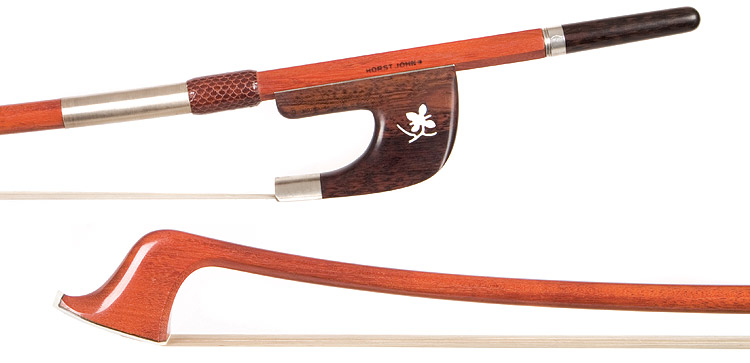 Featured Bass Bow
About Horst John
When one thinks of quality Brazilian handcrafted pernambuco wood bows, one name comes to mind: Horst John. Founded in 1951 as a precious woods exporter by a 24 year-old German-born immigrant, Horst John became a true pioneer by converting his firm's noble woods operation to bowmaking twenty years later. It was, and continues to be, a reference point of high standards in the quality of its naturally dried process (not artificially force cured). John only used pernambuco wood from a decades-old private stock approved by the Brazilian Environmental Authorities. The company today continues the same practice of using only aged wood.
About This Bass Bow
This Horst John Special German Bass Bow is from their "Classic" line of bows, which copies the bow to the specifications used in the past along with famous engravings and ornamentations from the pre and post Baroque periods. It features a round pernambuco stick, silver-mounted frog, beautiful flower inlay and a silver wound grip. It weighs 138.5 grams.
Please Note:
Any instrument or bow (with the exception of electric instruments, fretted instruments and "student bows") purchased at Johnson's, whether online or in our shop, comes with the same guarantees and trade-up policies.
Any returns made within thirty days of purchase will be honored with a full refund.
Returns must be in original condition.
If you would like to try instruments or bows in one of our sales showrooms, please contact our sales staff to schedule an appointment.
To schedule an appointment or for more information, please contact our Sales Department at sales@johnsonstring.com or by phone at 800-359-9351. Please follow the prompts for instrument and bow sales.