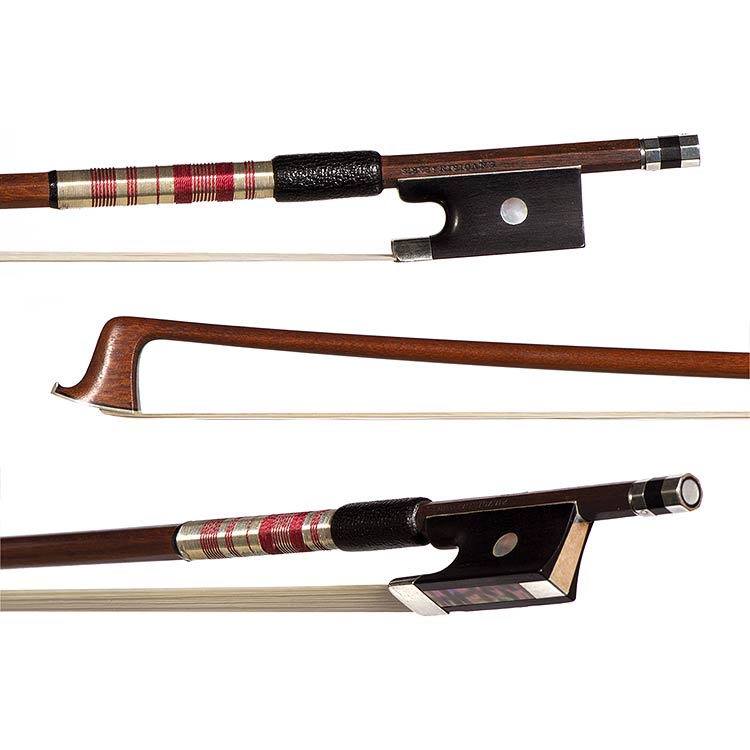 Featured Violin Bow
About Louis Joseph Thomassin
An important late 19th century French maker from the Thomassin family of archetiers, Louis Joseph Thomassin was born in Mirecourt in 1856 and died in Paris c. 1905. He studied bow making with his uncle, Nicolas François Thomassin (1833 - 1903), alongside his cousins Victor Thomassin (1856 - 1920), and Claude Auguste Thomassin (1865 - 1942) in the Bazin workshop in Mirecourt. In 1872, Louis moved to Paris to work for François Nicolas Voirin until Voirin's sudden death in 1885. Under the direction of Voirin's widow, Louis Thomassin continued making bows stamped with Voirin's name, including the violin bow offered here, before establishing his own business in 1891. Louis Thomassin's bow models closely follow those of Voirin, which were very influential among other French makers of the period. From his independent workshop after 1891, Louis Thomassin made bows stamped with his own name for numerous French ateliers, including Nestor Audinot, Paul Blanchard, Chanot & Chardon, Gand Bernardel frère, and Hippolyte Chrétien Silvestre. This violin bow, branded F. N. Voirin À Paris, is among the bows sometimes referred to as Voirin de la Veuve, made by Louis Thomassin for Voirin's widow between 1885 and 1891.
About This Violin Bow
It is being sold with a certificate of authenticity from Salchow and Sons.
Louis Joseph Thomassin branded F. N. Voirin À Paris | Round | Silver and Ebony Frog and Button | 4/4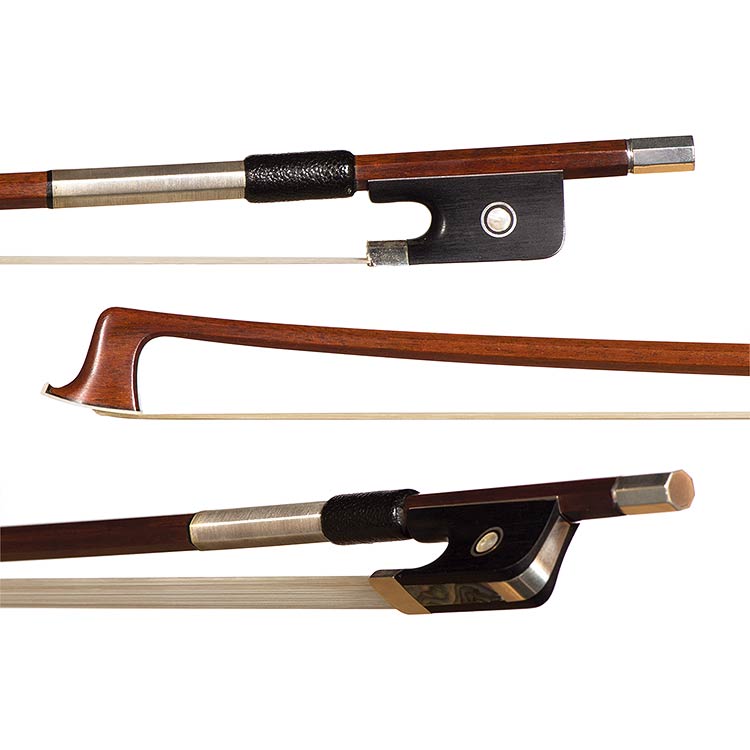 Featured Viola Bow
About Pierre Maline
French bow maker Pierre Maline (1883– - 1939) was born in Mirecourt to a family of luthiers which included his uncle, Nicolas Maline (1822– - 1877), a bow maker who had worked in Jean-Baptiste Vuillaume's workshop, and his father, François Alexandre Maline (1862 - 1922), a violin and bow maker. After apprenticing with his father, Pierre worked in Eugène Cuniot-Hury's workshop for several years, where he was exposed to a variety of bow making techniques and styles practiced by his distinguished contemporaries, Louis Morizot, Alfred Lamy, and Émile François Ouchard. Upon his father's death in 1922, Maline took over the family workshop, where he produced bows for various French luthiers, as well as the musical instrument company Féret-Marcotte, which existed in Paris between 1919– - 1926, and whose brand appears on the viola bow offered here. Bows by Pierre Maline are very highly regarded and quite rare.
About This Viola Bow
This bow is being sold with a certificate of authenticity from Jean-François Raffin.
Pierre Maline branded Feret-Marcotte | Octagonal | Silver and Ebony Frog and Button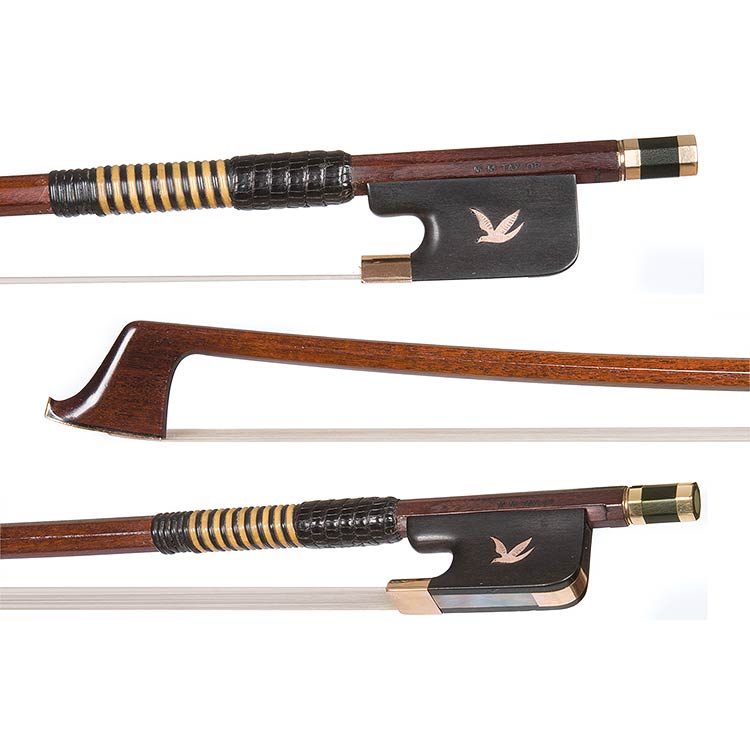 Featured Cello Bow
About Malcolm Taylor
One of the last members of the dynasty of English bow makers of the 20th century, Malcolm Taylor (1934 - 2012) began working for W. E. Hill & Sons in 1949. He established his own shop in Devon in 1973. In 1981, Taylor made a set of bows to celebrate the wedding of Prince Charles and Princess Diana.
The strong octagonal stick of this cello bow pulls a warm, refined tone with a wonderful range of color. Very evenly balanced, the bow is easy to control, produces crisp and clear off-the-string strokes, and is very satisfying to play with. The ebony frog is in excellent condition and inlaid with a gold dove.
About This Cello Bow
Malcolm Taylor Octagonal | Gold and Ebony Frog and Button | 82g | 4/4
Please Note:
Any instrument or bow (with the exception of electric instruments, fretted instruments and "student bows") purchased at Johnson's, whether online or in our shop, comes with the same guarantees and trade-up policies.
Any returns made within 14 days of purchase will be honored with a full refund.
Returns must be in original condition.
If you would like to try instruments or bows in one of our sales showrooms, please contact our sales staff to schedule an appointment.
To schedule an appointment or for more information, please contact our Sales Department at sales@johnsonstring.com or by phone at 800-359-9351. Please follow the prompts for instrument and bow sales.