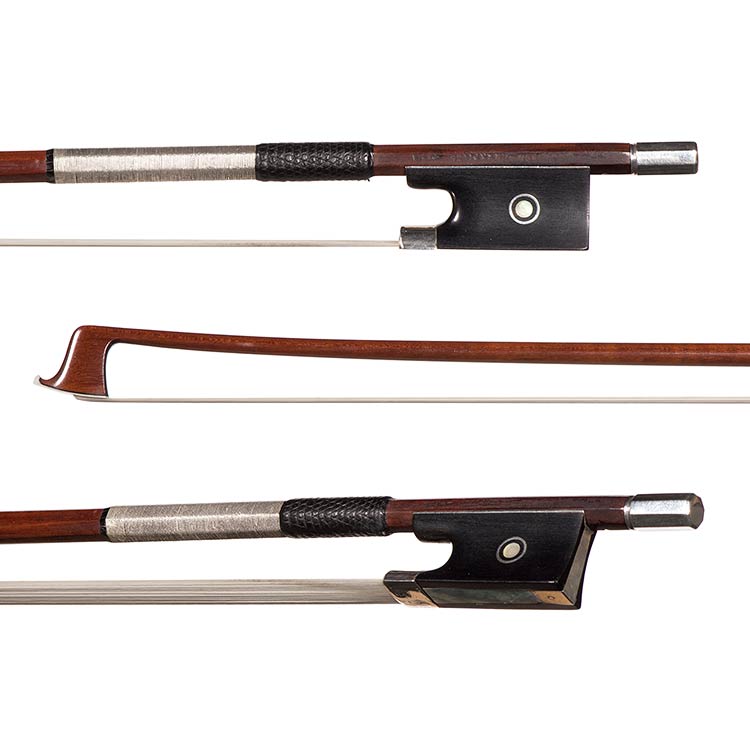 Featured Violin Bow
About Charles Louis Bazin
One of the most esteemed makers in the long line of archetiers of the Bazin dynasty, Charles Louis Bazin (1881 - 1953) studied with his father Charles Nicolas Bazin II (1847 - 1915) in the famous Bazin workshop in Mirecourt, taking it over in 1907. Numerous distinguished makers, including François and Renè Lotte, Louis Morizot, Marcel Lapierre, and Jean-Claude Ouchard worked for the exceptionally successful business, which supplied bows to many Parisian violin shops.
After a hiatus while he served in World War I, Louis Bazin resumed the business with the assistance of his son Charles Alfred Bazin (1907 - 1987), who then took over the company in 1952 upon Louis' retirement. Louis Bazin's bows were favored by French virtuosi of the 20th century, and remain extremely desirable today among professional players.
About This Violin Bow
Sold with a certificate of authenticity from Salchow and Sons
Charles Louis Bazin | Round | Silver and Ebony Frog and Button | 4/4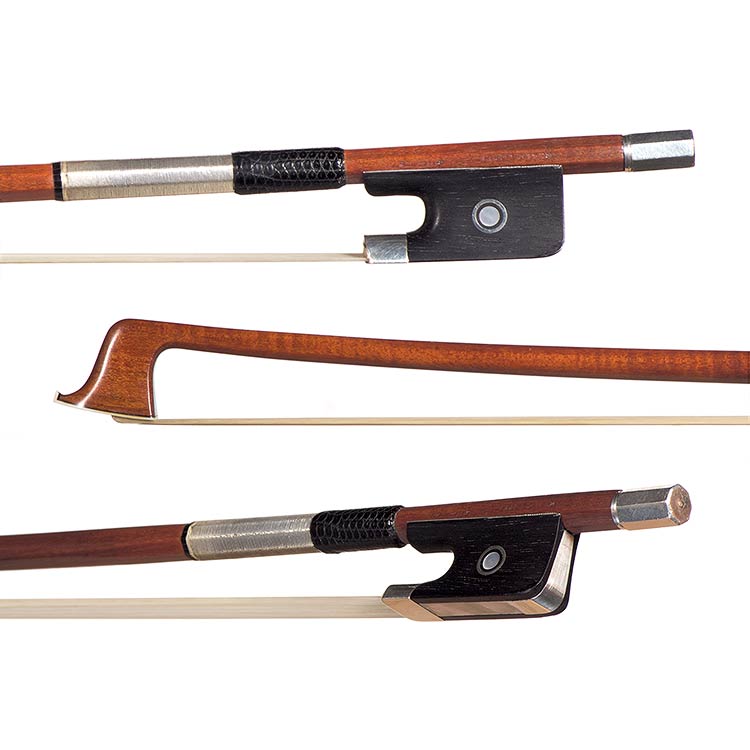 Featured Viola Bow
About Roger Lotte
French bow maker Roger François Lotte was born in 1922 in Mirecourt and died in 1989 in Nancy. He descended from a family of violin and bow makers: his grandfather Georges worked for Jean-Baptiste Vuillaume and Honoré Derazey, and his father François apprenticed in the Bazin workshop and ran a successful atelier in Paris. Roger took over the Lotte business in 1960, becoming a prolific maker of bows for prominent violin dealers.
About This Viola Bow
Roger Lotte | Round | Silver and Ebony Frog and Button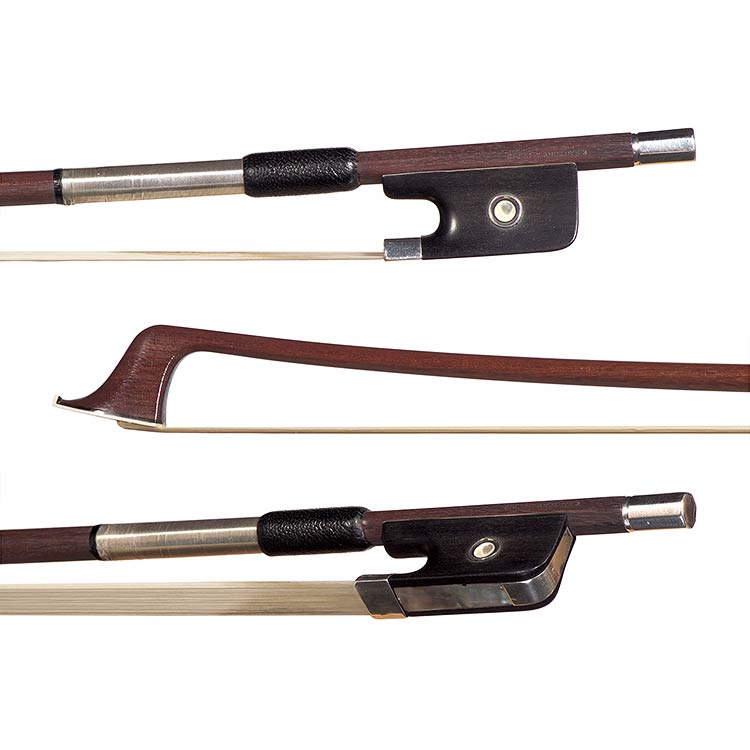 Featured Cello Bow
About Eugene Sartory
Eugène Nicolas Sartory (1871– - 1946) was an exceptionally important and influential bow maker, today generally regarded as one of the finest bow makers of the first half of the 20th century. Born in Mirecourt, France, he studied bow making with his father, Joseph Eustache Sartory (1839– - 1902) in Mirecourt, before moving to Paris to work for Charles Peccatte and Alfred Lamy. In 1889, at the age of 18, Sartory established his own workshop, where he would experiment with innovative designs, including building a broader head and a thicker shaft, to achieve sturdier, stronger bows than those made by his predecessors in the traditional French bow making styles. Among the prominent musicians who favored the playing qualities of Sartory's bows was Belgian violin virtuoso Eugène Ysaÿe. To keep up with the growing demand for his bows, Sartory trained and employed some of the most promising makers in France, including Louis Morizot and Jules Fétique, who would become celebrated bow makers themselves. Known for their stability and superb handling, bows by Sartory are extremely sought after by professional players.
About This Cello Bow
Sold with a certificate of authenticity from Paul Childs
Eugene Sartory | Paris circa 1920 | Round | Silver and Ebony Frog and Button | 4/4
Please Note:
Any instrument or bow (with the exception of electric instruments, fretted instruments and "student bows") purchased at Johnson's, whether online or in our shop, comes with the same guarantees and trade-up policies.
Any returns made within 14 days of purchase will be honored with a full refund.
Returns must be in original condition.
If you would like to try instruments or bows in one of our sales showrooms, please contact our sales staff to schedule an appointment.
To schedule an appointment or for more information, please contact our Sales Department at sales@johnsonstring.com or by phone at 800-359-9351. Please follow the prompts for instrument and bow sales.