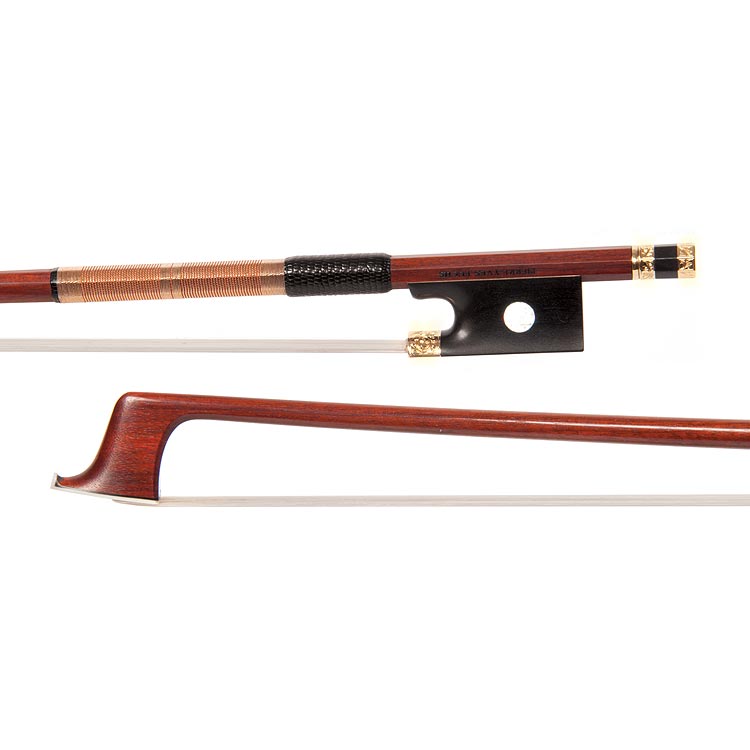 Featured Violin Bow
About Pierre-Yves Fuchs
Swiss bow maker Pierre-Yves Fuchs is one of the most celebrated bow makers working today. He studied with Stéphane Thomachot, Gilles Duhaut, Pierre Guillaume, and Benoit Rolland, and established his own workshop in 1997.
His bows are in high demand among professional players worldwide and have won numerous awards at international competitions. In the Violin Society of America competition of 2004, Fuchs received the unprecedented honor of winning four Gold Medals: one for each of his violin, viola, cello, and bass bows, and earning him the title of Hors Concours.
His bow making style is inspired by Peccatte, Maire, and Pajeot.
About This Violin Bow
Pierre-Yves Fuchs | Round | Engraved Gold and Ebony Frog and Button | 4/4
Featured Viola Bow
About Émile Auguste Ouchard
Celebrated French bow maker Émile Auguste Ouchard was born in Mirecourt in 1900 and died in Paris in 1969. He studied with his father Émile François Ouchard (1872-1951) at the famous Cuniot-Hury atelier in Mirecourt, which the elder Ouchard had taken over in 1910. In 1923, the Ouchards opened their own shop, which was highly productive for many years. In 1937, Émile August moved to Paris to establish his own business, then to the United States in 1946. He worked independently in New York for two years before taking a job at William Lewis & Son in Chicago for over a decade. During this time, he made annual trips to Paris, returning there for good in 1960. É. A. Ouchard's bows have won numerous awards, including the Grand Prix at the International Paris Exhibition in 1942. His sons Bernard and Jean-Claude also became noted bow makers. Émile Auguste Ouchard's bows are in high demand among professional players.
About This Viola Bow
Émile Auguste Ouchard | Round | Silver and Ebony Frog and Button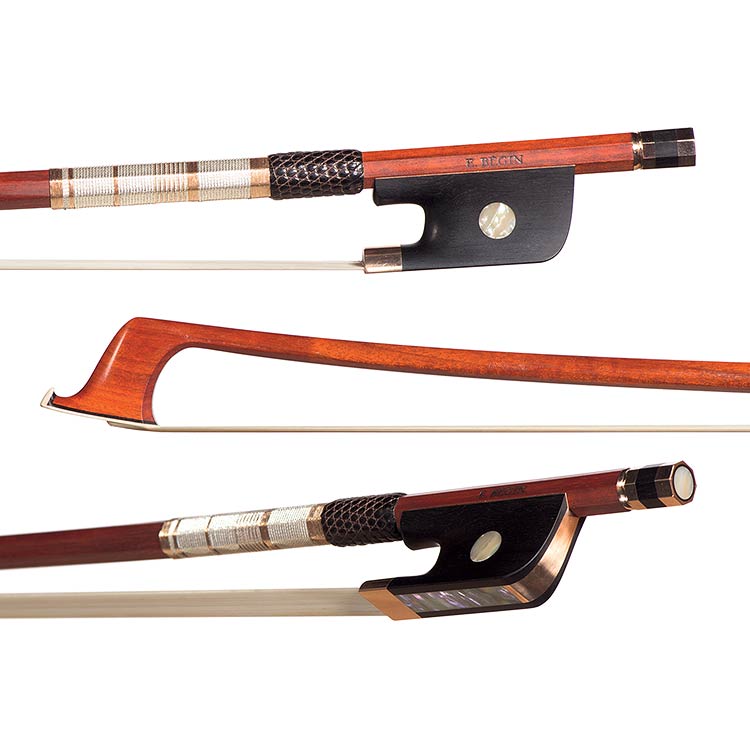 Featured Cello Bow
About Emmanuel Bégin
Canadian bow maker Emmanuel Bégin began his training at the age of 14 with his father, Louis Bégin, in Montrval. He moved to Lille, France to work with Yannick Le Canu for several years, before returning to Montréal to open his own workshop. He has received top honors, including gold medals, for bows entered into the Violin Society of America competitions over the past several years.
About This Cello Bow
Emmanuel Bégin | Round | Gold and Ebony Frog and Button | 4/4
Please Note:
Any instrument or bow (with the exception of electric instruments, fretted instruments and "student bows") purchased at Johnson's, whether online or in our shop, comes with the same guarantees and trade-up policies.
Any returns made within 14 days of purchase will be honored with a full refund.
Returns must be in original condition.
If you would like to try instruments or bows in one of our sales showrooms, please contact our sales staff to schedule an appointment.
To schedule an appointment or for more information, please contact our Sales Department at sales@johnsonstring.com or by phone at 800-359-9351. Please follow the prompts for instrument and bow sales.