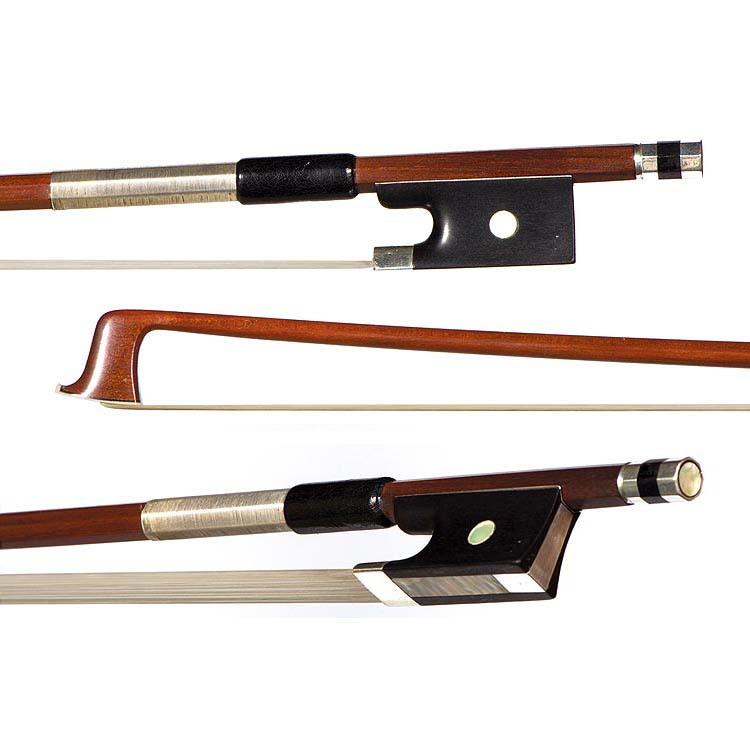 Featured Violin Bow
About Justin Poirson
French bow maker Dominique "Justin" Poirson was born in 1851 in Mirecourt and moved at a young age to Paris, where he apprenticed with Nicolas Rémy Maire. Joining the prestigious workshop of Jean-Baptiste Vuillaume in 1870, his bow making style was influenced by many of France's finest makers, including François Nicolas Voirin. After the Vuillaume shop closed in 1875, Poirson worked for Gand and Bernardel; his bows from this period, such as the violin bow offered here, bear the stamp of that firm. Poirson opened his own workshop in Paris in 1880 and made bows up to his death in 1925.
About This Violin Bow
Sold with a certificate of authenticity from Jean-Francois Raffin
Justin Poirson | Round | Silver and Ebony Frog and Button | 4/4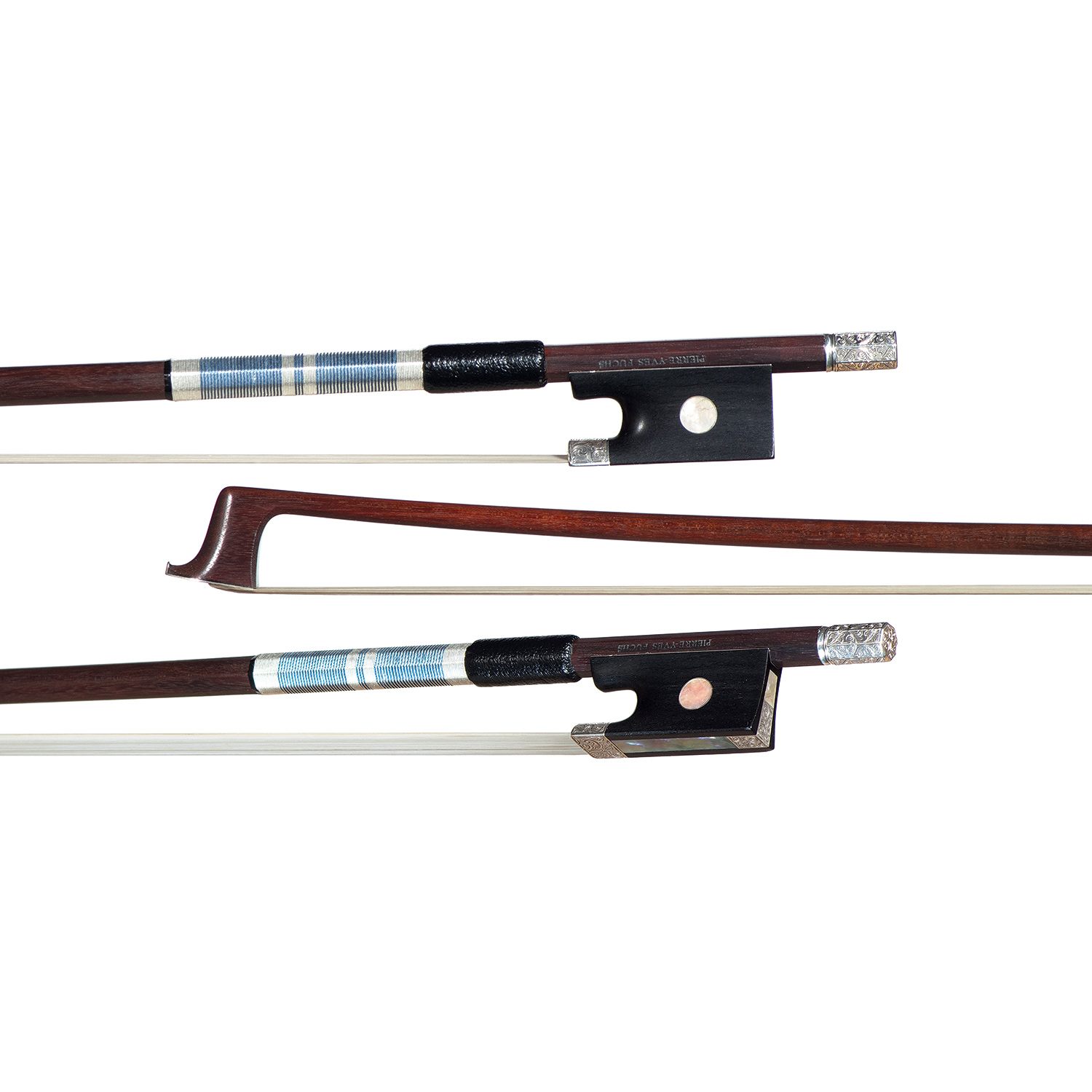 Featured Viola Bow
About Pierre-Yves Fuchs
Swiss bow maker Pierre-Yves Fuchs is one of the most celebrated bow makers working today. He studied with Stéphane Thomachot, Gilles Duhaut, Pierre Guillaume, and Benoit Rolland, and established his own workshop in 1997.
His bows are in high demand among professional players worldwide and have won numerous awards at international competitions. In the Violin Society of America competition of 2004, Fuchs received the unprecedented honor of winning four Gold Medals: one for each of his violin, viola, cello, and bass bows, and earning him the title of Hors Concours.
His bow making style is inspired by Peccatte, Maire, and Pajeot.
About This Viola Bow
Pierre-Yves Fuchs | Round | Engraved Silver and Ebony Frog and Button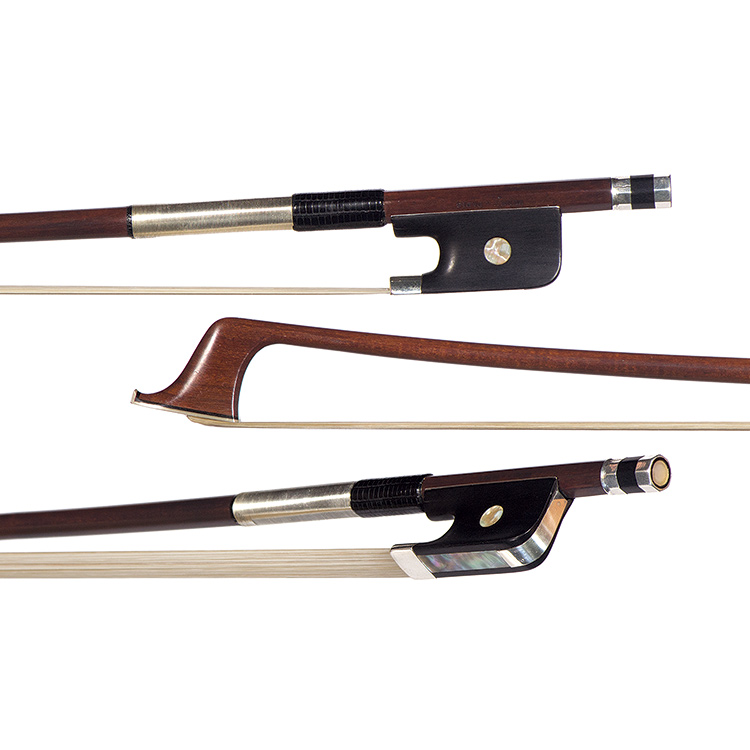 Featured Cello Bow
About Jean 'Grand' Adam
Third generation bow maker Jean "Grand" Adam (1823 - 1869) is one of the most distinctive and revered French makers of the 19th century. Carrying on the tradition of bow making from his grandfather, Jean Adam (fl. c. 1790 - 1820) and father, Jean Dominique (1795 - 1864), with whom he studied in Mirecourt, "Grand" Adam moved to Paris to work at Jean Baptiste Vuillaume's famous workshop in 1842. Adam's bow models show the influence of numerous makers, including his father, Joseph Fonclause, Pierre Simon, Dominique Peccatte, and primarily, François Tourte. Adam returned to Mirecourt in 1853, where he worked prolifically, and continued to build bows for Vuillaume, until the end of his short life. The frog and button of the cello bow offered here were made by Joseph Henry, a colleague who also worked for Vuillaume.
About This Cello Bow
Sold with a certificate of authenticity from Salchow and Sons.
Jean 'Grand' Adam | Frog and Button made by Joseph Henry | 4/4
Please Note:
Any instrument or bow (with the exception of electric instruments, fretted instruments and "student bows") purchased at Johnson's, whether online or in our shop, comes with the same guarantees and trade-up policies.
Any returns made within 14 days of purchase will be honored with a full refund.
Returns must be in original condition.
Read all about our trade-in policy.
If you would like to try instruments or bows in one of our sales showrooms, please contact our sales staff to schedule an appointment.
To schedule an appointment or for more information, please contact our Sales Department at info@carriagehouseviolins.com or by phone at 617-262-0051. Please follow the prompts for instrument and bow sales.