Ira Johnson White 1816-1899
Ira Johnson White, born in Barre, Massachusetts, was a farmer, furniture maker, and self-taught violin maker. His first violin shop in Boston was located at 59 Court Street, and he eventually moved into the old Tremont Temple building. He was one of the first American-born makers to study a Stradivari violin after a visit in 1843 from Belgian virtuoso Alexander Artot. He worked with his younger brother, Asa White, before moving to Malden and later Melrose, where he died. He is buried in Woodlawn Cemetery in Everett.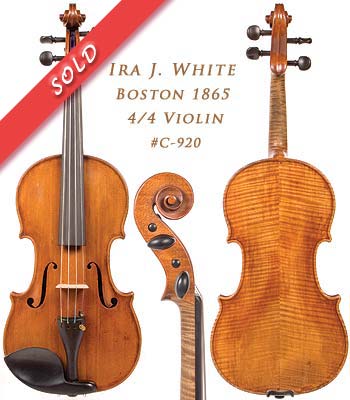 The beautifully transparent golden brown varnish of this violin, made in Boston in 1865, resembles the varnish of many Italian violins. The scroll and f-holes are skillfully and elegantly carved. The tone of the violin is brilliant and bell-like on the upper strings, with sweet, dark, and rich lower strings. The instrument is highly responsive, vibrant, and sonorous in its projection of sound.