Asa Warren White 1826-1893
Asa Warren White was born in Barre, MA in 1826 and worked for instrument dealer and publisher Henry H. Prentiss on Court Street in Boston before partnering with his brother, Ira J. White, in 1849. He made over four hundred violins, several violas and cellos, as well as viola da gambas and viola d'amores. He received a gold medal and several silver medals for violins entered into the Massachusetts Mechanics Fairs in the 1870s and 1880s. In 1888, he moved to Chicago where he made a number of violins bearing labels with that city's name, then returned to Boston, where he died in 1893.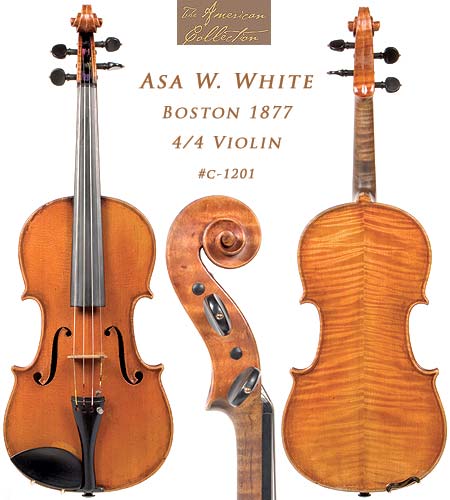 This violin was made in 1877 and won the silver medal at the Massachusetts Mechanics Fair in 1878. It was owned in the 1950s by Boston Symphony Orchestra violinist Francesco Zecchino. A label inside reads: This violin obtained the 'First Silver Medal' at the thirteenth Exhibition of the Massachusetts Charitable Mechanic Association held in Boston, September, 1878. The prominent flame of the quarter-sawn maple back is extraordinary in its symmetrical beauty. The varnish is golden brown. The beautiful tone quality is warm, resonant, and singing.