Featured Instruments
Johnson String regularly acquires exceptional antique instruments as well as instruments by award-winning contemporary makers. Below are this month's featured instruments available for purchase, home trial, or as an outfit.
When purchasing any full-size instrument, along with a bow and case as an outfit, you will enjoy significant savings.
You can even home trial an outfit to make sure it's exactly what you want. Learn more about creating your own outfit. If you need more information please contact us.
selected Shop-Made Instruments are On Sale!
Sale prices are for in-stock only.
This Month's Featured Violin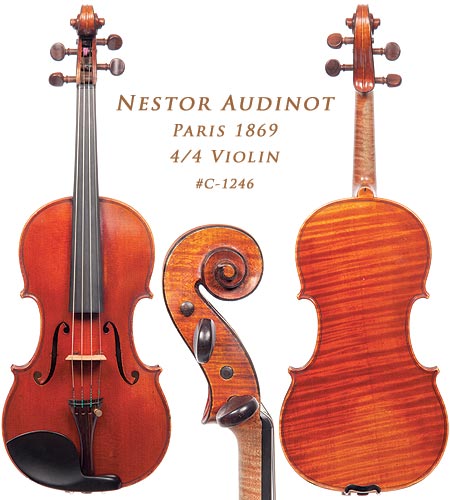 About Nestor Audinot
Nestor Audinot (1842 - 1920) learned violin making from his father Leopold and then working with Sebastien Vuillaume in Paris from 1863 until 1868. After setting up by himself for seven years, he took over Sebastien Vuillaume's workshop at 17 Boulevard Bonne Nouvelle on that maker's death in 1875. Esteemed as one of the greatest makers in France during the last four decades of the 19th century, Nestor Audinot's work is of the highest order and quality. Today, his instruments are sought after by players throughout Europe and America. He combined the finest craftsmanship with the finest materials to create instruments which enable the player to produce an exceptional sound of warmth, color, and projection.
About This Violin
This fine French violin is loosely based on a Guarneri pattern. The violin is made of top quality materials and displays craftsmanship of the highest level. The warm red-brown varnish is masterfully applied to enhance the beauty of the one-piece maple back. The sound is open, brilliant, and crystal clear. It responds to the softest touch as well as forceful playing and everything in between.
4/4 Nestor Audinot violin, Paris 1869
Deep red varnish. 355mm





$30,000.00


more info

---
This Month's Featured Viola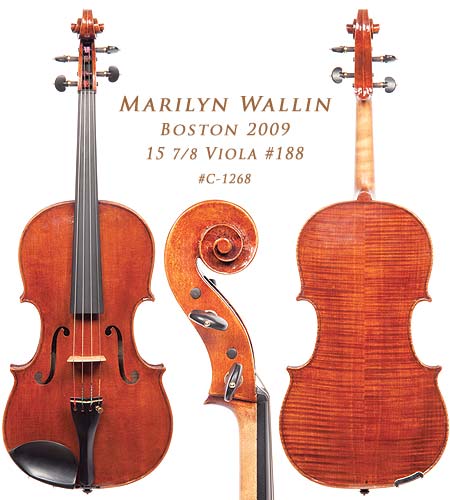 About Marilyn Wallin
Renowned maker Marilyn Wallin has been crafting string instruments since the 1980s. Nearly 200 of her instruments are owned by professionals or students affiliated with prestigious music schools or performing institutions, including the New York Philharmonic, The Juilliard School, the Boston Symphony Orchestra, the New England Conservatory, and many others. Marilyn was educated in the midwest, earning a Bachelors Degree in Music at the University of Iowa, in Viola Performance. Following intensive training as a musician, she attended and graduated from the Chicago School of Violinmaking. She then further refined her skills at the workbenches of Bein and Fushi Rare Violins. Since 1984, Wallin has devoted her career to the making of violins, violas and cellos. Nearly 200 of her instruments are in circulation on stages and in practice rooms. Marilyn remains active in the organizations and on the boards of directors of her trade. She is Past President of the Violin Society of America, as well as Past Secretary of the American Federation of Violin and Bow Makers, (AFVBM). She is an Advisor, and past instructor at the North Bennet Street School in Boston. She is an advisor to the Chicago School of Violinmaking. Marilyn practices her craft at the Emerson Umbrella, Concord, MA, where she has been a resident artist since 2005. In international violinmaking competitions, she has been awarded three Medals and eight Certificates of Excellence for Craftsmanship and Tone. She is also an active participant in the Oberlin Violinmaking Workshops.
About This Viola
This viola measures a comfortable 15 7/8" and is very easy to play. The tone is warm and rich with a powerful and open bass end, and a sweet and resonant treble end. A delightful instrument for the serious student or the seasoned professional.
15 7/8 Marilyn Wallin viola #188, Boston 2009
Medium brown varnish. 15 7/8





$16,000.00

---
This Month's Featured Cello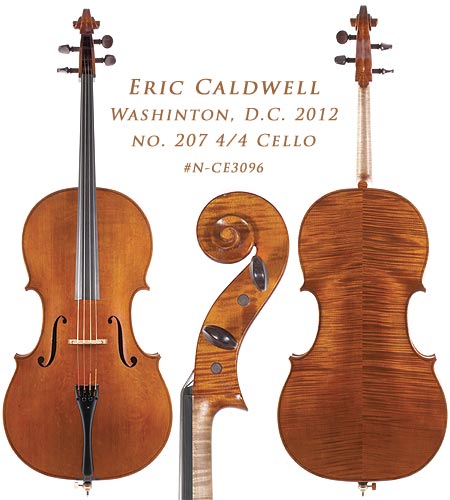 About Eric Caldwell
Eric Caldwell was born in Lawrence, Kansas in 1976 and is an incredibly talented contemporary American violin maker. His interest in violin making was the culmination of a family background in woodworking and a personal interest in music. While studying oboe in California, Caldwell enrolled in a workshop making violins with Karl Roy, who is the former director of the Bavarian State School for Violin-making in Mittenwald, Germany. It was his advice for Caldwell to continue in this business. For three more summers, Eric studied with Karl Roy at the University of New Hampshire, Durham and honed his skills. Caldwell completed his first violin in 1997. From 1998-2009, Eric worked mostly as a repairman for many shops in New England, the mid-west, and the mid-atlantic United States. He started working for the Potter Violin Company in 2006 and soon thereafter assumed responsibility as Repair Department Manager. He left the firm in 2009 to pursue instrument making full time in his home-based workshop.
His awards include the Certificate of Merit for Tone for Violin from The Violin Society of America's 19th International Competition and Exhibition in Cleveland, Ohio on November 7-11, 2010. He was invited to include two violins at The Art of Sound 2011 Exhibition.
About This Cello
This beautiful Eric Caldwell cello is based on a Stradivari pattern and was part of a quartet of instruments submitted to the Violin Society of America competition in 2012. The cello is an excellent example of the talented maker's work and features a complex, clear, and resonant sound. It plays easily and can withstand a strong bow arm.
4/4 Louis Morizot silver and ivory cello bow
Round, silver and ivory frog. 78.5g





$8,500.00

---
This Month's Featured Bass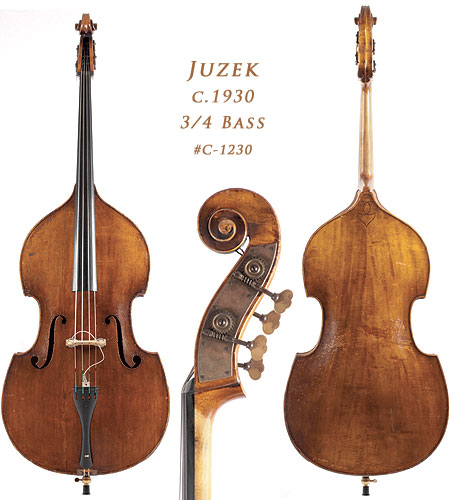 About John Juzek
John Juzek was a master violin maker whose instruments were produced in Prague, Czechoslovakia. There are many gaps in his history but his production is quite well documented. By the 1920s his instruments were selling in the United States under the company name of Czechoslovak Musical Instruments.
About This Bass
Gamba shaped, with a 42 1/4 string length, this circa 1930 Juzek bass features a new fingerboard and a Fishman Full Circle pick-up. the varnish is a nice golden brown, and the tone is what you would expect from a Juzek: powerful.
3/4 Juzek Bass c.1930
Round back, honey varnish





$10,000.00


more info

---