Featured Bows
Johnson String regularly acquires exceptional antique bows as well as bows by award-winning contemporary makers. Below are featured bows available for purchase or home trial. Please contact us for more information.
Featured Violin Bow | Featured Viola Bow | Featured Cello Bow | Featured Bass Bow
Bows On Sale
selected Silver-Mount Pernambuco & Carbon Fiber Bows are 10% OFF!
All Bass Bows are 15% OFF!
Sale prices are for in-stock only.
This Month's Featured Violin Bow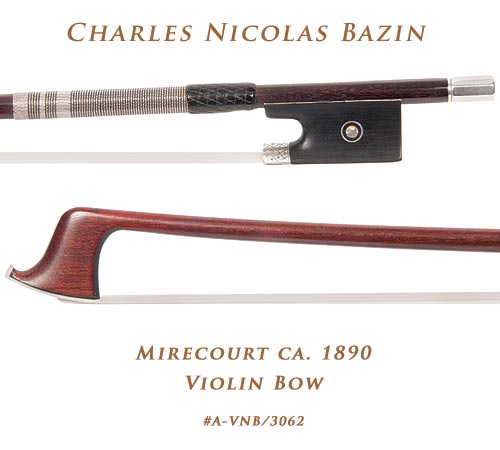 Charles Nicolas Bazin II (1847 - 1915), son of Francois Xavier Bazin, learned his art in the house of his father. Upon his father's death, he found himself at the head of the family business at the young age of 18. Two years later he married his first cousin, Jeanne-Emelie Bazin, with whom he had three sons: Emile-Joseph, Gustave and Charles Louis.
Charles Nicolas Bazin II was a great craftsman and was responsible for producing a great many bows that are still in demand. In his Mirecourt workshop, he employed some of the most famous bow makers. In the first six years of the 1900s there were between 12 and 17 makers producing some 2,000-3,000 quality bows a year. The makers included Fetique Brothers, Claude Husson, Granier, Lorange, Tournier, Delprato, Ouchard, Jacquemin, Dumont, Couturieux, Richaume, Bourgeois and Bontemps. He died on 6 December 1915. Charles Nicolas spent fifty-six years of his life devoted to making bows.
This fine French violin bow by Charles Nicolas Bazin from ca. 1890 is elegantly carved from the highest quality dark brown pernambuco. Weighing in at 58g and well balanced, the bow feels even in the hand. The stick is supple but not weak or unstable, and yields a sound that is warm and complex. This bow is ideal for the conservatory-level student or professional players. The bow is sold with a certificate or authenticity from Salchow and Sons.
With a Home Trial you can try out this bow in the comfort of your home!
4/4 Charles Nicolas Bazin silver-mounted violin bow
Round, engraved silver frog, silver button. Sold with Salchow cert. 58g





$10,000.00


more info

---
This Month's Featured Viola Bow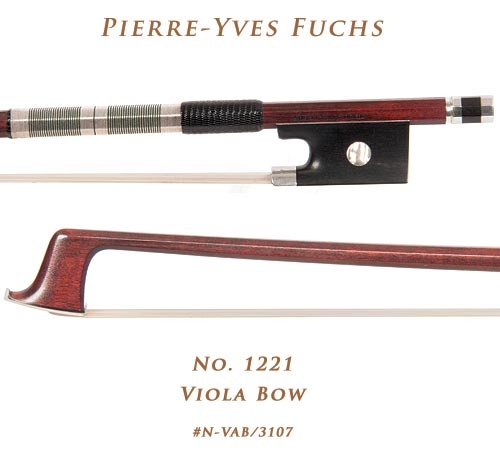 Pierre-Yves Fuchs studied with bow makers S. Thomachot in Paris, Gilles Duhaut in Mirecourt, Pierre Guillaume in Brussels, and Benoit Rolland in Vannes. We are proud to include the work of this outstanding contemporary master in our collection. 7 Gold Medals, 2000 to 2004; Hors Concours, VSA, 2004; 5 Certificates of Merit, VSA 2000, 2002; Bronze Medal, British Violin Making Competition, 2004.
With a Home Trial you can try out this bow in the comfort of your home!
Pierre-Yves Fuchs silver-mounted viola bow, no. 1221
Octagonal, silver and ebony frog and button. 70.5g





$5,500.00

---
This Month's Featured Cello Bow: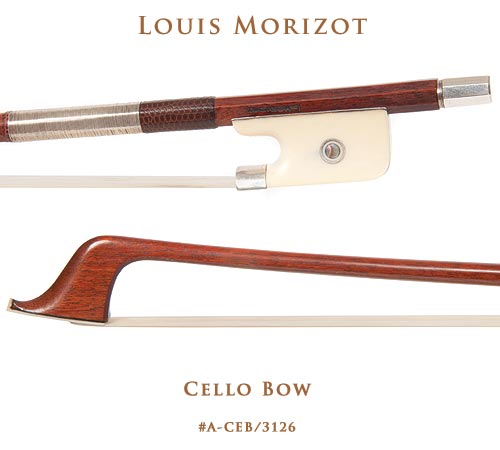 Louis Morizot (1874 - 1957) was born in Darney (Vosges) and worked in Mirecourt, France where he started the family bow-making dynasty. The Morizot family was one of the most prominent bow-making families in Mirecourt throughout the late 19th and early 20th Centuries utilizing high quality materials and bow making techniques learned from their father. Louis Morizot began his apprenticeship with Eugene Cuniot-Hury, before joining the workshop of Charles Nicolas Bazin. He worked for Eugene Sartory in 1914, an experience which greatly influenced his personal production. In 1919, Louis Morizot established his own workshop at 5 rue Saint Georges in Mirecourt. After 1920, his sons joined him as pupils before succeeding him in 1937 and renaming the firm "MORIZOT Freres". Louis Morizot trained many pupils including Bernard Millant and his five sons Marcel, Louis, Paul, Andre, and George Morizot.
This bow, in excellent condition, is a fine example of their work. The stick is masterfully carved out of high-quality pernambuco. The bow is strong and quick to respond, and produces a full, warm sound.
With a Home Trial you can try out this bow in the comfort of your home!
4/4 Louis Morizot silver and ivory cello bow
Round, silver and ivory frog. 78.5g





$8,500.00

---
This Month's Featured Bass Bow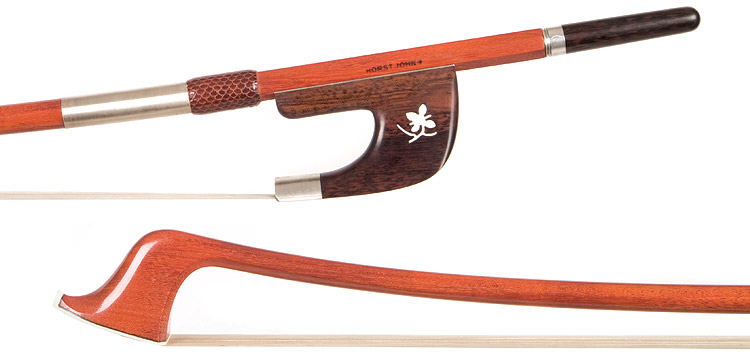 When one thinks of quality Brazilian handcrafted pernambuco wood bows, one name comes to mind: Horst John. Founded in 1951 as a precious woods exporter by a 24 year-old German-born immigrant, Horst John became a true pioneer by converting his firm's noble woods operation to bowmaking twenty years later. It was, and continues to be, a reference point of high standards in the quality of its naturally dried process (not artificially force cured). John only used pernambuco wood from a decades-old private stock approved by the Brazilian Environmental Authorities. The company today continues the same practice of using only aged wood.
This Horst John Special German Bass Bow is from their "Classic" line of bows, which copies the bow to the specifications used in the past along with famous engravings and ornamentations from the pre and post Baroque periods. It features a round pernambuco stick, silver-mounted frog, beautiful flower inlay and a silver wound grip. It weighs 138.5 grams.
With a Home Trial you can try out this bow in the comfort of your home!
3/4 Horst John Special Silver German Bass Bow
Silver-mounted. Flower inlay. Round stick. 138.5g





$2,000.00

---
Please note:
Any instrument or bow (with the exception of electric instruments and "student bows") purchased at Johnson's, whether online or in our shop, comes with the same guarantees and trade-up policies.
Any returns made within thirty days of purchase will be honored with a full refund.
Returns must be in original condition.
If you would like to try instruments or bows in one of our sales showrooms, please contact our sales staff to schedule an appointment.
To schedule an appointment or for more information, please contact our Sales Department at sales@johnsonstring.com or by phone at 800-359-9351. Please follow the prompts for instrument and bow sales.