Featured Bows
Johnson String regularly acquires exceptional antique bows as well as bows by award-winning contemporary makers. Below are featured bows available for purchase or home trial. Please contact us for more information.
Featured Violin Bow | Featured Viola Bow | Featured Cello Bow | Featured Bass Bow
This Month's Featured Violin Bow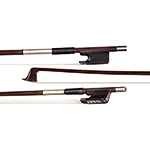 James Tubbs
English bow maker James Tubbs was born in London in 1835 and died there in 1921. Known as the English Tourte, he is one of the most important bow makers in history. Tubbs descended from a family of bow makers--a five-generational dynasty who crafted bows from the early 19th century into the early 20th century. James trained and worked with his father William until 1858, when he went to work for W. E. Hill & Sons. In 1864, he established his own business, housed in various London neighborhoods, where he would develop his own bow model based on Tourte. His bows were owned by the most celebrated players of his time and won multiple awards, including a gold medal for bows entered into the 1885 Inventions Exhibition held in London. He was later appointed bow maker to the court of the Duke of Edinburgh. Tubbs further refined the designs of his bows throughout the 1890s, and his son Alfred joined his workshop for many prolific years until Alfred's death in 1911. James continued to make bows up to his death at age 86.
About This Violin Bow
Bows by James Tubbs are highly sought after by professional players and collectors, and we are honored to offer this exquisite violin bow made c. 1900. Sold with a certificate of authenticity from Yung Chin.
Contact us for all the details about this violin bow.
James Tubbs silver-mounted violin bow
Round. Silver and ebony frog.





Call For Price

---
This Month's Featured Viola Bow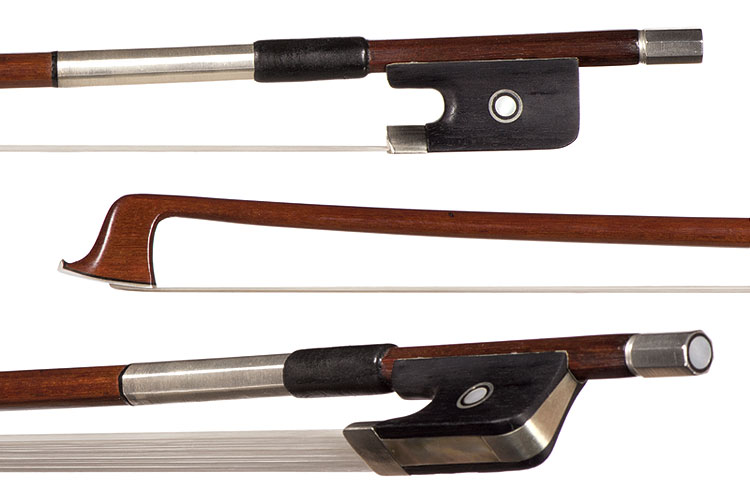 About Roger Francois Lotte
French bow maker Roger Lotte was born in 1922 in Mirecourt and died in 1989 in Nancy, France. He descended from a family of violin and bow makers: his grandfather Georges worked for Jean-Baptiste Vuillaume and Honoré Derazey, and his father Francois apprenticed with Charles Bazin and ran a successful business in Paris. Roger took over the Lotte workshop in 1960, becoming a prolific maker of bows for prominent violin dealers.
About This Viola Bow
This viola bow, stamped Roger Francois Lotte, is being sold with a certificate of authenticity from Salchow and Sons.
Contact us for all the details about this viola bow.
Roger Francois Lotte nickel-mounted viola bow






Call For Price

---
This Month's Featured Cello Bow: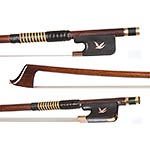 About Malcolm Taylor
One of the last members of the dynasty of English bow makers of the 20th century, Malcolm Taylor worked for W. E. Hill & Sons then set up his own shop in devon until his death in 2012. In 1981, he made a set of bows to celebrate the wedding of Prince Charles and Princess Diana.
About This Cello Bow
The strong octagonal stick of this cello bow pulls a warm, refined tone with a wonderful range of color. Very evenly balanced, the bow is easy to control, produces crisp and clear off-the-string strokes, and is very satisfying to play with. The ebony frog is in excellent condition and inlaid with a gold dove.
Malcolm Taylor gold-mounted cello bow
Octagonal. Gold and ebony frog and button. 82g





Call For Price

---
This Month's Featured Bass Bow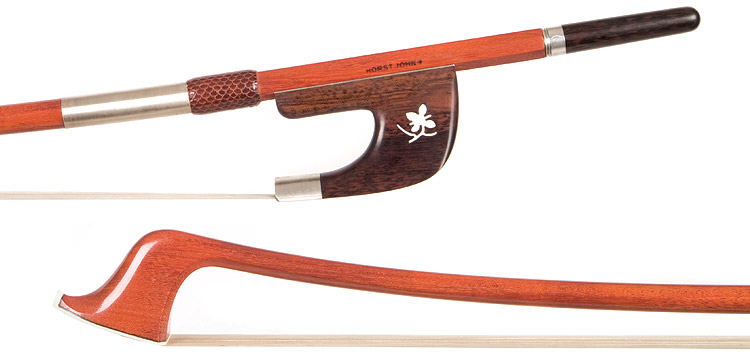 When one thinks of quality Brazilian handcrafted pernambuco wood bows, one name comes to mind: Horst John. Founded in 1951 as a precious woods exporter by a 24 year-old German-born immigrant, Horst John became a true pioneer by converting his firm's noble woods operation to bowmaking twenty years later. It was, and continues to be, a reference point of high standards in the quality of its naturally dried process (not artificially force cured). John only used pernambuco wood from a decades-old private stock approved by the Brazilian Environmental Authorities. The company today continues the same practice of using only aged wood.
This Horst John Special German Bass Bow is from their "Classic" line of bows, which copies the bow to the specifications used in the past along with famous engravings and ornamentations from the pre and post Baroque periods. It features a round pernambuco stick, silver-mounted frog, beautiful flower inlay and a silver wound grip. It weighs 138.5 grams.
With a Home Trial you can try out this bow in the comfort of your home!
3/4 Horst John Special Silver German Bass Bow
Silver-mounted. Flower inlay. Round stick. 138.5g





Call For Price

---
Please note:
Any instrument or bow (with the exception of electric instruments, fretted instruments and "student bows") purchased at Johnson's, whether online or in our shop, comes with the same guarantees and trade-up policies.
Any returns made within thirty days of purchase will be honored with a full refund.
Returns must be in original condition.
If you would like to try instruments or bows in one of our sales showrooms, please contact our sales staff to schedule an appointment.
To schedule an appointment or for more information, please contact our Sales Department at sales@johnsonstring.com or by phone at 800-359-9351. Please follow the prompts for instrument and bow sales.