Online Catalog
JSI Favorites

The JSI Folding Music Stand With Carry Bag is a basic well-made stand available in a variety of fun colors...perfect for a new musician. It's height adjustable from 17" to 40", and the music desk is angle adjustable. It even comes with a carrying bag!
Find out more about our sheet music stands...
&nbsp
The Everest Spring Collection Series shoulder rests are identical to the popular EZ Series, so you can expect them to provide the same excellent comfort and durability. Economically priced Everest rests are available for violin & viola.
See all of our Everest shoulder rests...
&nbsp
Notes & Strings Flashcards help make music learning fun! Classroom teachers find the large & half-size classroom size perfect, while students use the popular regular size and mini flashcards on a ring, so they won't lose a note!
We carry N&S flashcards for all instruments...
&nbsp
Johnson Artist Carbon Composite Bows are perfect for acoustic and electric players who want to purchase a quality carbon bow at a reasonable price.
Johnson Artist Violin Bows - Johnson Artist Viola Bows
Johnson Artist Cello Bows - Johnson Artist Bass Bows
&nbsp
We carry virtually all Suzuki School materials and accompaniments that are available for all instruments. We've made it easy to find exactly what you're looking for. We're here for teachers and students to make learning music FUN!
Look through our Suzuki School materials...
&nbsp
Bam France Shamrock Hightech 4/4 Cello Cases come with the features we've come to expect from Bam, a choice of colors, with wheels or without. This case offers the ultimate cello protection. When you need the best, Bam France delivers!
Browse our "Shamrock" collection...
&nbsp

The K&M iPad Holder is one of those products that comes along and makes you wonder how you ever got along without it! This convenient holder can be used with music stands, microphone stands, even boom stands.
See all of our music stand accessories...
&nbsp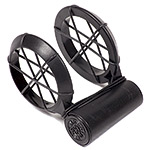 Tensimount Microphone Isolator is for anyone who uses a microphone and is serious about clean, distortion-free sound! The remarkably effective Tensimount modular system is the only truly universal shock-mount system.
Find out more and the Tensimount system...
&nbsp

Performance Wristies Finger Free Gloves were designed specifically for musicians, and they do what they're supposed to! If you find that your hands get cold when you play, these may be just what you need. They're available in different sizes to fit any size hands.
Don't play with cold hands...